Legislative Staffers Tour UNO
published: 2022/09/19
contact: Victoria Kohout - Office of the Chancellor
email: vkohout@unomaha.edu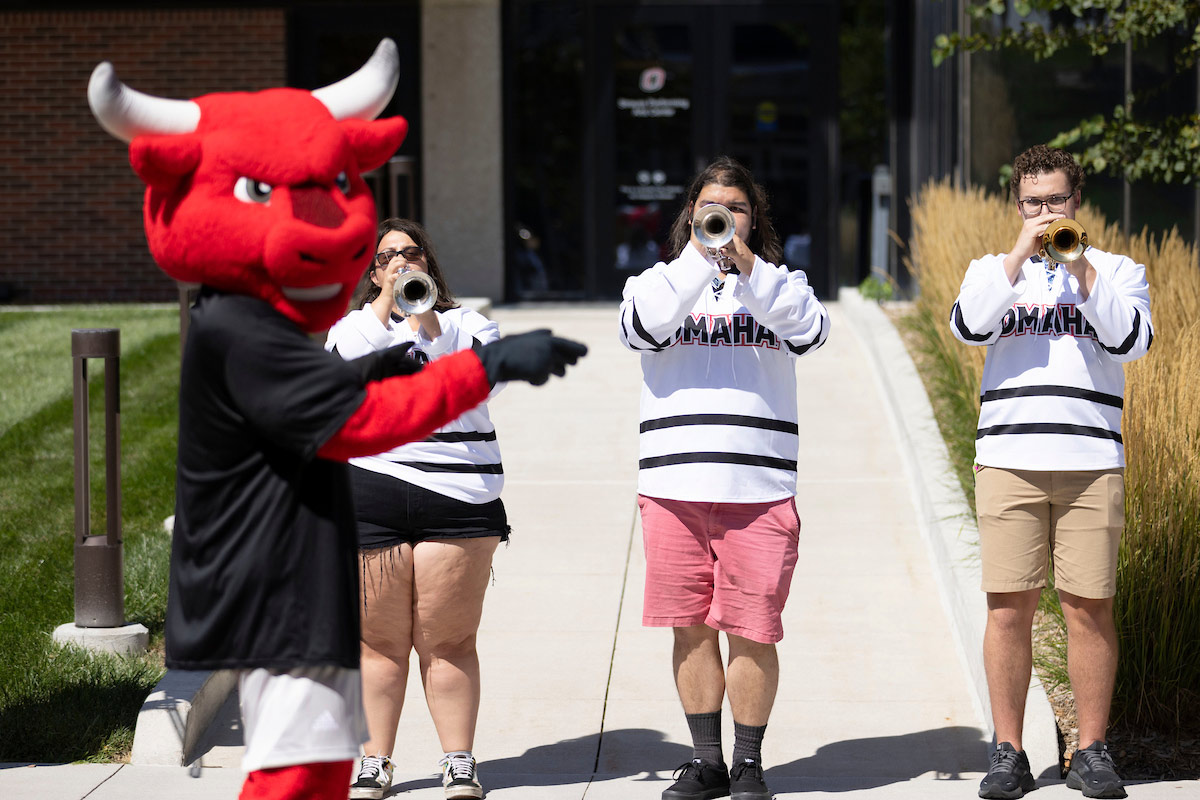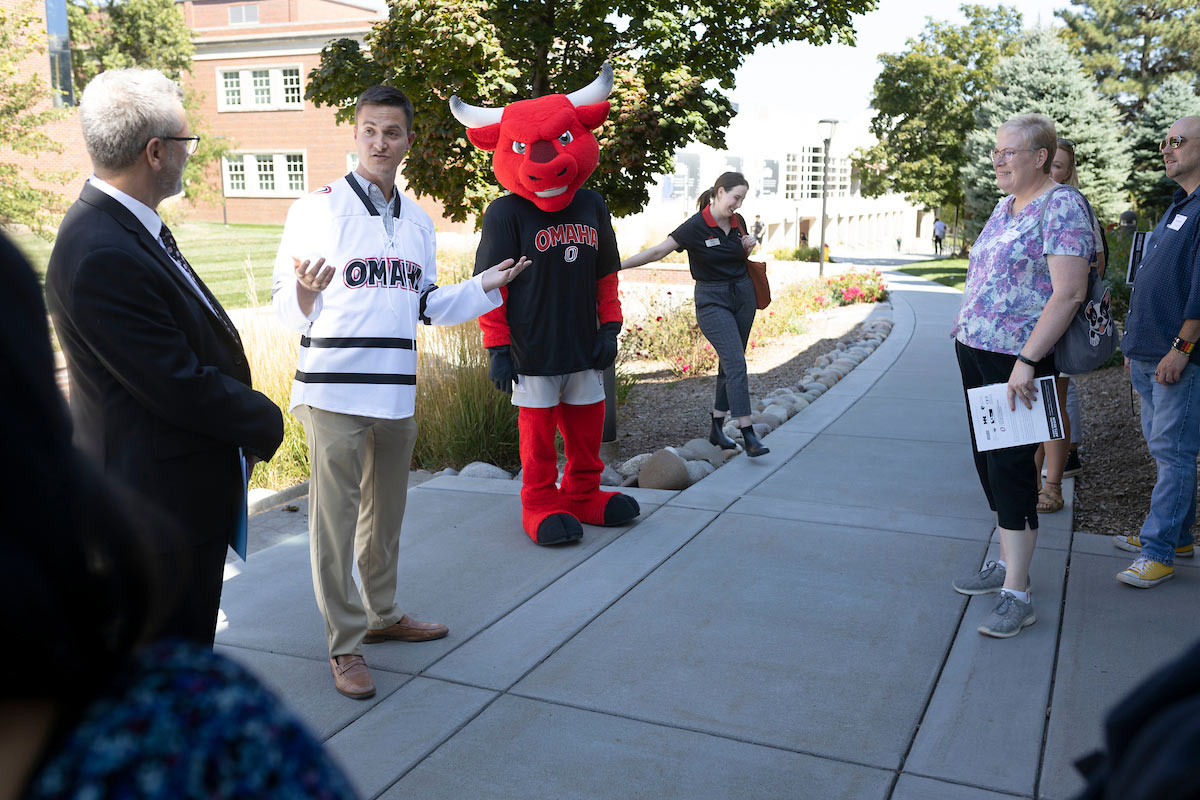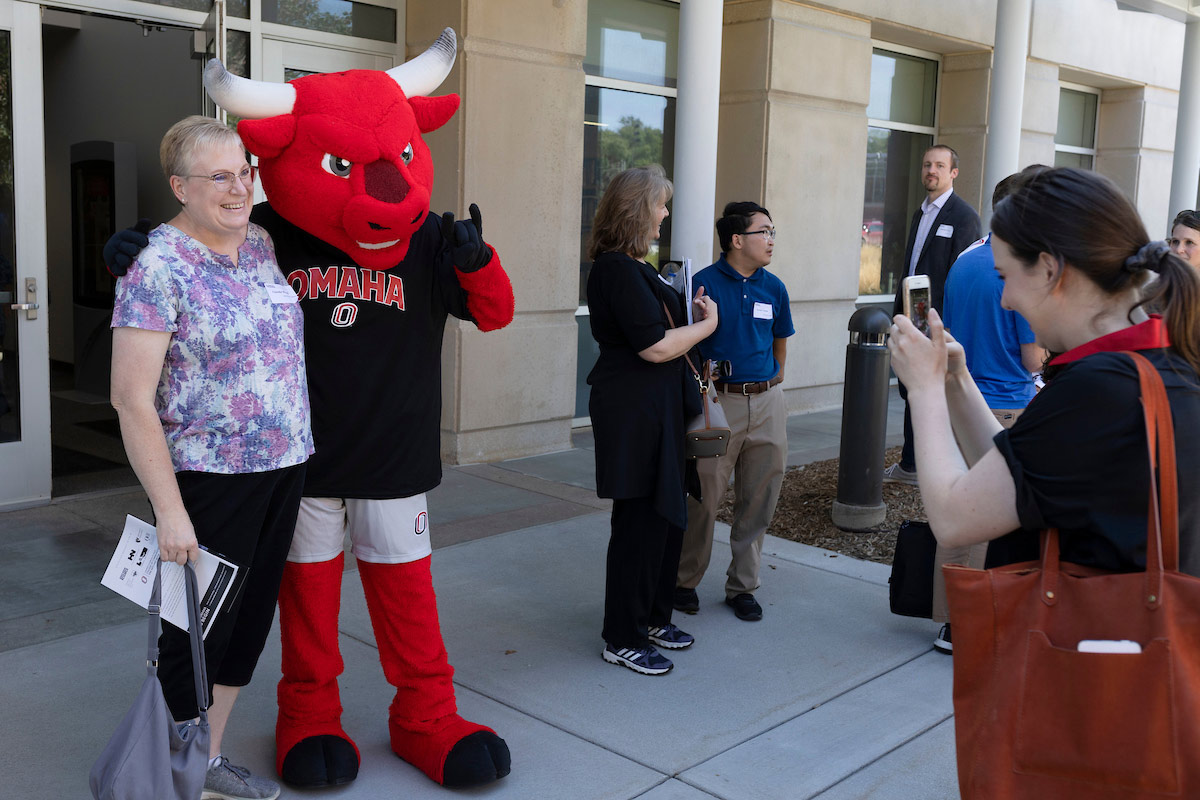 Legislative staffers from the Nebraska unicameral toured the University of Nebraska at Omaha (UNO) campus on Wednesday, August 31. During their time on campus, they visited Mammel Hall, Maverick Landing, Baxter Arena, the Weber Fine Arts Building, and the College of Public Affairs and Community Service.
The group began their day with a briefing by the Nebraska Business Development Center (NBDC) on the partnerships between UNO's College of Businesses Administration and small businesses throughout the state. They also received a presentation by Austin Doctor, PhD, Lead Counterterrorism Research Initiatives at NCITE, on elected officials' safety and his research on terroristic threats in the United States.
Following lunch and a tour of Baxter Arena, the group viewed the Memory Serves Exhibition at the Weber Fine Arts Building and spoke with artist Mark Gilbert, PhD, on his work capturing the portraits of patients and caregivers. The staffers also visited the School of Communication's TV studio the CPACS building and learned about student TV and radio programs at UNO.
Following a surprise visit by the Maverick Marching Band and Durango, the group ended their day with a presentation by Gaylene Armstrong, PhD, on the School of Criminology and Criminal Justice.
"As a proud alumnus of the University of Nebraska – Omaha, I always enjoy coming back to campus to learn about programs and initiatives the university is undertaking" said Tyler Mahood, legislative aide to Senator Mark Kolterman. "I am really proud of what UNO has to offer and I look forward to seeing the progress continue."
About the University of Nebraska at Omaha
Located in one of America's best cities to live, work and learn, the University of Nebraska at Omaha (UNO) is Nebraska's premier metropolitan university. With more than 15,000 students enrolled in 200-plus programs of study, UNO is recognized nationally for its online education, graduate education, military friendliness and community engagement efforts. Founded in 1908, UNO has served learners of all backgrounds for more than 100 years and is dedicated to another century of excellence both in the classroom and in the community.
Follow UNO on Facebook, Twitter, Instagram, TikTok, LinkedIn, and YouTube.