U.S. Dept. of Education Official Sees UNO's Student Support Firsthand in Campus Visit
published: 2022/09/19
contact: Brandon Bartling - Office of Strategic Marketing and Communications
email: unonews@unomaha.edu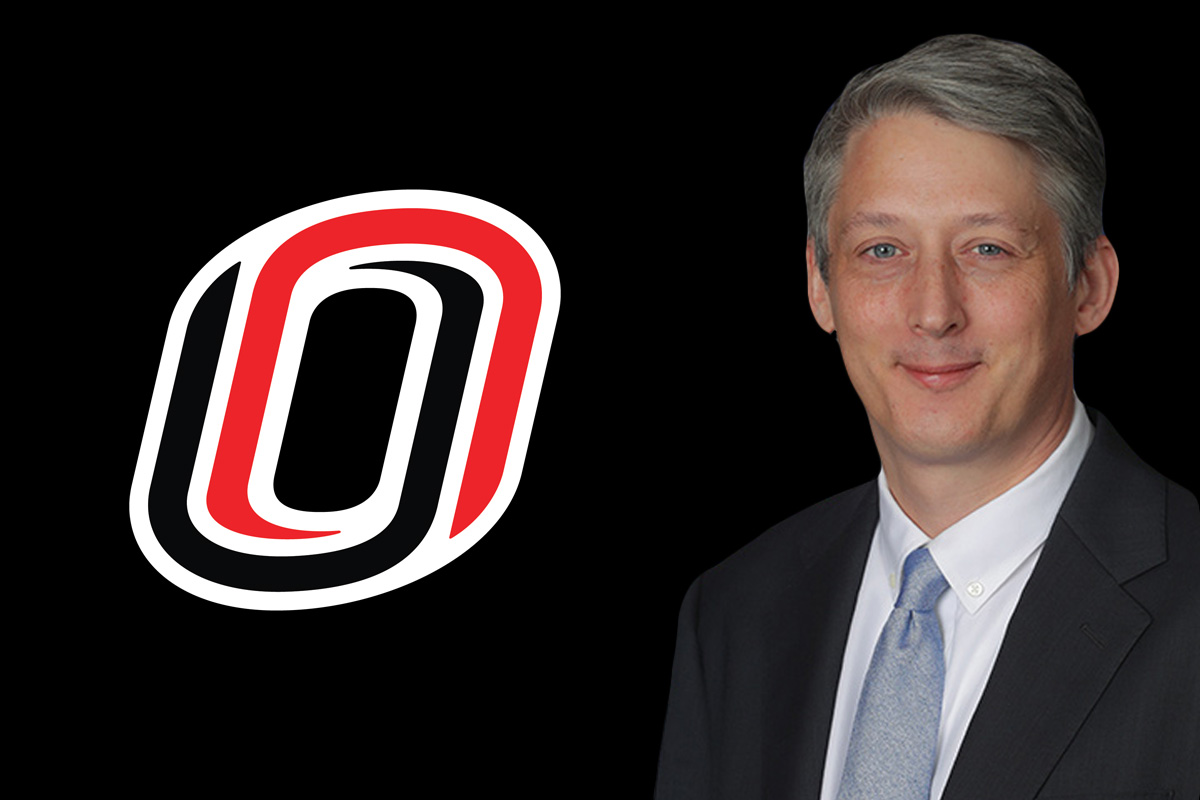 James Kvaal, Under Secretary for the U.S. Department of Education
If there is one thing that James Kvaal likely took away from his visit to the University of Nebraska at Omaha (UNO) campus, it's that the first step toward improving social mobility comes through not only financial support, but mentorship and academic support for college students.
Kvaal, who was confirmed as Under Secretary for the U.S. Department of Education in 2021, visited UNO's campus Friday. He met with UNO Chancellor Joanne Li, Ph.D., CFA, as well as leads from academic and student support units and learning communities. What he heard was how the Thompson Learning Community (Buffett Scholars), Goodrich Scholarship program, the Walter Scott, Jr. Scholarship (Scott Scholars) program, and the broader university all understand that eliminating student anxieties is as important as eliminating financial barriers to higher education.
Chancellor Li mentioned these efforts are vital to carrying out the university's metropolitan mission given the students who call UNO home. This fall, Li said UNO welcomed its largest class of first-year students, including 37 percent who identify as minority students and over 40 percent who are first-generation. For students who work one or more part-time jobs while attending UNO, financial support is critical, but supporting students goes well beyond finances.
As a Buffett Scholar in the Thompson Learning Community, Tori Sims, UNO student body president and student regent, said that they felt anxiety about the transition from high school to college. "I didn't think I should expect any hand holding like I had in high school, but the Buffett office and having people love on you—as they really do care about students—makes it work," Sims said. "They support their students unconditionally and eliminate tangible anxieties and make processes simple."
As the state-funded Goodrich Scholarship program celebrates its 50th anniversary at UNO this year, director Troy Romero, Ph.D., shared that the milestone provided an opportunity for reflection. He mentioned how supporting students was previously seen as only a financial consideration, but the Goodrich program's incredible success over the years has been attributed to providing access and support for students. Today, the Goodrich program boasts a 97 percent overall graduation rate among its scholars, including a six-year graduation rate of 84 percent.
Sabrina Salrin is one of those proud Goodrichers. Without the scholarship, she wasn't sure how she would be able to attend college. The financial support enabled her to get her foot in the door at UNO, but it was the support of Goodrich faculty and staff that helped her maintain her academic and mental health through the COVID-19 pandemic. Thanks to the Goodrich program, Salrin expects to graduate at the conclusion of the Fall 2022 semester.
The Scott Scholars program also brings academic support and real-world opportunities for experiential learning to its students through mentorship, advisement, and networking. The program focuses on STEM fields academically, but it also aims to develop the whole person through community impact. For example, Scott Scholars participate in design thinking projects solving real problems for organizations in the community such as U.S. Strategic Command (USSTRATCOM) at Offutt Air Force Base. Not only do these projects pay dividends for these organizations, but 77 percent of Scott Scholars are still living and working in Nebraska five years after graduation despite broad out-of-state recruitment.
Cathy Pettid, Ph.D., dean of undergraduate students, emphasized the culture shift that the university has undergone to ensure that students feel support in reaching their academic goals. "Universities are known for having services, but students have to go [seek them out]. We're building an environment where the services are surrounding them," Pettid said.
Kvaal mentioned that higher education has evolved dramatically in the past decade, and the Department of Education is focused more than ever on social mobility, equity, and inclusivity in higher education. "Changing the culture is needed to make the system work. Some places take pride in exclusivity, which we're lucky to have these institutions, but there are ways to be an excellent university without selectivity or becoming more expensive. What our country needs is more places committed to inclusivity, serving local economy, and serving the local community," Kvaal said.
Affordability is still a key concern of the Department of Education, as evidenced by recent federal student loan forgiveness efforts. Such efforts can attack student loan debt after it exists, but the department needs policy support from Congress to find ways to prevent the debt from accumulating in the first place.
Kvaal said that lessons learned from his visit at UNO, including what he heard about its learning communities and student support, will be relayed to Secretary Miguel Cardona and will be used to potentially influence future policy.
About the University of Nebraska at Omaha
Located in one of America's best cities to live, work and learn, the University of Nebraska at Omaha (UNO) is Nebraska's premier metropolitan university. With more than 15,000 students enrolled in 200-plus programs of study, UNO is recognized nationally for its online education, graduate education, military friendliness and community engagement efforts. Founded in 1908, UNO has served learners of all backgrounds for more than 100 years and is dedicated to another century of excellence both in the classroom and in the community.
Follow UNO on Facebook, Twitter, Instagram, TikTok, LinkedIn, and YouTube.