Campus Unveils Dr. Jeffrey Gold Drive
The main entrance in front of UNO's Baxter Arena was recently named in recognition of contributions made to UNO by former Chancellor Jeffrey P. Gold, M.D., who currently serves as chancellor for UNMC and as provost of the University of Nebraska System.
published: 2022/09/29
contact: John Keenan - University of Nebraska Medical Center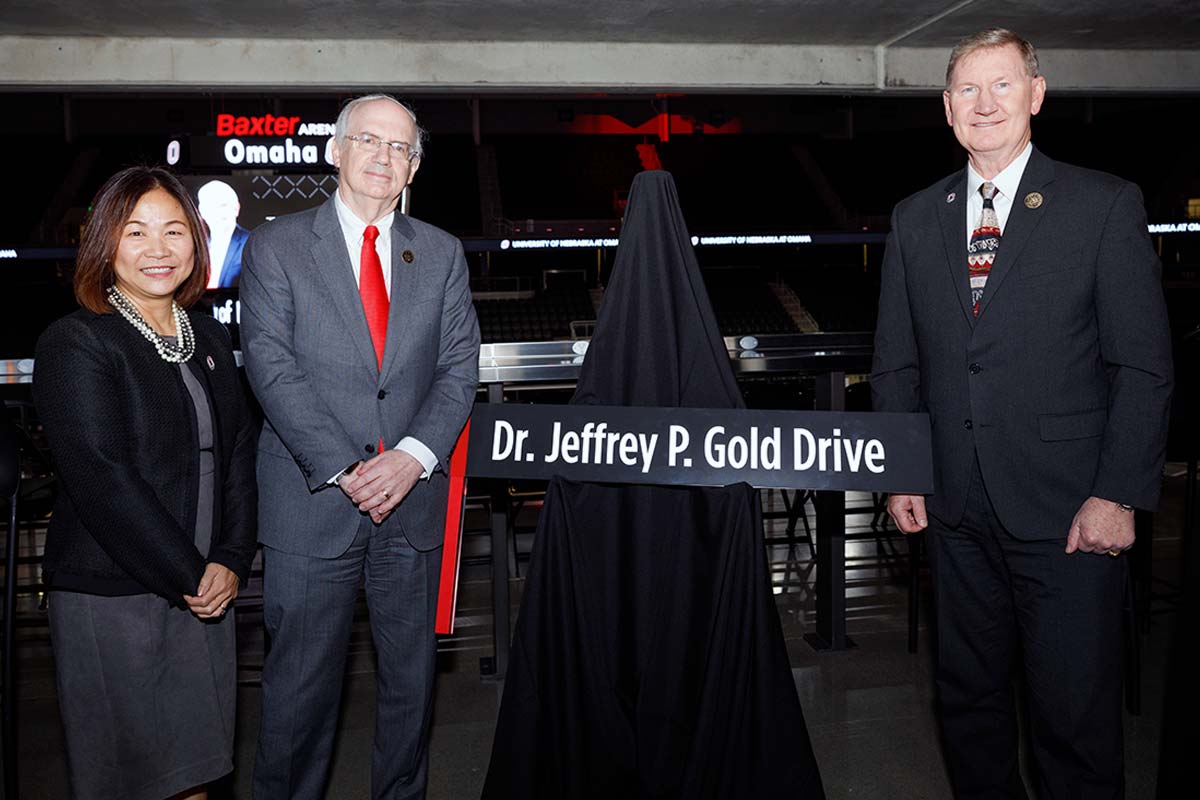 Chancellor Joanne Li, Ph.D., CFA (left) joins UNMC Chancellor Jeffrey P. Gold, M.D., and University of Nebraska System President Ted Carter (right) in recognition of a new section of street near Baxter Arena in Gold's name.
University of Nebraska President Ted Carter joined leaders from the University of Nebraska at Omaha (UNO) and University of Nebraska Medical Center (UNMC) on Sept. 28, 2022, to inaugurate the newly named "Dr. Jeffrey P. Gold Drive" at the main entrance at UNO's Baxter Arena.
"How cool is it to have a street named after you?" Carter asked attendees.
Carter and UNO Chancellor Joanne Li, Ph.D., CFA, both praised Gold's tenure as chancellor of UNO from 2017-2021, during which he continued to serve as the chancellor of UNMC.
"That is an above-and beyond, Herculean effort," Carter said.
Carter praised Gold's accomplishments at UNO, including a 5% growth in enrollment, more than tripling UNO's research enterprise and significantly expanding technology transfer efforts.
The event was "an opportunity for us to say how important your leadership was at a critical time, particularly during the early years of the COVID pandemic," Carter said.
Chancellor Li, who celebrated her one-year anniversary as UNO's chancellor in July, welcomed Gold back to UNO and Baxter Arena.
"In the past year … he has proven to be a wonderful mentor and colleague, to me and to the whole UNO family," she said.
"Dr. Gold built a very strong foundation," she said, pointing to successes UNO has been able to build on since 2021, including welcoming the largest-ever incoming first-year class with 38.5 percent self-identifying as underrepresented and more than a third identifying as first-generation, continuing UNO's focus on access. Dr. Li also touted the university's recent successes with record-breaking research growth and external funding at the state and federal level.
"Jeff, you are truly a Maverick, and we're happy to welcome you home," she said.
Gold said he was humbled by the honor, thanked the UNO faculty, students, faculty, and staff and then spoke about the impact of UNO.
"Public, metropolitan, urban campuses – anchor institutions, as they are known – have always been critically important, but in the current era are more important than they've ever been," he said. "I see the future here at UNO as being incredibly bright, not only from the educational perspective, but from the research and creative activity/discovery perspective, the community engagement perspective, the national reputation perspective and so much more. And that's mostly based on what we have all come to know and love as the Maverick spirit."
He closed by thanking the UNMC and Nebraska Medicine leadership teams and added that he plans to put the new Dr. Jeffrey P. Gold Drive to use.
"I look forward to driving down this street and attending many winning athletic events in this building."
About the University of Nebraska at Omaha
Located in one of America's best cities to live, work and learn, the University of Nebraska at Omaha (UNO) is Nebraska's premier metropolitan university. With more than 15,000 students enrolled in 200-plus programs of study, UNO is recognized nationally for its online education, graduate education, military friendliness and community engagement efforts. Founded in 1908, UNO has served learners of all backgrounds for more than 100 years and is dedicated to another century of excellence both in the classroom and in the community.
Follow UNO on Facebook, Twitter, Instagram, TikTok, LinkedIn, and YouTube.