UNO Instructor, Alumna Receive National Literary Award
Gene Kwak, an instructor of English, and Kate Gaskin, a UNO alumna and current Ph.D. student at the University of Nebraska-Lincoln, will represent Nebraska' at a national writers exchange that includes networking opportunities and an out-of-state residency.
published: 2022/08/16
contact: Office of Strategic Marketing and Communications
email: contact@unomaha.edu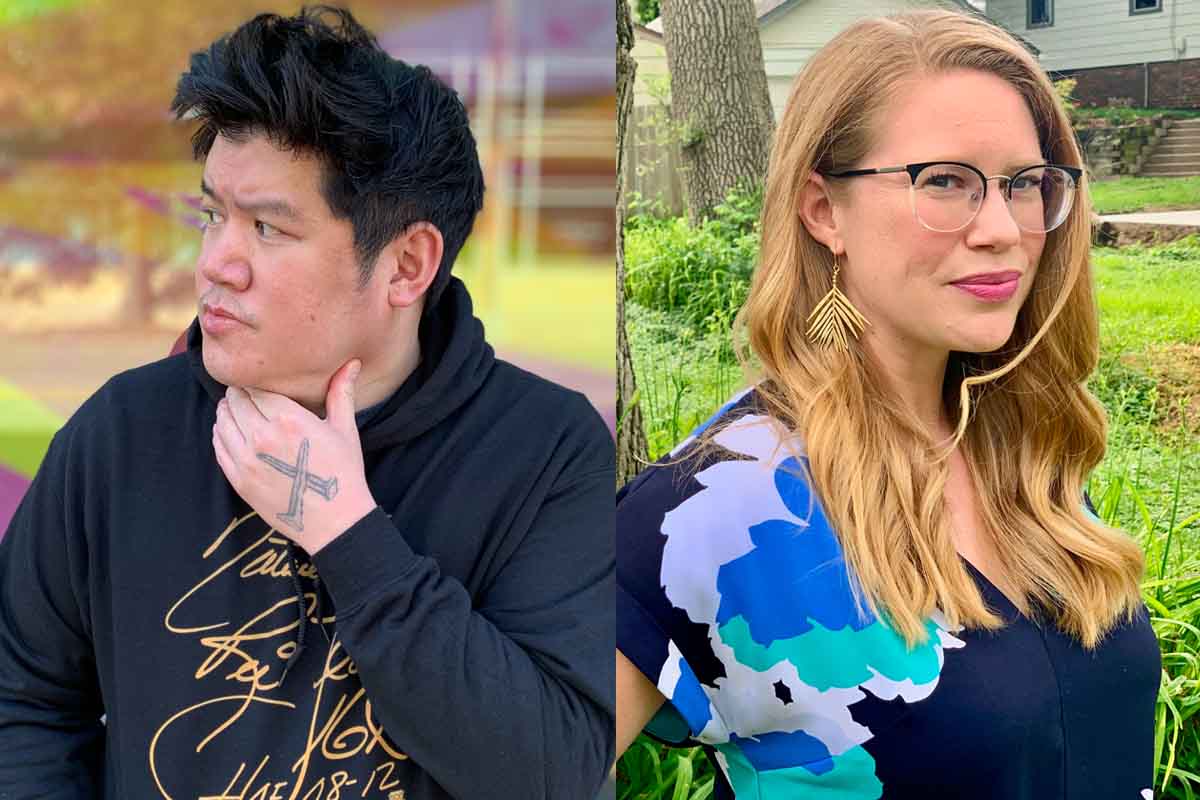 Gene Kwak (left) a UNO alumnus and instructor of English, and Kate Gaskin, a UNO alumna and current Ph.D. student at UNL, were selected among hundreds of applicants for their excellence in fiction and poetry, respectively. They will travel to New York to perform readings from their work and meet with publishers, agents, and other accomplished writers.
A UNO faculty member and UNO alumna will represent Nebraska nationally as this year's recipients of the prestigious Maureen Egen Writers Exchange Award.
Gene Kwak, an instructor of English at UNO, and Kate Gaskin, who earned her master's degree from UNO in 2008 and is currently a doctoral student at the University of Nebraska-Lincoln, were selected as this year's recipients in fiction and poetry, respectively.
Also recognized was UNO faculty member Todd Richardson, who was a second runner-up in poetry.
Each year Poets & Writers, a national literary magazine, chooses one state and invites writers from the two genres to submit their work. After a blind judging process overseen by accomplished literary figures, two winners are chosen. Winners receive a chance to meet with literary professionals from their own personal wishlists; visit New York City for an opportunity to meet agents, editors, and other authors; and take part in a one-month residency program in Wyoming.
Kwak, who is also a UNO alumnus, said the opportunity the recognition provides is truly priceless.
"As a writer, the opportunity to attend the residency will be incredibly restorative and enriching, but I'm most thrilled to travel to New York. Not only will it be incredible to meet the editors and writers, but I'm also excited to see friends I know in New York and eat some of the best pizza and Korean food."
Gaskin adds that sometimes writing can be an isolating experience, especially in these past two years, so to have the recognition of one's peers and the opportunity to build future relationships is both energizing and affirmational.
"I really enjoy the community building that comes along with being a poet and a writer, and this award gives me the opportunity to expand the horizons of my community."
To date, more than 110 writers from 40 states have participated in the program. It has helped launch the careers of authors such as Sue Monk Kidd, who wrote "The Secret Life of Bees" and David Mura, who wrote "Turning Japanese: Memoirs of a Sansei."
Kwak, who released his debut novel, "Go Home, Ricky!" in 2021, said he became involved with fiction writing "by accident" after taking classes at UNO. Some of his favorite stories are focused on those taking place in the Midwest and also his own experiences being Korean-American.
"I honestly never grew up thinking I was going to be a writer," Kwak said. "I randomly took a literary journalism class with Professor Hugh Reilly and he fostered this love of writing in me that I've harbored to this day."
Gaskin, who is the author of "Forever War," which won the 2020 Pamet River Prize, said she is motivated to be a creator who is sincere and vulnerable and also credits UNO for her current career trajectory.
"My time at UNO showed me that I'm capable of engaging with creative work both as a writer and as a scholar," she said. "I worked with most closely with Dr. John Price and Dr. Lisa Knopp; they were and still are my favorite teachers. They remain very supportive and inspiring."
With this experience, Kwak and Gaskin both hope to expand their professional careers but also their ability to be mentors for others, like those at UNO who supported them.
"I say this to my students all the time, but I'm a prime example that the journey of your academic career can be a winding one," Kwak said. "It wasn't until I took that class with Professor Reilly that I knew what I wanted to do. I found my purpose. Now I've written a book that's been featured in Vanity Fair, which means Harry Styles knows my name. Which probably isn't true, but you also can't prove it's not."
About the University of Nebraska at Omaha
Located in one of America's best cities to live, work and learn, the University of Nebraska at Omaha (UNO) is Nebraska's premier metropolitan university. With more than 15,000 students enrolled in 200-plus programs of study, UNO is recognized nationally for its online education, graduate education, military friendliness and community engagement efforts. Founded in 1908, UNO has served learners of all backgrounds for more than 100 years and is dedicated to another century of excellence both in the classroom and in the community.
Follow UNO on Facebook, Twitter, Instagram, TikTok, LinkedIn, and YouTube.