Cyber Threats Targeting Agriculture Focus of New Cybersecurity Testbed
A newly developed Security Testbed for Agricultural Vehicles and Environments, or STAVE, provides a way to shrink agricultural systems down to a more manageable level for cybersecurity research.
published: 2022/06/01
contact: Brandon Bartling - Office of Strategic Marketing and Communications
email: unonews@unomaha.edu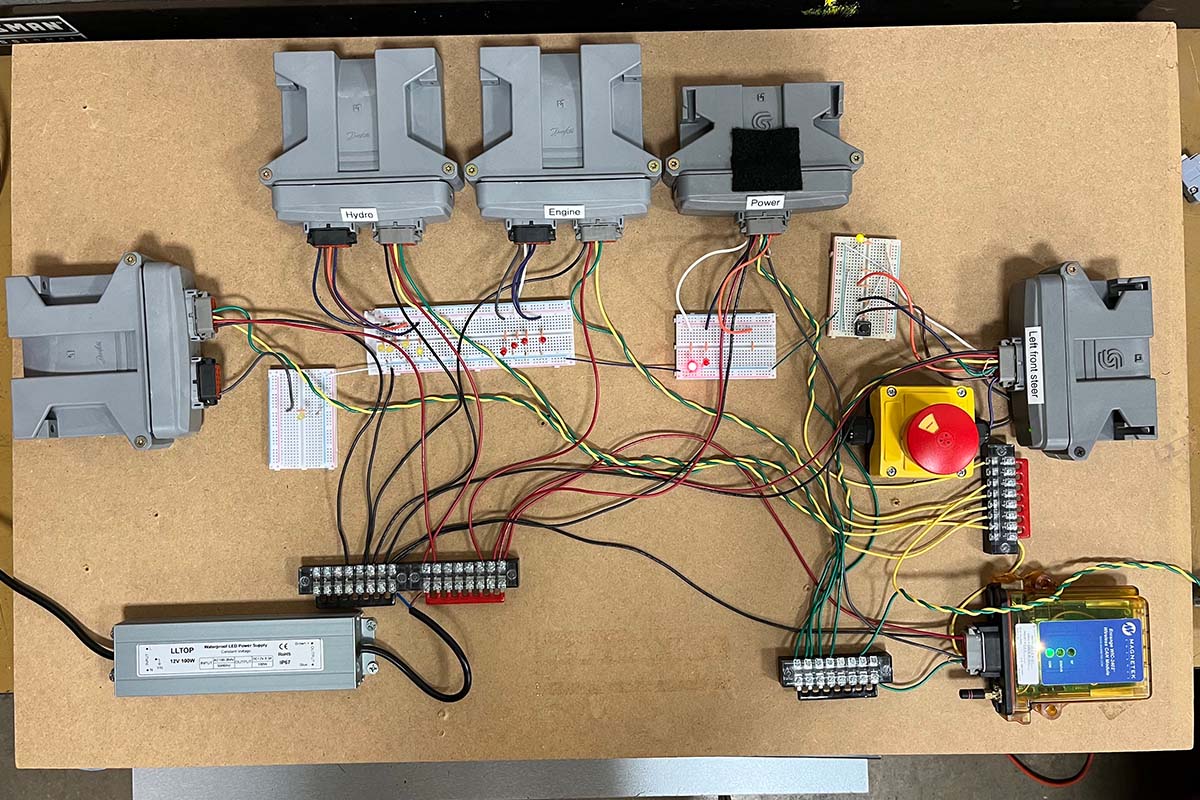 Research led by a cybersecurity professor at the University of Nebraska at Omaha (UNO) is taking aim at hackers and cyber criminals who may target the agricultural industry in Nebraska and beyond — from farmers in the fields to largescale agricultural facilities.
Fighting cyberthreats that could impact Nebraska's farmers and agricultural industries begins with identifying vulnerabilities in systems and machinery. However, researching vulnerabilities can be cost prohibitive and logistically challenging given the size of machinery involved.
That's where STAVE comes in. George Grispos, Ph.D., assistant professor of cybersecurity at UNO, in collaboration with researchers at the University of Nebraska-Lincoln (UNL), built the Security Testbed for Agricultural Vehicles and Environments, or STAVE, as a way to shrink agricultural systems down to a more manageable level.
"As more machinery offer online capabilities such as mapping and automated steering, any equipment from tractors and combines to trailers hauling expensive fertilizers and chemicals could be targeted by attackers," Grispos said. "Our research provides a framework for future cybersecurity research at a manageable scale, enabling us to close any doors left open for attackers and ultimately keeping the state's agricultural workforce moving."
Grispos collaborated with Santosh Pitla, Ph.D., Cody Stolle, Ph.D., and Mark Freyhof at UNL on this project. STAVE is based on Flex-Ro, an autonomous agricultural robot developed by Pitla and his team in the Department of Biological Systems Engineering at the University of Nebraska-Lincoln. The testbed includes electronic components common in farm machinery combined with consumer electronics like Raspberry Pi microcomputers. These components are mounted to a board and connected to a laptop, allowing Grispos and his colleagues to emulate larger machinery and systems.
Testbeds like these are common in the automotive and heating, ventilation, and air conditioning (HVAC) industries. However, researchers believe STAVE is the first such testbed implementation to be used for agricultural purposes.
This task is increasingly important as the agriculture industry becomes more reliant on online services. The FBI recently issued a warning about potential ransomware attacks targeting agricultural cooperatives during critical planting and harvest seasons due to their capability of disrupting seed and fertilizer supplies.
Worst case scenario, Grispos mentioned, could be a malicious actor taking full control of large machinery, particularly if it's carrying dangerous chemicals, in a highly populated area or along a busy road.
Researchers hope that STAVE leads to identification of vulnerabilities that can later be patched as well as more testbeds on other machinery in the future.
This research was made possible through funding provided by the University of Nebraska Collaboration Initiative.
About the University of Nebraska at Omaha
Located in one of America's best cities to live, work and learn, the University of Nebraska at Omaha (UNO) is Nebraska's premier metropolitan university. With more than 15,000 students enrolled in 200-plus programs of study, UNO is recognized nationally for its online education, graduate education, military friendliness and community engagement efforts. Founded in 1908, UNO has served learners of all backgrounds for more than 100 years and is dedicated to another century of excellence both in the classroom and in the community.
Follow UNO on Facebook, Twitter, Instagram, TikTok, LinkedIn, and YouTube. 
Contact Us
If you have a story idea, news tip, or other question, please email the UNO News team at unonews@unomaha.edu.