Latino-Owned Businesses in South Omaha Substantially Impacted by Pandemic, UNO Research Finds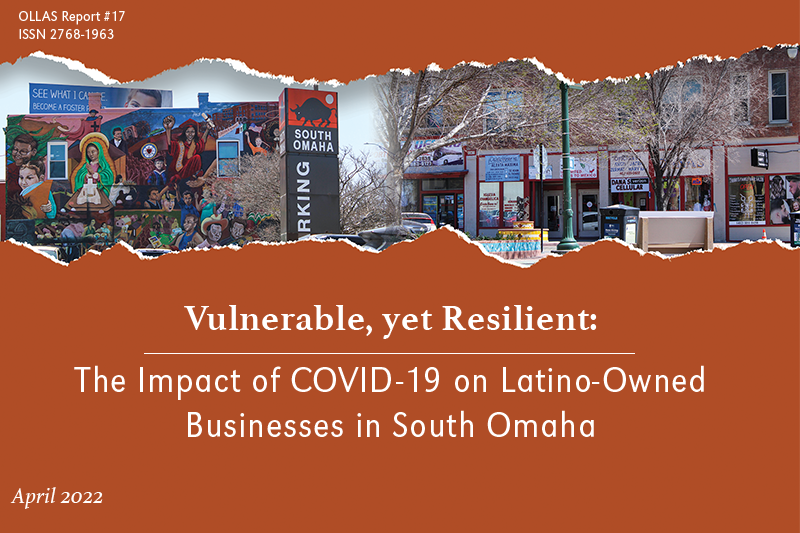 A new report by OLLAS at UNO examines the impact of COVID-19 on Latino-Owned businesses in South Omaha. The report was conducted in collaboration with the Nebraska Department of Economic Development.
A new study conducted by the Office of Latino/Latin American Studies (OLLAS) at the University of Nebraska at Omaha (UNO) sheds new light on the impacts of COVID-19 on Latino-owned businesses in South Omaha.
Two out of three Latino-owned businesses had to reduce their staff, and three out of four had to reduce their budget in 2020 due to the COVID-19 pandemic. Nearly 70 percent of business owners interviewed considered the pandemic to be the most difficult crisis their business had faced.
"Latinos contribute extensively to the Nebraska and Omaha's economy through their participation in business and workforce," Cristián Doña-Reveco, Ph.D., director of OLLAS at UNO and co-author of the report said. "The results of this study present an important opportunity for city and state government officials to develop policy actions to increase support to these businesses and the community that surrounds them as they contribute so importantly to Omaha and Nebraska's economy and cultural life."
This study was part of a collaboration between OLLAS and the Nebraska Department of Economic Development, in which OLLAS was the technical partner in the department's ongoing Business Retention and Expansion (BRE) Program survey process for South Omaha.
Beginning in August of 2021, UNO students from Spanish language service learning courses taught by OLLAS faculty Steven Torres, Ph.D., and José Sequeros-Valle, Ph.D., joined with members from several community organizations to interview more than 120 Latino business owners in South Omaha. The interviewers asked them about the history of their business, the impact of COVID-19 during 2020 and during 2021, their perceptions and evaluation of the impact of COVID-19, and their projections of the business for 2022 and after.
A key finding of this research is that the pandemic resulted in significant reductions of staff, budget, and services or products provided during 2020 by these businesses. While these conditions tended to improve slightly for these businesses in 2021, Latino owners expect to see less clients, revenue, and investments in 2022.
Business-owners, however, were cautiously optimistic about the future. Only one- third of them believed that their business was going to take a year to recuperate, while a slightly higher number, about 40 percent, said that the recuperation process would take between one and three years.
Overall, the effects of the pandemic have been harder on business owners who are women, with female-owned business declining by around 25% in the early months of the pandemic, and the case of Latina business-owners in Omaha is not an exception. Women were significantly more likely than men to state that this crisis has been harder for their business and that it has been very difficult to continue providing services and products.
This is due partly to the concentration of Latina-owned businesses in the service and retail industries that have more direct contact with clients, such as childcare services, food services, and retail. This made them more likely to reduce operations, close, or transition to remote operations.
While conditions improved to a degree during 2021, likely due to vaccination rates and the ability to return to some pre-pandemic operating capacity, Latinas are more pessimistic about the future and were more likely to reduce staff and budget in 2021 when compared to male business owners.
This report also describes the difficulty in accessing federal, state, and city aid, while at the same time highlighting the importance of community organizations and personal networks in the distribution of aid-related information.
About 70% of those that received information about aid got it from community organizations, friends and/or colleagues, Latino news media (newspapers, radio, TV), and social networks (Facebook, Twitter, etc.). This not only indicates the importance of such community networks, but also demonstrates how state and federal government programs may not be reaching minority communities.
Lastly, the report shows the perceived support felt by Latino business owners from their immediate community, the non-Latino community, and the local and federal government. Latino business owners felt most supported by those in closer proximity to them: The Latino community (56%) and their clients (58%).
"The results of our study are similar to the effects evidenced in other studies on minority-owned businesses comparable to Latino South Omaha. Similar communities have reported difficulty in finding information about state and federal financial assistance for these business owners, and further difficulty in accessing such aid," Doña-Reveco said.
Funding for the study came from a grant from the Omaha Community Foundation's Community Resilience Fund. The full report can be viewed on the OLLAS website.
For questions about the report, please contact Cristián Doña-Reveco, Ph.D., at 402-554-3556 or by email at cdona@unomaha.edu
About the University of Nebraska at Omaha
Located in one of America's best cities to live, work and learn, the University of Nebraska at Omaha (UNO) is Nebraska's premier metropolitan university. With more than 15,000 students enrolled in 200-plus programs of study, UNO is recognized nationally for its online education, graduate education, military friendliness and community engagement efforts. Founded in 1908, UNO has served learners of all backgrounds for more than 100 years and is dedicated to another century of excellence both in the classroom and in the community.
Follow UNO on Facebook, Twitter, Instagram, TikTok, LinkedIn, and YouTube.