Elkhorn North Senior Awarded 'Maverick in the Making' Scholarship
Senior Rowaida Qulagi was recently named a "Maverick in the Making" for her leadership skills and kindness, which she looks forward to bringing to UNO as she begins courses this fall.
published: 2022/05/14
contact: Eva Burklund - Office of Strategic Marketing and Communications
email: unonews@unomaha.edu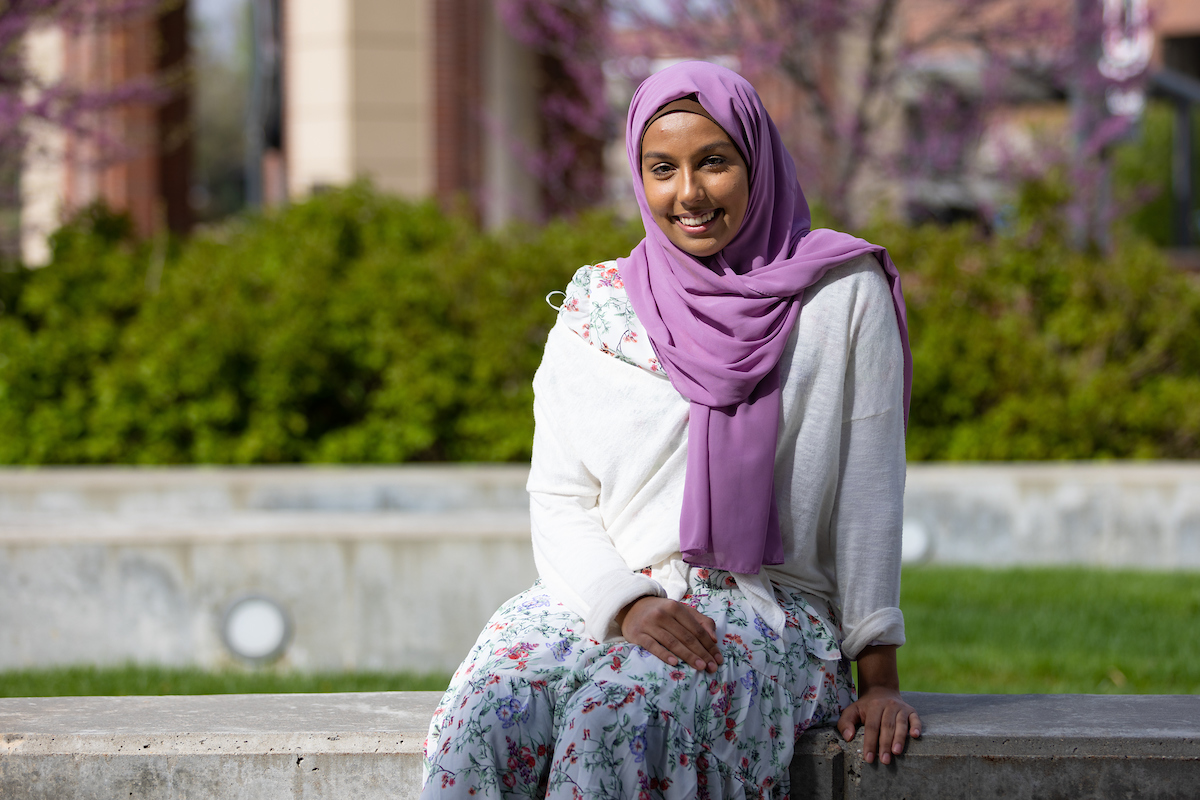 Rowaida Qulagi, a senior from Elkhorn South High School, will be attending UNO next fall with the help of a $4,000 scholarship after being selected as UNO's latest "Maverick in the Making."
Of the many words that describe Rowaida Qulagi, Elkhorn North High School student and UNO's most recent Maverick in the Making, "kind" is one of the best.
"Rowida was a really good person from the start. She would tell me 'good morning' every day that I saw her and 'good afternoon' when she left," said Ashley Anderson, Rowaida's Advanced Placement Psychology teacher and a UNO alumna. "She has been a blessing to have this year. She has been honestly one of the nicest people that I have ever met, and she has always been kind and supportive to all of the students around her."
Qulagi's strengths have stood out in her roles as a weekend teacher at a local mosque, a participant in Family Career and Community Leaders of America, and in Future Business Leaders of America.
"She is a very hardworking and smart girl, and whatever she does, she does with enthusiasm. She has leadership skills, can inspire others, and knows how to get the job done," Saleh Qulagi, Rowaida's father, said. "She always wants to help people without any expectation in return."
Qulagi was surprised with the Maverick in the Making scholarship during her AP Psychology class.
"I am incredibly honored to receive this award. It is such a big achievement," Rowaida said. "I never knew I would receive a huge award, so I am thankful that I got a scholarship from UNO."
Qulagi will attend UNO in Fall 2022 before planning to attend UNMC to complete her degree in Medical Diagnostic Sonography.
"I look forward to pursuing my education, surrounding myself with people who will inspire me, and I will inspire them," Rowaida said. "I also look forward to being really active in the community and the clubs there."
She chose to come to UNO because it allowed her to be near her family and friends. Another reason why she chose UNO was the environment on campus when she took a campus tour.
"I like how the people are sweet and kind [at UNO], because when I arrived, everyone was just kind, sweet, had really nice words to say. They greeted us really nicely, they were already asking about what I want to do, and I felt like it feels like home."
As Qulagi continues her education at UNO, she will be able to learn and grow within the Maverick community.
"Being a Maverick to me is being independent, a trailblazer, carving your own path, and at UNO as a Maverick, you get to do that, but you get to do it within a community and I think that Rowaida is going to get to experience that community and it's going to just continue to build her up into the wonderful woman that she can be," Anderson said.
About the University of Nebraska at Omaha
Located in one of America's best cities to live, work and learn, the University of Nebraska at Omaha (UNO) is Nebraska's premier metropolitan university. With more than 15,000 students enrolled in 200-plus programs of study, UNO is recognized nationally for its online education, graduate education, military friendliness and community engagement efforts. Founded in 1908, UNO has served learners of all backgrounds for more than 100 years and is dedicated to another century of excellence both in the classroom and in the community.
Follow UNO on Facebook, Twitter, Instagram, TikTok, LinkedIn, and YouTube.