UNO Names Racheal Ceraso Employee of the Month
Ceraso was selected for her hard work, empathy, and ability to be a source of positive support for her Youth Safety and Office of Health Security colleagues throughout the pandemic.
published: 2022/03/21
contact: Kristina Hoffmann - UNO Human Resources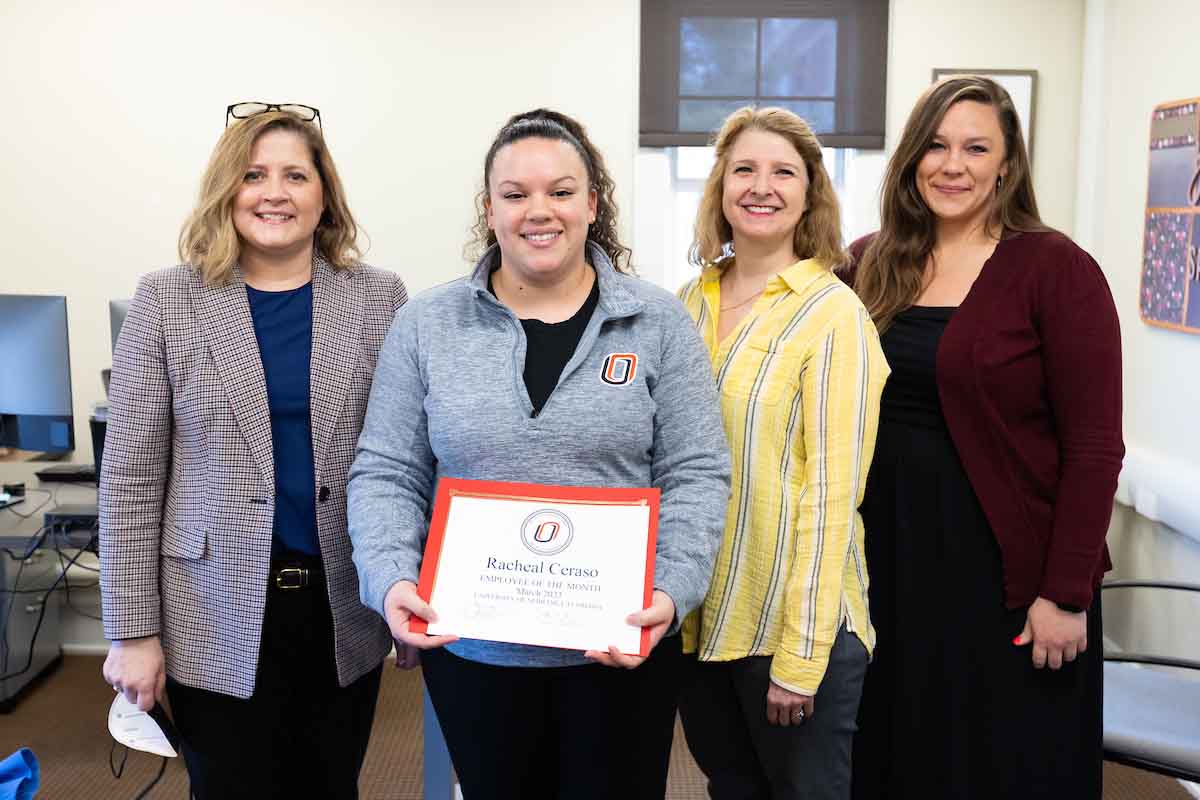 From Left: Jane Meza, Ph.D., interim executive director of the UNO Office of Health Security; Racheal Ceraso, youth safety coordinator; Cathy Pettid, LMHP, assistant vice chancellor for student affairs; and Rachael Jensen, director of youth safety.
Racheal Ceraso, UNO Youth Safety Coordinator has been named UNO's Employee of the Month for March 2022.
Ceraso was surprised by the UNO Celebration Committee on Tuesday, March 15, to celebrate the honor.
In her nomination, Ceraso's hard work, empathy, and communication skills were featured.
"Her skills and experience helped create an efficient office that is operating," her nominator said. "Racheal's stamina and reliability are admirable. She thrives on critical thinking and problem solving, provides extraordinary customer service, and finds ways to inject humor into an incredibly heavy job."
Amidst a long pandemic that has demanded frequent changes in policy and protocol, Ceraso has worked to promote understanding of the virus.
"She knows the pandemic guidance well and provides opportunities to explain the guidance in verbal and written form," her nominator said. "With the most unpredictable pandemic we've ever experienced, we went from knowing nothing to becoming well-versed in adapting, explaining, and listening. Racheal finds ways to make processes more efficient and creates visual explanations to best serve the UNO community."
From supporting those coping with a pandemic to helping fellow employees having bad days, Ceraso supports others with empathy and dependability.
"Racheal excels in calming individuals, especially when they are stressed and overwhelmed," her nominator said. "To the team, Racheal helps alleviate the heaviness of the job by constantly checking in and lending an ear to listen when things get tough. Racheal's empathy shines through in her conversations with students and employees, and she is constantly looking for solutions to problems outside of COVID-19."
For being awarded as Employee of the Month, Ceraso will receive a certificate, hot/cold tumbler, monetary award, two tickets to a UNO sporting event, and use of a designated parking space.
---

Do you want to submit a nominee for Employee of the Month? Use our newly-launching People Are Everything software to access the Employee of the Month nomination form.
Questions about Employee of the Month? Contact Kristina Hoffmann at kristinahoffmann@unomaha.edu.
About the University of Nebraska at Omaha
Located in one of America's best cities to live, work and learn, the University of Nebraska at Omaha (UNO) is Nebraska's premier metropolitan university. With more than 15,000 students enrolled in 200-plus programs of study, UNO is recognized nationally for its online education, graduate education, military friendliness and community engagement efforts. Founded in 1908, UNO has served learners of all backgrounds for more than 100 years and is dedicated to another century of excellence both in the classroom and in the community.
Follow UNO on Facebook, Twitter, Instagram, TikTok, LinkedIn, and YouTube.