Chris Crutchfield Introduced as Omaha Men's Basketball Head Coach
The Omaha community and fans were invited to attend Crutchfield's introduction as Omaha men's basketball coach on March 21 at Baxter Arena.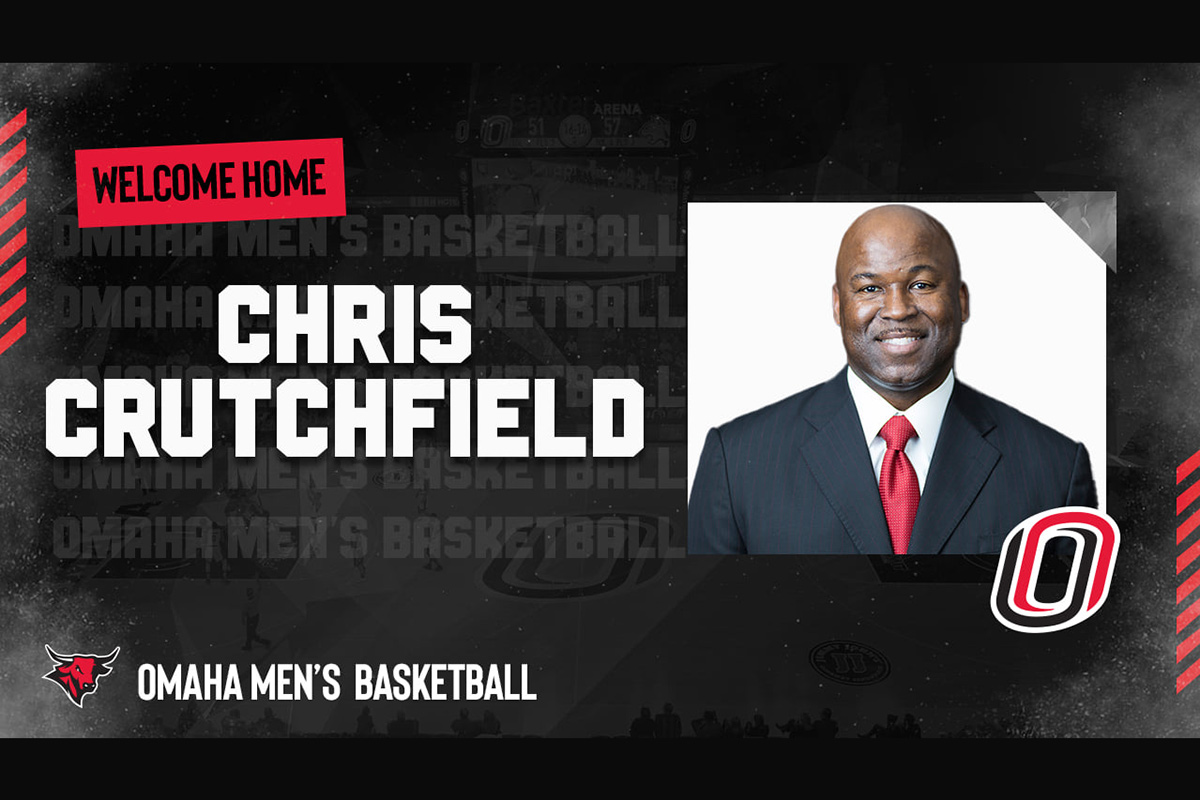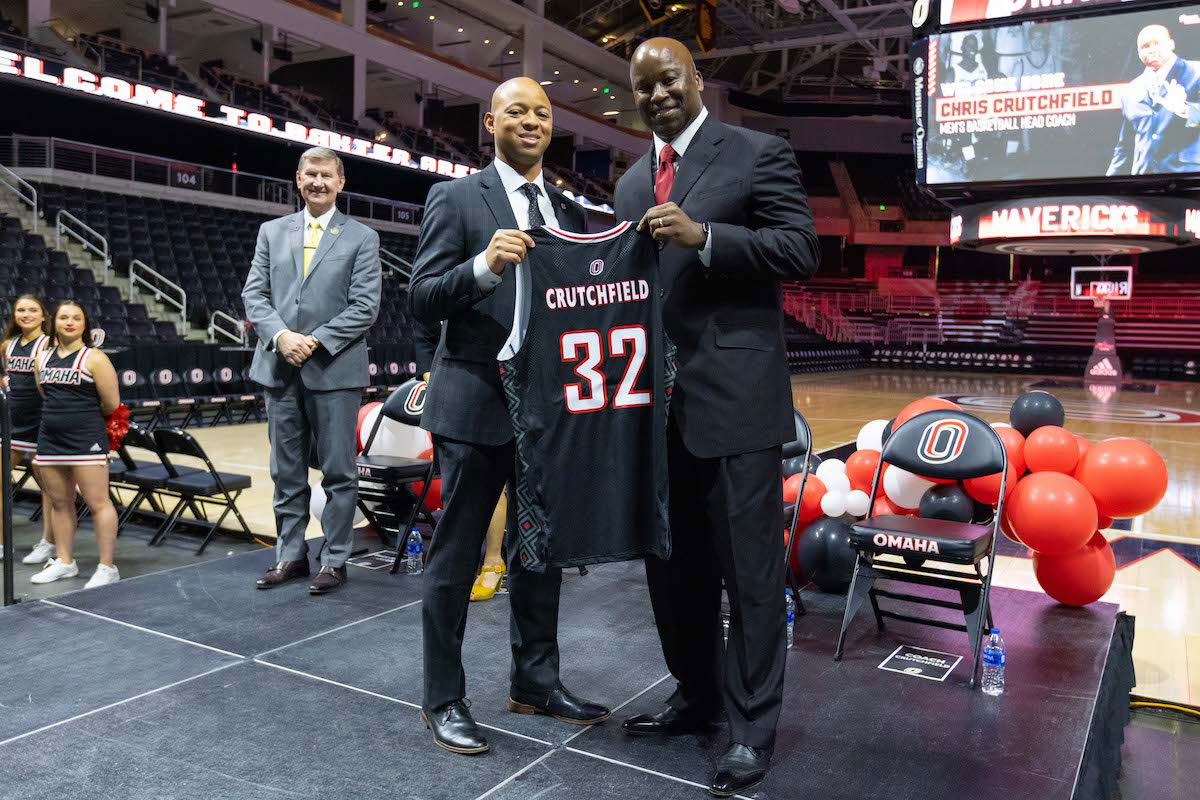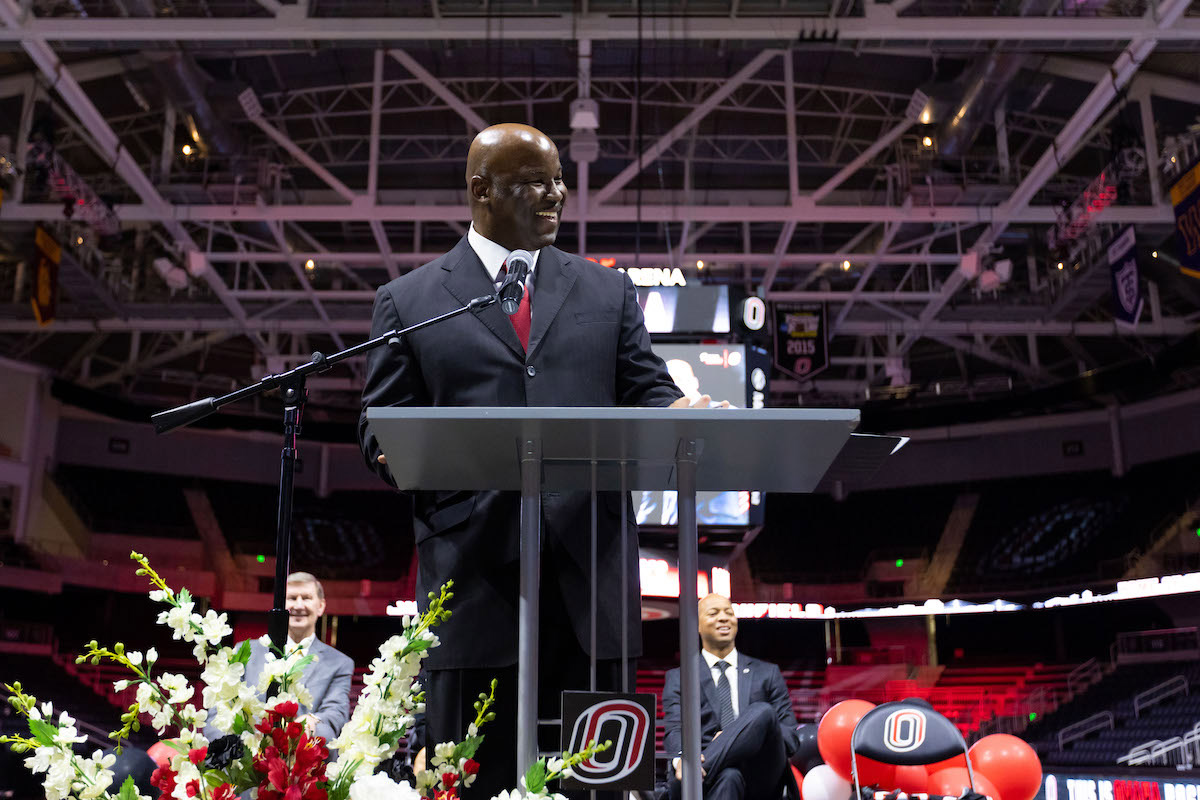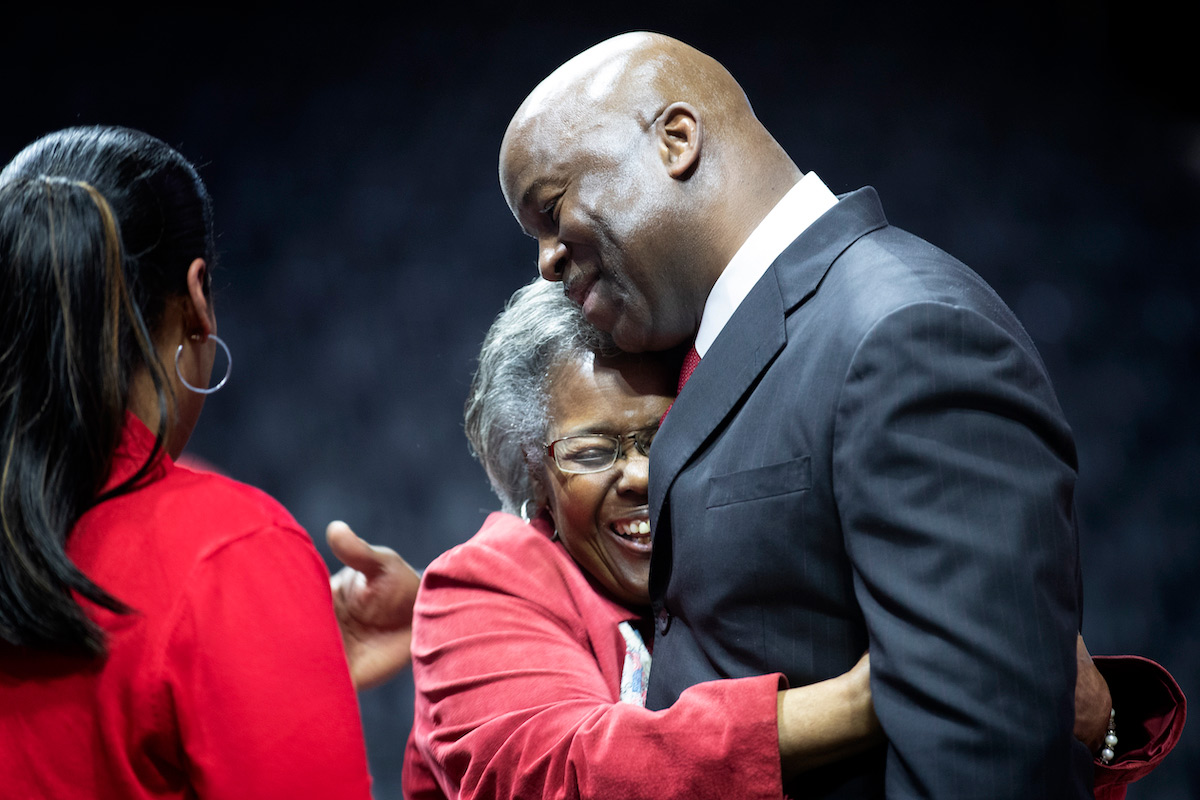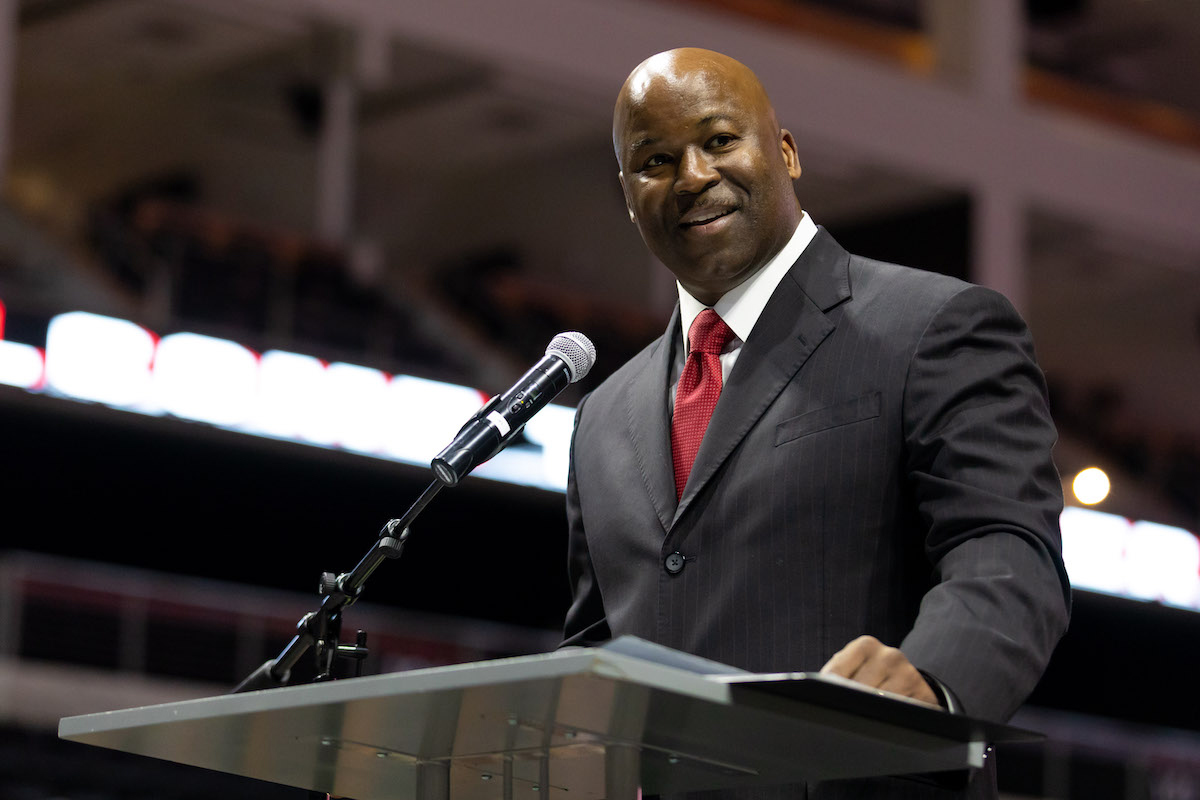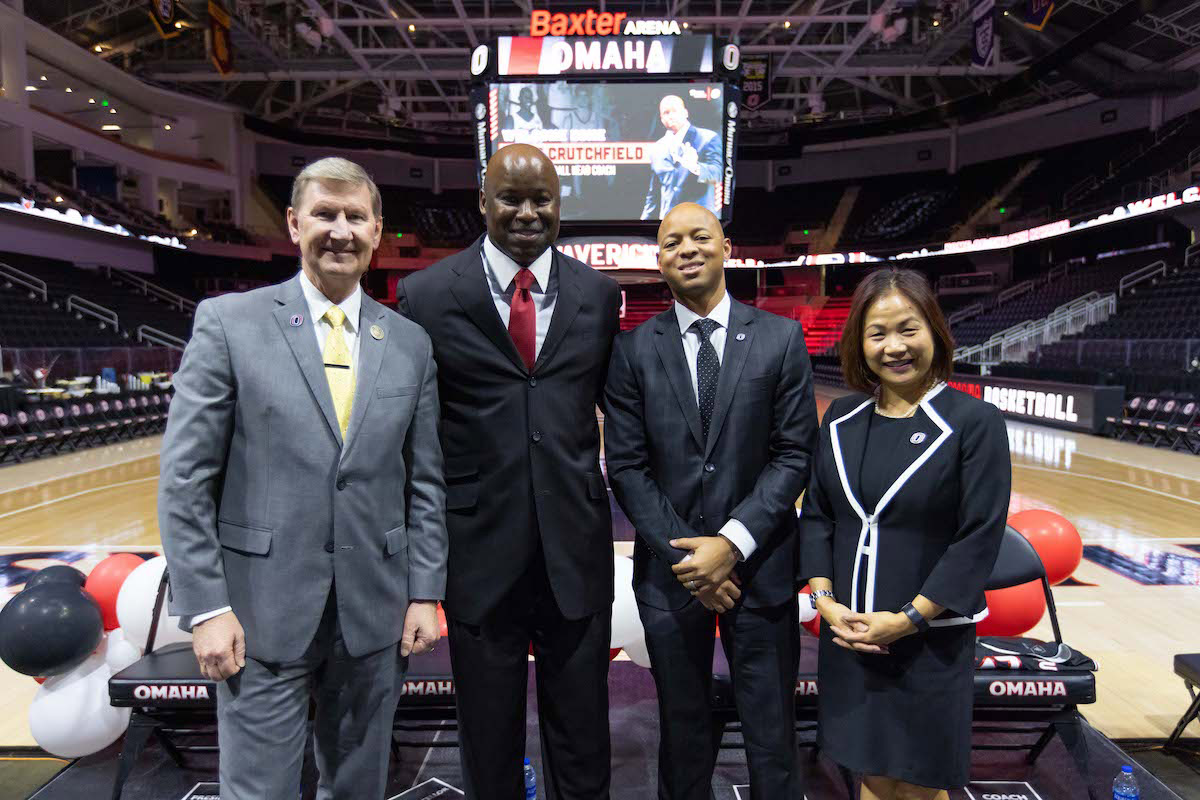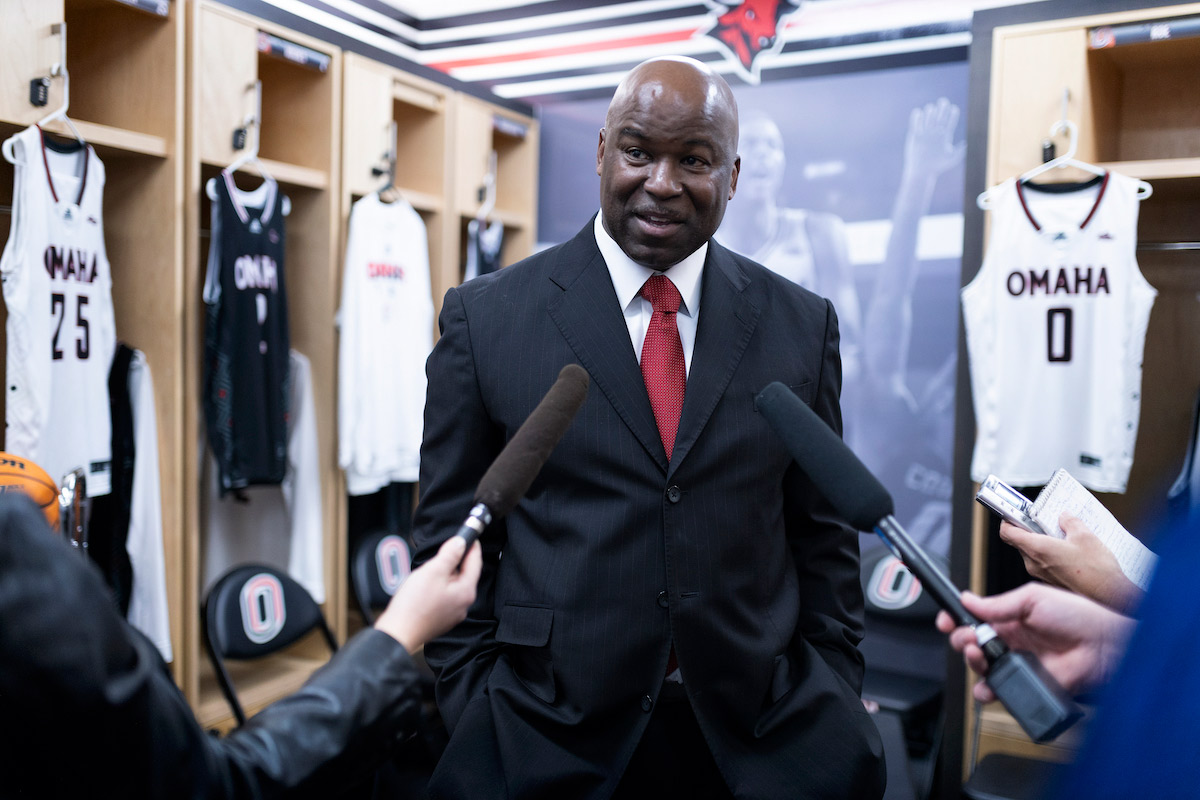 Chris Crutchfield's return to his alma mater will eventually be defined by success on the court.
The new men's basketball coach at the University of Nebraska at Omaha (UNO) scored his first victory, however, by winning the press conference at Baxter Arena on Monday that reintroduced him to the community.
In a ceremony that featured University of Nebraska System President Ted Carter; UNO Chancellor Joanne Li, Ph.D., CFA; and Vice Chancellor/Director of Athletics Adrian Dowell, an emotional Crutchfield called his return to the school in which he earned two degrees and began his coaching career in the 1990s "a dream come true."
Crutchfield returned to Omaha from Oregon, where he spent the past year as an assistant under Dana Altman. The Ducks wrapped up their season on Saturday with a second-round NIT loss at Texas A&M.
Prior to that, he was the head coach at Division II East Central in Ada, Oklahoma, where two of his sons were playing. Crutchfield was the associate head coach for Arkansas before that after spending eight seasons in a similar roll under Lon Kruger at Oklahoma. He has also been an assistant at Oral Roberts, TCU, New Mexico State and UTSA after beginning his career as a graduate assistant then an assistant at Omaha.
Crutchfield thanked family, friends and those who made his return possible, as well as a number of men who impacted his journey – from former UNO football coach Sandy Buda and basketball coach Bob Hanson to the late Hall-of-Famer Lou Henson to Lon Kruger, Eric Musselman and Altman, among others.
"I wouldn't be standing in front of you today without the help of those men," he said.
Buda recruited him to Omaha. Hanson helped him find his love for basketball again. Former UNO coach Kevin Lehman gave him his first coaching job, and Tim Carter brought him to the Division I level at UTSA.
Crutchfield singled out Kruger, whom he coached under for eight years at Oklahoma, for giving him the opportunity to make decisions in recruiting and game preparation that directly impacted that program.
"He did that, and it gave me unbelievable confidence," he said. "And for that, I'm indebted to him."
Crutchfield brings more than 25 years of coaching experience to Omaha. He was so eager to return that he hushed Dowell while they were discussing the position with "don't say anything else, I want the job."
"He could've gave me two nickels, and I would've ran to Omaha," Crutchfield said before acknowledging that his wife Jodi, also a UNO alum, would've had something to say about that.
"I wanted to be here," he added. "I know the potential that this place has."
Crutchfield stated his belief that Omaha men's basketball, which has been within one win of an NCAA tournament berth twice since its transition to the Division I level, has its best days ahead of it. He said the city, his alma mater and Baxter Arena would all play key roles in the future success of his program.
"I can sell this place. I can sell UNO. I can sell Omaha," he said. "Student-athletes around the country, get ready. I'm coming – because we've got something special here. I really believe that in my heart."
About the University of Nebraska at Omaha
Located in one of America's best cities to live, work and learn, the University of Nebraska at Omaha (UNO) is Nebraska's premier metropolitan university. With more than 15,000 students enrolled in 200-plus programs of study, UNO is recognized nationally for its online education, graduate education, military friendliness and community engagement efforts. Founded in 1908, UNO has served learners of all backgrounds for more than 100 years and is dedicated to another century of excellence both in the classroom and in the community.
Follow UNO on Facebook, Twitter, Instagram, TikTok, LinkedIn, and YouTube.