Celebrating Chancellor Li's Investiture: "Honor the Journey, Inspire the Future"
Chancellor Li: "At UNO, perhaps the most important goal is to empower our students through higher education and improve their social and economic mobility. If we can move students from the lowest tier, up one or even two tiers, then we lift not only our students, but their families, and by extension our community, and our state."
published: 2022/03/14
contact: Office of Strategic Marketing and Communications
email: news@unomaha.edu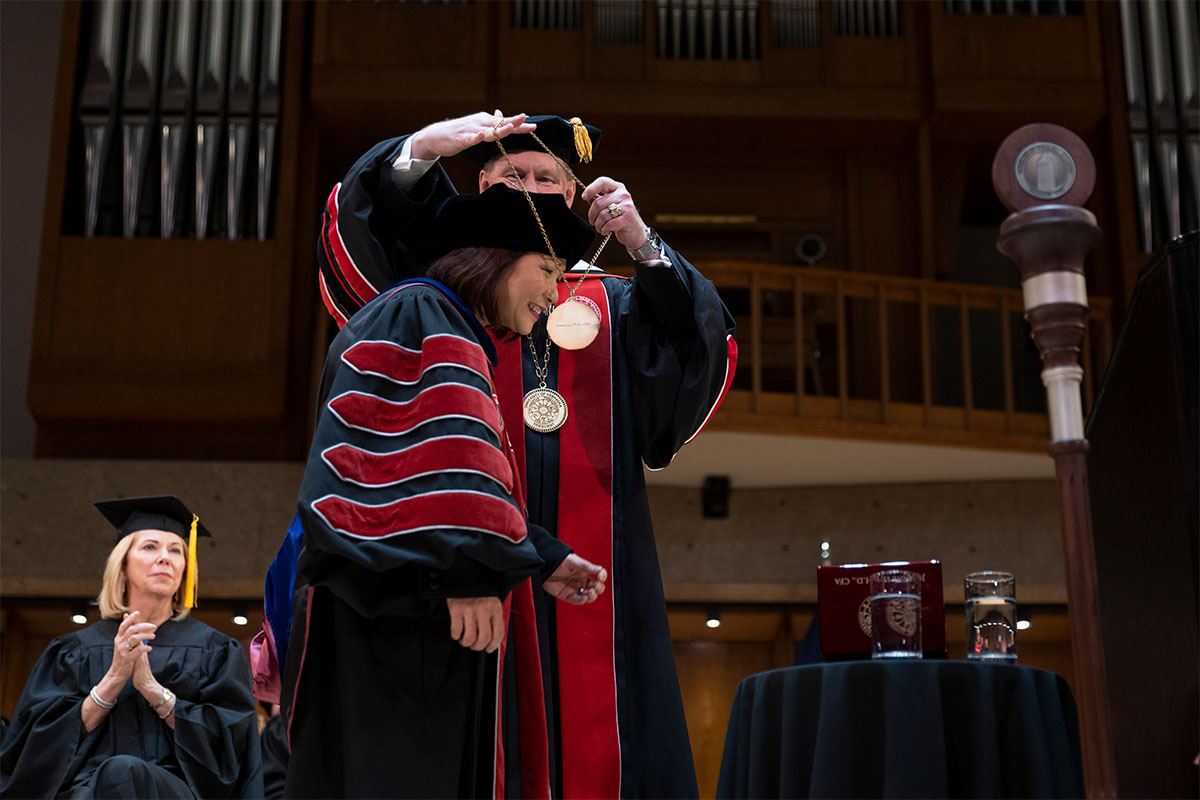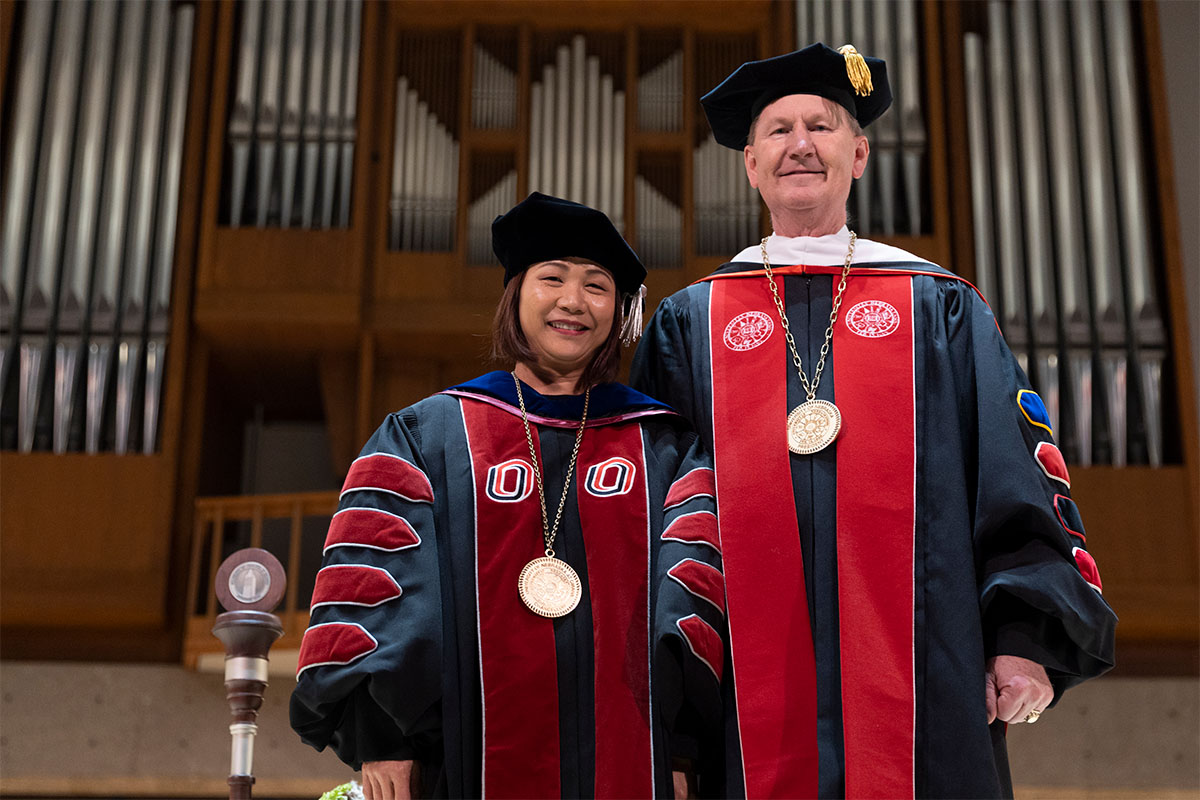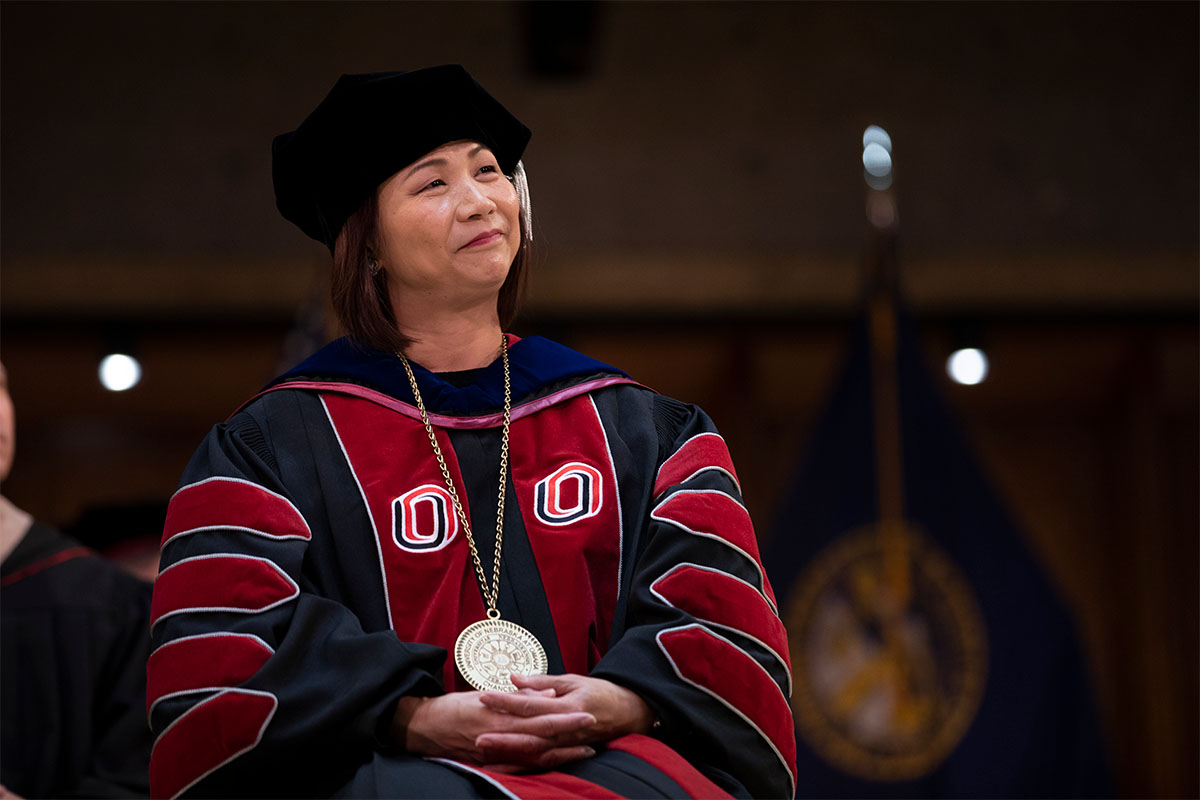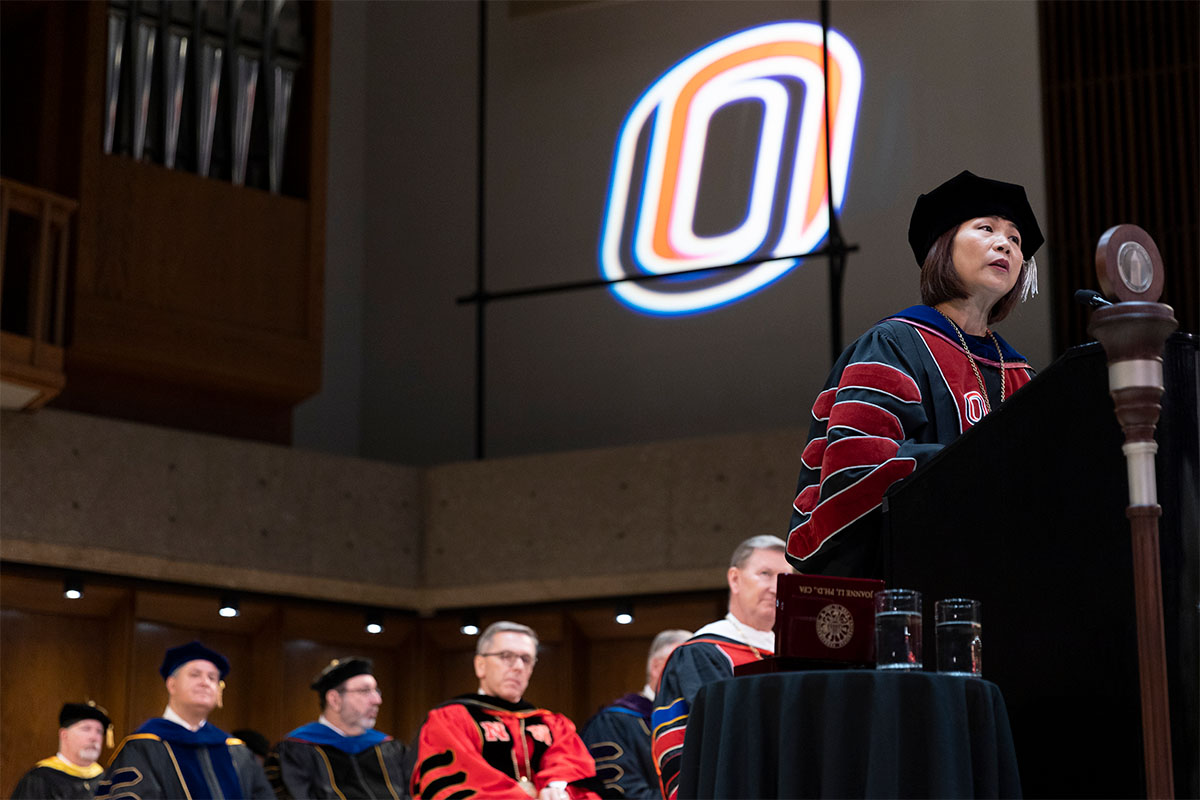 It is an occurrence so rare that when it arrives, there is no question that it is worth celebrating.
And celebrate is exactly what the University of Nebraska at Omaha (UNO) community did on Friday, March 11, as Joanne Li, Ph.D., CFA, was formally installed as UNO's 16th Chancellor during a memorable and historic investiture ceremony.
As the first woman of color to serve as UNO chancellor and the first Asian-American in the history of the University of Nebraska System to hold an executive leadership role, Chancellor Li is also a first-generation student, international student, and beneficiary of scholarship dollars to help complete her education. In other words: a true Maverick.
The Ceremony
Watch a recording of the ceremony
With a theme of "Honor the Journey, Inspire the Future," Chancellor Li used the opportunity to not just celebrate UNO's history, but make clear that the university's first 114 years were only the beginning.
"Omaha's drive for excellence, adaptability, and collaborative service to community, combined with the amazing history of philanthropy and partnership made my choice to join UNO easy. Here, I feel deeply connected to what UNO stands for. Here, I am home."
Joining Chancellor Li for the event were her husband, Frank Stalla, who teaches for UNO's College of Business Administration; her mother, who flew in from London; her daughter, Nicole, a student at the University of Virginia; her niece, Bianca, who came in from Hawaii; her sisters; and her father and mother in-law.
Also in attendance were representatives from around the city and the state, including Omaha Mayor Jean Stothert; University of Nebraska System President Ted Carter; former UNO Chancellor and University of Nebraska Executive President and Provost Jeffrey P. Gold, M.D.; University of Nebraska-Lincoln Chancellor Ronnie Green; University of Nebraska at Kearney Chancellor Doug Kristensen; and members of the University of Nebraska Board of Regents.
"In the next 50 years I see Omaha growing to one of the top 25 cities in the United States ... the students, faculty, staff, and alumni of the University of Nebraska at Omaha will be part of the next decades of success," Stothert said. "Dr. Li, this great university is now in your capable hands. We welcome you as Chancellor and look forward to our continued work as partners."
As investiture guests each recounted their experiences meeting UNO's 16th Chancellor for the first time, there was a common thread of compassion and desire to fight for others.
"As I learn more about our university, our student body is excellent by inclusion," said Maeve Hemmer, UNO Student Body President and Student Regent. "Chancellor Li embodies that value and that is why I know she is the right leader for our students."
Throughout Chancellor Li's remarks, it was clear she sees the road to the future of higher education, of workforce development, and of innovative research, going through UNO as Nebraska's urban campus.
"At UNO, perhaps the most important goal is to empower our students through higher education and improve their social and economic mobility," Chancellor Li said. "If we can move students from the lowest tier, up one or even two tiers, then we lift not only our students, but their families, and by extension our community, and our state."
True to Chancellor Li's passion and personality, which she first exemplified by "hitting the ground running" in her first 100 days as Chancellor, her investiture was no different.
Featuring samba drums; a medley from songs performed UNO's pep band, the Maverick Machine; a choral performance by UNO students; and a routine from the national champion Maverick Dance Team, Chancellor's words were reflected in the event's Maverick energy.
"Every great city has a top-notch public research university," Chancellor Li added. "And UNO is the only 4-year public university in the city of Omaha. Investment in UNO is investing in the future of Nebraska."
That future is one that Chancellor Li envisions as one of big goals with the commitment to make them become reality. Just a few of her priorities as Chancellor include:
Ensure that all UNO students have access to scholarships at the state and federal level that can help them achieve their educational goals.

Improve upon UNO students' ability to complete their degrees on time through leveraging resources to enhance retention rates and recruitment initiatives.

Invest in the "economy of the future" by doubling the number of paid internship opportunities available to UNO students and providing micro-credentialing to active professionals.

Create a "House of Questions" where the community can understand a history of genocide, human rights violations, and the Holocaust to inspire a future committed to the value of empathy and freedom.

Making UNO the university of choice for all students regardless of background.

Build on existing community relationships and partnerships to place UNO at the center of the next stage Omaha's economic, social, and intellectual development.
"I want everyone to be like the kid in the back seat," Chancellor Li said. "We must keep asking: 'are we there yet?' And the answer is, no, we are not."
She challenged the audience to join her in accomplishing her vision. While Mavericks are "independent thinkers, and entrepreneurial risk takers … the truth is we cannot go there on our own," Chancellor Li said.
"To the world, I say UNO has arrived. Are you ready to receive us?"
What Others Are Saying
Ted Carter, University of Nebraska System President

"The [UNO] founders' vision for accessible and quality higher education for the people of Omaha still exists today. I only wish they could see what the institution they created has become over the last 114 years … Today we usher in a new chapter for Nebraska's metropolitan university – a celebration of a leader who is already hitting the ground running. Dr. Joanne Li is a Maverick in every sense of the word."
Bob Phares, Chair of the University of Nebraska Board of Regents

"Chancellor Li, you have proven yourself to be an energetic leader, a big thinker, a gifted collaborator, and already she has become a true Maverick. Your student-centered approach and bias towards action are going to serve this University and our entire state very well … I believe we have the right person at the right time to lead UNO through its next chapter of growth and opportunity."
Liz Wessling, Ed.D., UNO Faculty Senate President

"I believe Jo embodies the theme of today: 'Honor the Journey and Inspire the Future.' Not only is she proud of her personal journey that brought her to our campus… but she knows every student, staff member, and faculty member has had their own personal journey. She honors and respects each person's journey as evidenced by the countless hours she has spent listening and making notes of our past experiences as well as our present joys and struggles, both personally and professionally."
Keristiena Dodge, UNO Staff Advisory Council President

"Chancellor Li knows that staff are the backbone of any well-functioning institution. Her appreciation for and commitment to staff was visible from the very start…and I have watched that commitment in action. She cares about her people. All of her people. She frequently says that we are family and like a true family member, she remembers people's names, their stories, their concerns, and their ideas."
Viv Ewing, First Vice Chair, UNO Alumni Association Board of Directors.

"Having seen Chancellor Li at work, I am confident that she will inspire us to form and fulfill a new vision for the university. With her at the helm, already our step has quickened. And she has challenged us with very ambitious goals that we want to meet."
Mary López, President of AmeriSphere Companies, UNO alumna, and former UNO School of Public Administration Career Services Director

"The partnership between UNO and our local, state, and regional communities is vital, mutually beneficial, and provides a living laboratory for the 'what if?' questions that big thinkers ask … Having Chancellor Li's enthusiastic and strategic vision is exactly the type of leadership that UNO needs in these collaborative efforts."
Rodrigo López, Chair of AmeriSphere Companies and UNO alumnus

"When Dr. Li speaks of how her experiences [as both an immigrant and a first-generation student] shape her, she always comes back to her love of the United States and the opportunities that being the first in her family to go to college provided her. She [holds these close] as strong reasons to give her very best, and to give each UNO student the chance to be their very best."
Sights and Sounds
Points of Pride
About the University of Nebraska at Omaha
Located in one of America's best cities to live, work and learn, the University of Nebraska at Omaha (UNO) is Nebraska's premier metropolitan university. With more than 15,000 students enrolled in 200-plus programs of study, UNO is recognized nationally for its online education, graduate education, military friendliness and community engagement efforts. Founded in 1908, UNO has served learners of all backgrounds for more than 100 years and is dedicated to another century of excellence both in the classroom and in the community.
Follow UNO on Facebook, Twitter, Instagram, TikTok, LinkedIn, and YouTube.