Cultivating Diversity, Understanding Through Song
Derrick Fox, DMA, is an associate professor and director of choirs at UNO. He has also spent the last several years helping choral communities across the nation expand their understanding of different cultures, experiences, and contributions to the history of music.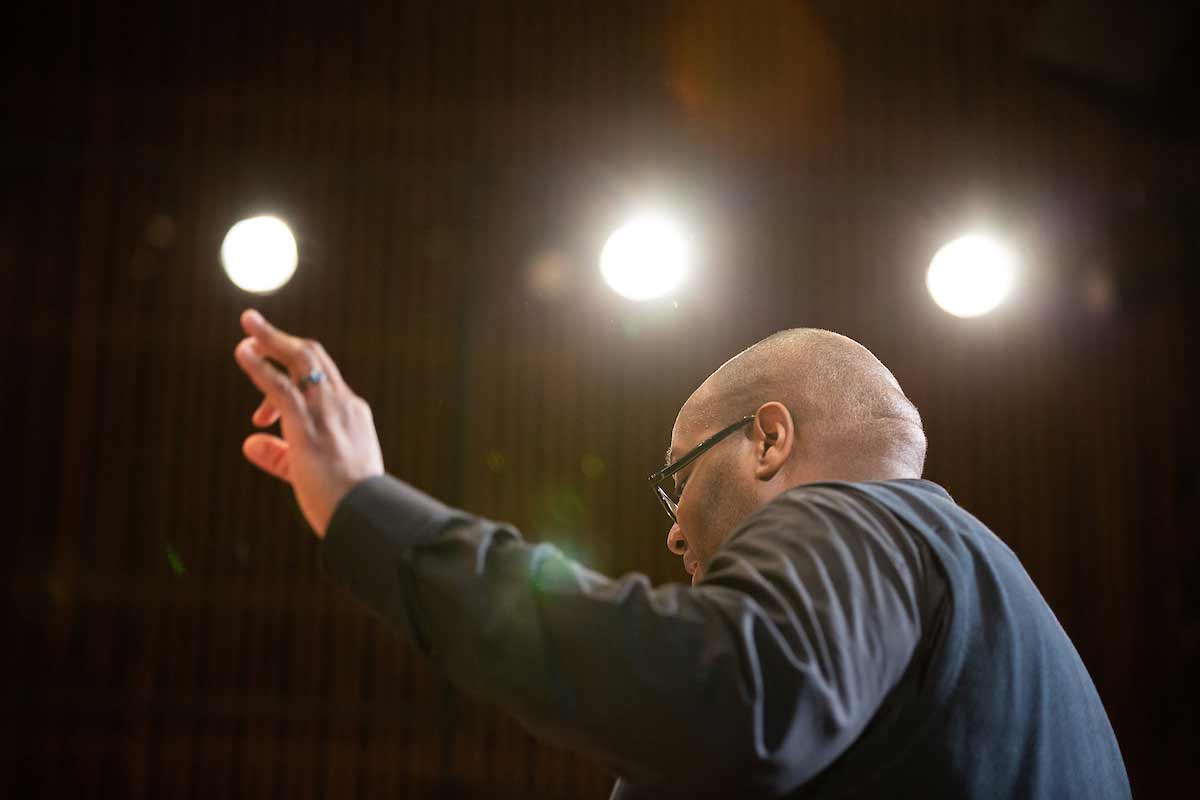 Derrick Fox, DMA, leads a choir performance featuring UNO students in 2019. Beyond his work as a college educator, he provides workshops on diversity, equity, access, inclusion, and belonging to choral programs across the nation.
For Derrick Fox, DMA, distinguished associate professor of music at UNO, diversity is essential to sharing lived experiences through music. By leading workshops that teach diversity, equity, inclusion, and belonging (D.E.I.A.B) across the country, Fox is working to create a better understanding of marginalized people's experiences and implement inclusive practices in the choral and instrumental communities.
Fox's inspiration came from his own lived experiences and the performative allyship he noticed in the choral community.
"I started doing these workshops to help pre-service and in-service conductors and teachers unpack the bias in their curriculum and in themselves to create and foster inclusive music communities," he said. "I've often been told by people who attend my workshops that they are no shame, no blame learning spaces that encourage risk taking, open communication and acknowledge we are all on a personal journey."
For several years now, Fox has led D.E.I.A.B workshops for clients around the country; it's an idea that stemmed from various presentations he would give at conferences and how he would incorporate D.E.I.A.B into his own teachings at UNO.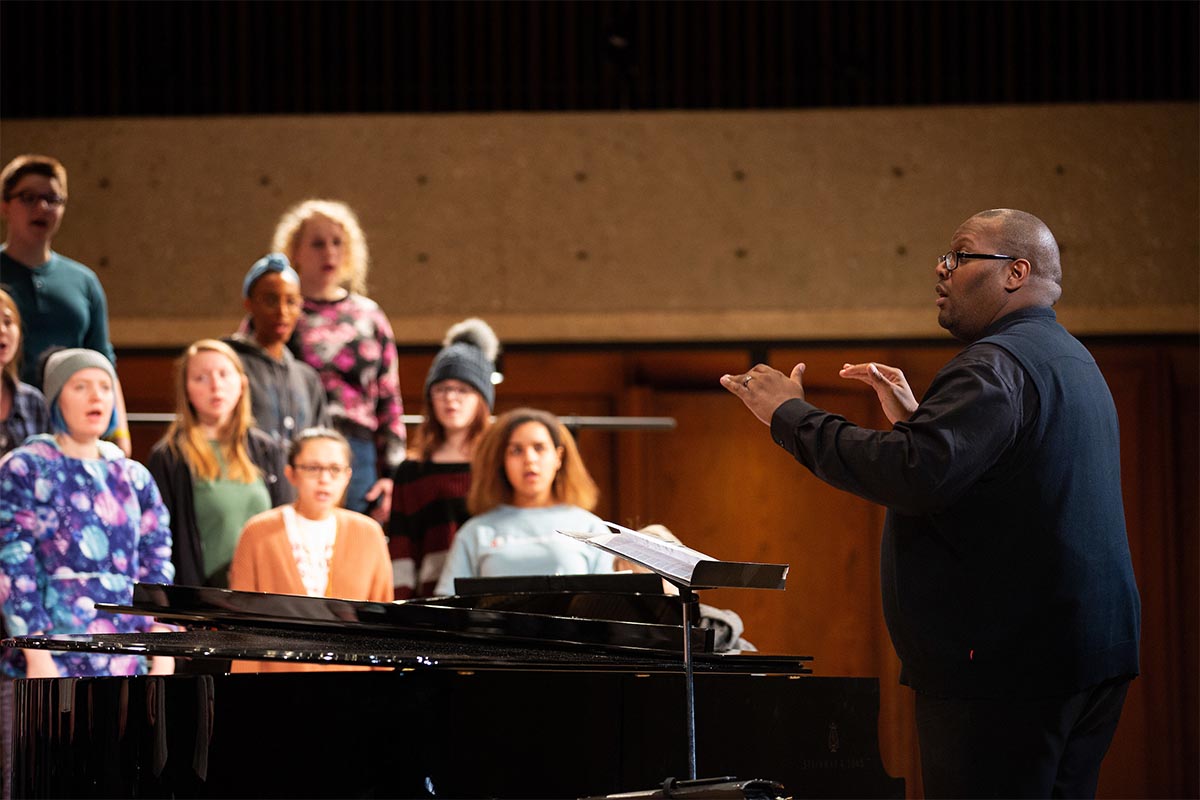 Each workshop begins with consultation with the head of the organization he's presenting to so he can better understand that group's needs. Throughout the workshops, Fox teaches participants terms, concepts, and practices related to D.E.I.A.B. He asks the participants to interact with and learn from each other, while working to become more inclusive and knowledgeable themselves.
"It always starts with people doing that work internally first, because before you can really step into a space creating or fostering change, you have to do the work on yourself," Fox said. "And that's because of the cycle of oppression and socialization, and you have to see those places within you that have built processes and structures that disadvantage or exclude people from lived experiences. Once you realize that for yourself, then you may start seeing it in the spaces you occupy and then can do something about it."
At the end of workshops, Fox gives recommendations so that the participants can continue D.E.I.A.B practices in the long term.
"My role has been helping people build in systems of longevity, so that they can hold themselves accountable, and so that people in those spaces see themselves respected and reflected in those practices; and have the psychological safety to survive and most importantly thrive," Fox said. "It's an amazing feeling to know I am helping people having conversations about D.E.I.A.B. that lead to actions that support D.E.I.A.B."
In creating more inclusive spaces for people who are marginalized within choral and instrumental communities, Fox has found a way to enact change across the country.
As the Fairview High School Choral department reflected in a recent testimonial: "Our students have said this not only changes their immediate world perspectives, but has given them a foundation that will affect them throughout their lives. When we know better, we do better.'"
In the years since offering his first workshop, Fox has become more confident in himself while creating more inclusive communities. And, as more people reach out to make use of his insights and training, the more impact he has been able to have on how communities understand and express themselves through music.
"I feel like I'm carrying the work of many people before me and that feels great. I feel like I'm doing work to make the world a better place for my two kiddos. But most importantly, it makes me feel like I belong, because now I can walk in these spaces, just being who I am, knowing that I am enough."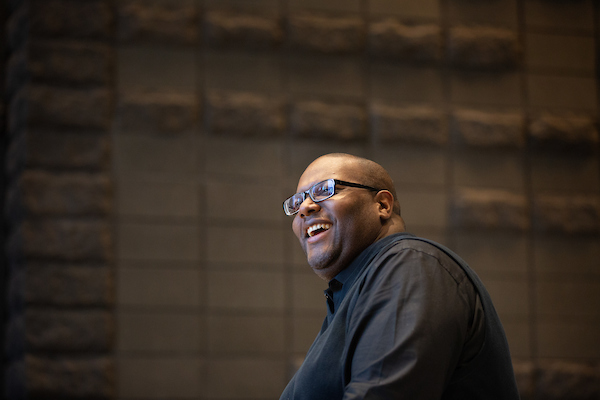 About the University of Nebraska at Omaha
Located in one of America's best cities to live, work and learn, the University of Nebraska at Omaha (UNO) is Nebraska's premier metropolitan university. With more than 15,000 students enrolled in 200-plus programs of study, UNO is recognized nationally for its online education, graduate education, military friendliness and community engagement efforts. Founded in 1908, UNO has served learners of all backgrounds for more than 100 years and is dedicated to another century of excellence both in the classroom and in the community.
Follow UNO on Facebook, Twitter, Instagram, TikTok, LinkedIn, and YouTube.