Chancellor's Office Announces Position Updates
Three current staff members are taking on new roles within the Chancellor's Office to support the strategic direction of the university in and across a variety of areas including research expansion, student completion rates, degree completion, recruitment opportunities, and retention efforts.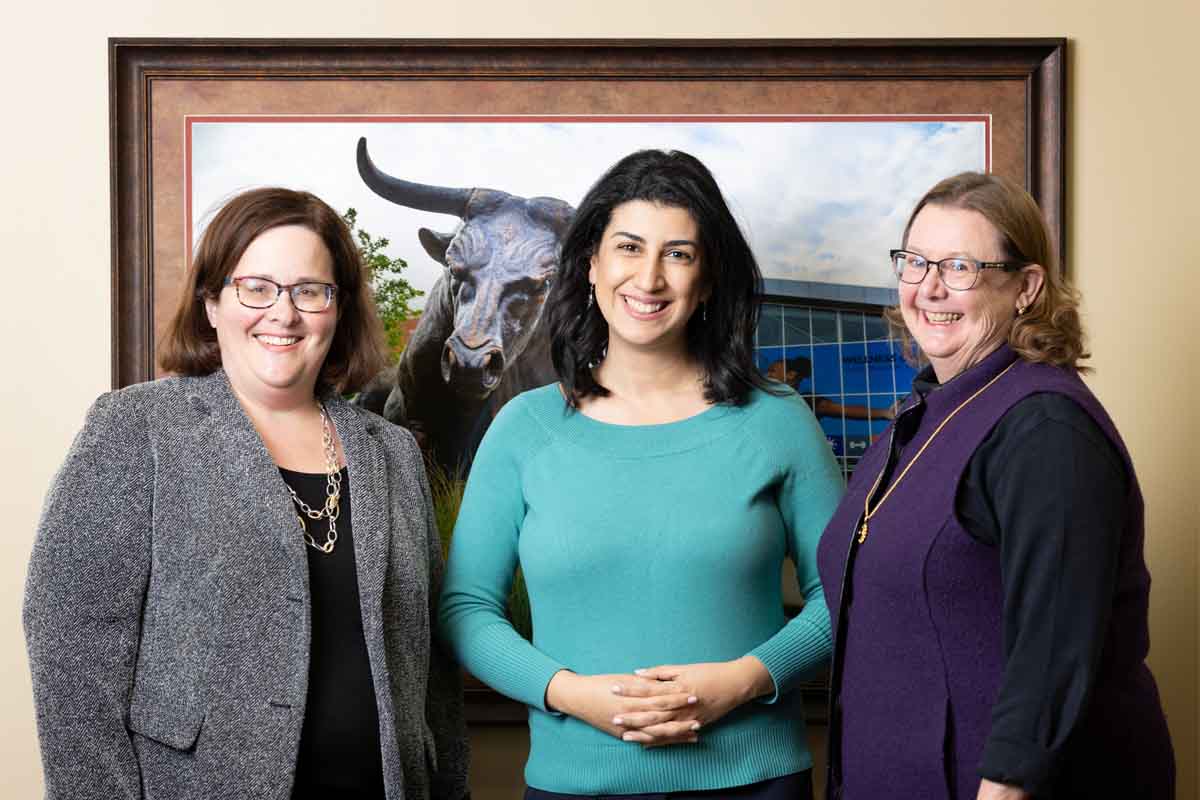 The Chancellor's Office has named three current UNO staff to new positions. From left: Victoria Kohout, Keristiena Dodge, and Deborah Smith-Howell.
With the naming of three current UNO staff to new positions, UNO Chancellor Joanne Li, Ph.D., CFA, has further bolstered the members of her executive leadership team to respond to the needs of a thriving urban metropolitan campus.
As part of the Chancellor's Office, these positions will support the strategic direction of the university by helping grow research efforts, increase student completion rates, maximize students' time to earning their degree, identify new recruitment opportunities, and bolstering retention efforts to strengthen the university's position locally, regionally, and nationally.
After serving six months as interim Chief of Staff for Chancellor Li, Deborah Smith-Howell, Ph.D., will transition into Senior Advisor to the Chancellor. Keristiena Dodge, who most recently served as Director of Academic Strategic Planning, will serve as permanent Chief of Staff going forward. Additionally, Victoria Kohout, who had served as Director of State and Community Relations since 2019, has been named Chief of Government and Community Relations.
"I couldn't be more excited to have these dedicated members of our campus in positions that will be key in shaping UNO's future," Chancellor Li said. "Each of them brings incredible institutional knowledge, strategic vision, and tireless advocacy for our students, staff, and faculty as we continue to look for ways to build on what works and look for opportunities to innovate."
Chief of Staff
As Chief of Staff, Dodge will assist and support Chancellor Li at the highest levels of campus operations and planning. She will work closely with the Chancellor's executive team and campus leaders to address campus needs, opportunities, and initiatives.
"Having Dr. Smith-Howell as a mentor in my time at UNO and continuing that mentorship as I move into my new role is a true joy," Dodge said. "I am also honored to have that continuation be in support of Chancellor Li, who has been an inspiration for what is possible for our campus. I know this opportunity will give me the ability to not just advocate for my colleagues and our students but be heavily involved in what the UNO of the future looks like, as well."
Dodge joined UNO in 2013 and served in a variety of roles before most recently working in the Office of Academic Affairs as the Director of Academic Strategic Planning. In that role, she facilitated strategic planning, oversaw academic program development, and led efforts to measure the impact of UNO's community engagement. She also currently serves as president of UNO's Staff Advisory Council.
Prior to joining UNO, Dodge worked as a community organizer for various quasi- and non-governmental organizations and a journalist in the Netherlands. She holds a bachelor's degree in political science and international law from Utrecht University in the Netherlands as well as a master's degree in Middle East politics from SOAS University of London. Dodge is currently pursuing her Ph.D. in Public Administration at UNO.
Senior Advisor to the Chancellor
As Senior Advisor to the Chancellor, Smith-Howell will continue to work closely with Chancellor Li to provide consultation, recommendations, and guidance in maintaining and growing UNO's role as a leading urban higher education institution. Among Smith-Howell's responsibilities will be leading university strategic planning, master planning, and special projects.
"Serving as interim Chief of Staff was truly an honor and I look forward to continuing to work closely with Chancellor Li and her outstanding leadership team. Smith-Howell said. " I am excited to continue to support the important work UNO is doing to support our students, faculty, and staff. .
A graduate of the University of Texas at Austin, Smith-Howell joined UNO in 1989 as a faculty member in the Department of Communication and served as department chair and founding director of the School of Communication from 1996 to 2004. She served as associate vice chancellor for Academic Affairs and dean of graduate studies since 2007 prior to taking on the interim Chief of Staff role in July 2021.
Chief of Government and Community Relations
As Chief of Government and Community Relations, Kohout will oversee UNO's ties to federal, state, and local government entities, promoting the campus' reputation among key community leaders. In addition to advocating for policies at the national, state, and local level that would support UNO's mission, the position will establish opportunities for faculty, staff, and students to participate in various relationship-building events that promote awareness and support for UNO in the public sector.
"While I was certainly aware of UNO's commitment to the city and state prior to my role, the past two-and-a-half years have been eye opening in the breadth and depth of that commitment cross the entire campus," Kohout said. "Being able to grow the ways in which UNO is able to advocate for itself to our government representatives is an exciting opportunity that I know I and the campus community are ready to take advantage of.
Kohout joined UNO in 2019 as Director of State and Community Relations in 2019. Since then, she has been integral to maintaining state-supported funding for the university system, engaging students in public advocacy for the university, and heightening awareness of UNO research, public service, community impact, and economic return on investment amongst state legislators.
Prior to UNO, Kohout was executive director of the Nebraska Coalition for Lifesaving Cures.
About the University of Nebraska at Omaha
Located in one of America's best cities to live, work and learn, the University of Nebraska at Omaha (UNO) is Nebraska's premier metropolitan university. With more than 15,000 students enrolled in 200-plus programs of study, UNO is recognized nationally for its online education, graduate education, military friendliness and community engagement efforts. Founded in 1908, UNO has served learners of all backgrounds for more than 100 years and is dedicated to another century of excellence both in the classroom and in the community.
Follow UNO on Facebook, Twitter, Instagram, TikTok, LinkedIn, and YouTube.