Service Learning Showcase, a Service Learning Highlight
Learn how the Service Learning Showcase provided a deeper insight into how service learning has made a difference in people's learning experience and advanced community-building efforts.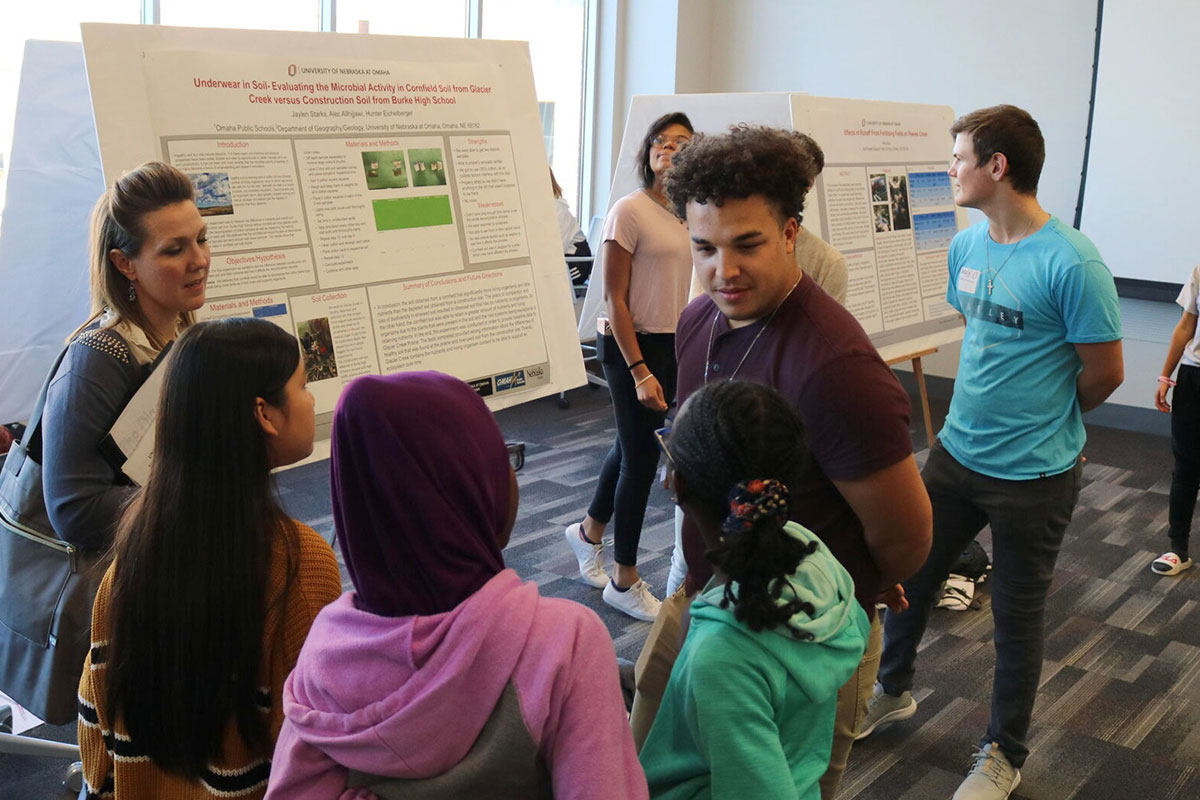 The UNO Service Learning Academy (SLA) is working with UNO faculty, preschool through 12th grade (P-12) teachers, and community partners to creatively adapt service learning projects to remote learning. Service learning projects will be highlighted throughout the remote learning phase.
Showcasing Excellence in Service Learning
This April, the UNO Service Learning Academy (SLA) hosted their annual Service Learning Showcase online to celebrate the contributions of students made through service learning and in the community. The showcase highlighted the various ways in which service learning and experiential learning have positively influenced and changed students' and educators' journeys.
The university's transition to online and remote learning required the SLA Weitz Fellow Amairany Fuentes to reimagine the annual showcase in an online environment while continuing to provide an interactive experience for presenters and the audience.
The Service Learning Seminar consisted of a 2-part series of live presentations and Q & A sessions through Zoom. Presentations were prerecorded through VidGrid with the support of Fuentes and the SLA team. The final list of presentations included representation from both UNO and preschool through 12th-grade educators and students.
Watch the recorded Zoom videos from the 2020 Showcase on the UNO SLA website.
By moving the annual Service Learning Showcase online, the SLA enhanced their ability to share how remote service learning is happening at UNO. The presenters demonstrated the resiliency of both students and educators and the ability of service learning courses and activities to flourish in an online format. Learn more about achievements made in service learning by viewing the SLA Spring 2020 Newsletter.
2020 Showcase Presenters
Learn more about the UNO Service Learning Academy
The UNO Service Learning Academy (SLA) works to support UNO faculty members to develop service learning courses in collaboration with community organizations, governmental agencies, and preschool through 12th grade (P-12) teachers.
What is service learning? Service learning is a method of teaching that combines classroom instruction with meaningful, community-identified service.
Learn more about how the Service Learning Academy is responding during UNO's online and remote learning mode by visiting the UNO SLA Resource website.
Contact Us
If you are sponsoring a special or public event happening in the CEC or would like to share a news tip or story please let us know.
Robyn Loos
Special Projects Associate
Email: rloos@unomaha.edu
Phone: 402.554.2173