Service Learning Seminar Kicks Off as Virtual Event, a Service Learning Highlight
The UNO Service Learning Academy is kicking off its first ever virtual Service Learning Seminar and Community Partner Fair.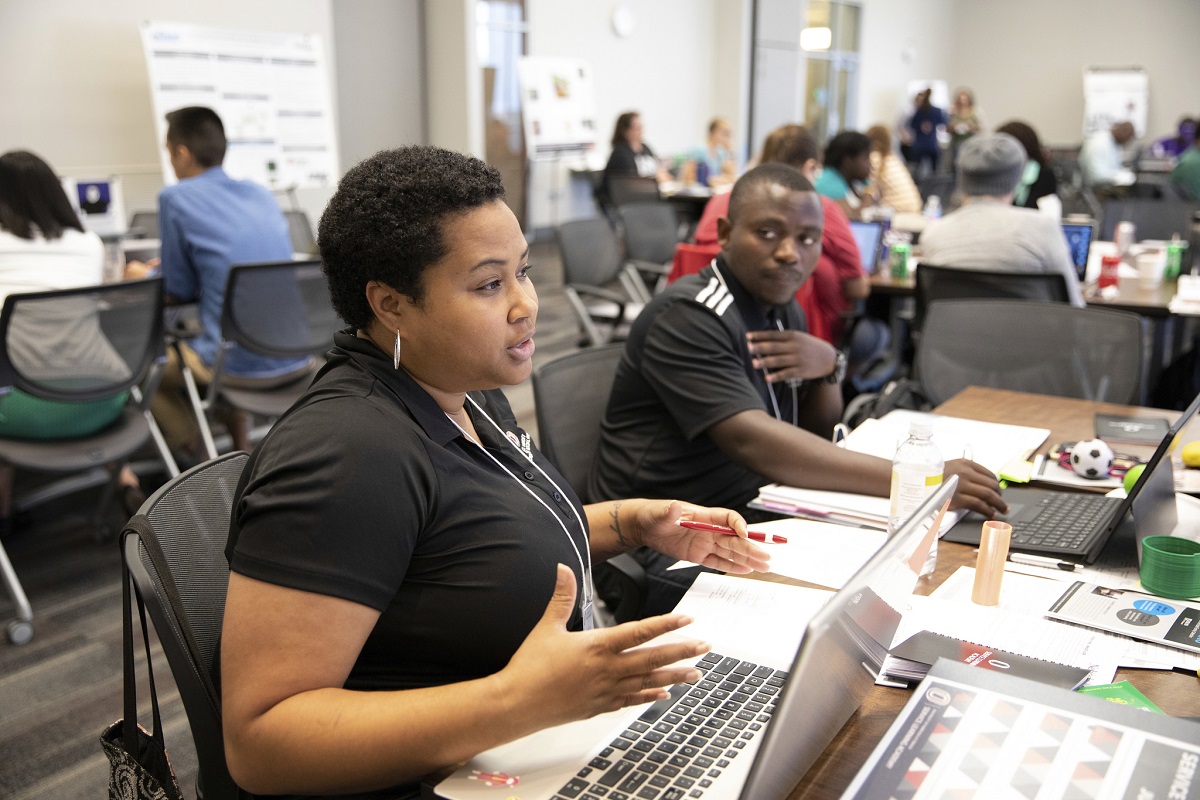 The UNO Service Learning Academy (SLA) is working with UNO faculty, preschool through 12th grade (P-12) teachers, and community partners to creatively adapt service learning projects to remote learning. Service learning projects will be highlighted throughout the remote learning phase.
Online Platform Delivers Engaging Experience for Participants
The UNO Service Learning Academy is shifting its 2020 Service Learning Seminar from a traditional 4.5-day in-person event held at the Barbara Weitz Community Engagement Center, to a virtual event from July 13-17.
The annual Service Learning Seminar instructs UNO faculty members and P-12 or after school educators and administrators on the fundamentals of service learning, including the social and community impact of service learning, its connection to course curriculum, and the NYLC K-12 Service Learning Standards for Quality Practice.
Registered seminar participants will join live presentations online while also accessing pre-recorded resources created and presented by service learning subject matter experts including SLA team members, and UNO faculty members, and community partners. Throughout the duration of the Service Learning Seminar, participants will have the ability to contribute to live Q&A sessions with presenters, exchange private messages with presenters and other participants, and join themed virtual breakout rooms each day.
Virtual Community Partner Fair
In conjunction with the live and pre-recorded sessions, the SLA will host the Virtual Community Partner Fair to provide an opportunity for UNO and P-12 instructors to build connections with community organizations for their service learning projects. Participants will have the opportunity to review potential partner profiles online and network with agency representatives in virtual breakout rooms.
Event Schedule
Day 1 of the virtual event will provide an overview of service learning and the standards of quality practice including meaningful service and link to the curriculum.
Day 2 will break down the topic of asset-based community engagement and allow participants the opportunity to begin brainstorming project plans, emphasizing the role of student reflection and voice.
Day 3 will focus on the importance and goals of partnership in service learning experiences in virtual environments and include the Virtual Community Partner Fair with over 15 community organizations.
Day 4 will provide participants an opportunity to meet with SLA team members and finalize their future project plans.
For more information about Seminar please visit the Service Learning Academy website.
Learn more about the UNO Service Learning Academy
The UNO Service Learning Academy (SLA) works to support UNO faculty members to develop service learning courses in collaboration with community organizations, governmental agencies, and preschool through 12th grade (P-12) teachers.
What is service learning? Service learning is a method of teaching that combines classroom instruction with meaningful, community-identified service.
Learn more about how the Service Learning Academy is responding during UNO's online and remote learning mode by visiting the UNO SLA Resource website.
Contact Us
If you are sponsoring a special or public event happening in the CEC or would like to share a news tip or story please let us know.
Robyn Loos
Special Projects Associate
Email: rloos@unomaha.edu
Phone: 402.554.2173