Photography Project, a Service Learning Highlight
Learn how UNO faculty member Peter Szto is using photography as a creative medium to study service learning.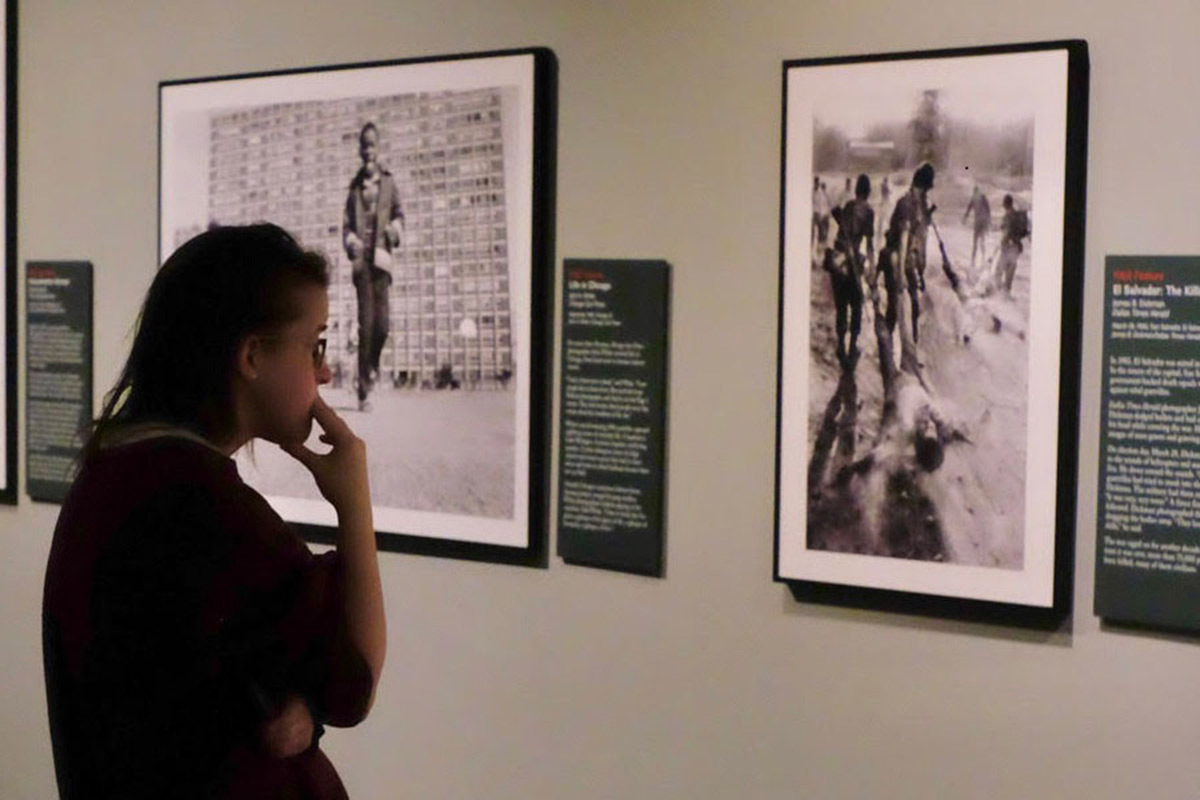 The UNO Service Learning Academy (SLA) is working with UNO faculty, preschool through 12th grade (P-12) teachers, and community partners to creatively adapt service learning projects to remote learning. Service learning projects will be highlighted throughout the remote learning phase.
Student Philanthropy and Service Learning
2019 Service Learning Faculty Fellow Peter Szto, Ph.D., launched a research project using photography as a creative medium to study and evaluate the service learning process last spring. Szto is a Professor of Social Work in the UNO Grace Abbott School of Social Work.
Szto's choice to study service learning is informed by his position and background at UNO. "My role as a social work educator is to understand the world and to then create learning opportunities for my students to deepen their understanding," he said. "Bringing the outside world into the classroom is a challenge that is resolved through service learning. It brings every day into the classroom and brings the classroom out into everyday experiences."
The photography project aims to create a visual narrative of service learning and enhance the mission of the Service Learning Academy to develop and collaborate on community-based research.
"My hope is to visualize the value of service learning so that the Omaha community can see [its impact] on students, faculty, and community partners," Szto said.
While photographing service learning students in courses this spring such as Public Administration 8530: Planning and Evaluation and Honors Colloquium 3020: City of Omaha,: Szto experienced a setback in his research when UNO launched the remote/online learning mode in March due to the COVID-19 pandemic. While course activities migrated online, Szto attempted to continue the important work of documenting the service learning process and journey of students during unprecedented times. He acknowledged that photographing students in online courses is difficult. "My range of creativity is quite limited," he said.
While reflecting on whether or not his research will be continued this fall, Szto remains optimistic his photography project will reach closure somehow. He said, "I'm rethinking how to tell the story of service learning using my photographs… I need to finish the visual story that I began telling [last spring]."
The SLA will continue to support Szto through his research efforts and looks forward to witnessing the future success of the photography project to document the visual narrative of service learning.
Learn more about the UNO Service Learning Academy
The UNO Service Learning Academy (SLA) works to support UNO faculty members to develop service learning courses in collaboration with community organizations, governmental agencies, and preschool through 12th grade (P-12) teachers.
What is service learning? Service learning is a method of teaching that combines classroom instruction with meaningful, community-identified service.
Learn more about how the Service Learning Academy is responding during UNO's online and remote learning mode by visiting the UNO SLA Resource website.
Contact Us
If you are sponsoring a special or public event happening in the CEC or would like to share a news tip or story please let us know.
Robyn Loos
Special Projects Associate
Email: rloos@unomaha.edu
Phone: 402.554.2173