Faculty Research Projects
Faculty and students are actively engaged in research on a wide variety of issues pertaining to the causes of crime and the criminal justice response to crime. Faculty within the school are highly successful in securing external funding to support their research, developing research collaborations within the University of Nebraska system, and partnering with community stakeholders to address specific research priorities. Federal agencies that have provided funding for research projects include the Bureau of Justice Assistance, National Institute of Justice, National Consortium for the Study of Terrorism and Responses to Terrorism, and the National Institute of Corrections, in addition to many local and regional agencies. 
Faculty and students frequently publish research findings in academic journals, present findings at national and regional conferences, and provide study results to community stakeholders to inform best practices and evidence-based policies. 
Current Research Projects:
UNOs School of Criminology and Criminal Justice has several studies being conducted through its Victimology and Victim Studies Research Lab involving UNO faculty Leah Butler, Ph.D., Teresa Kulig, Ph.D., Tara Richards, Ph.D., and Emily Wright, Ph.D. 
Additional studies underway include: 
Evaluation of Omaha Police Athletics for Community Engagement - Investigators: Samantha Clinkinbeard, Ph.D., Gaylene Armstrong, Ph.D.,  Ph.D., and Justin Nix, Ph.D.
Gender, Personality and Career Motivation in Policing - Investigator: Samantha Clinkinbeard, Ph.D.

Women in Law Enforcement in Nebraska: Pathways to the Field and Experiences in It - Investigator: Samantha Clinkinbeard, Ph.D.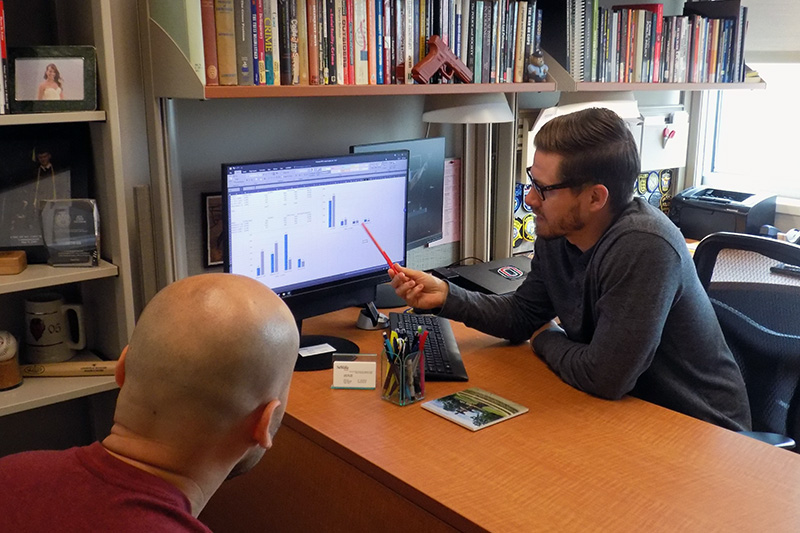 Justin Nix, Ph.D. (right) goes over results of a policing study he conducted with doctoral student Brandon Tregle (left).