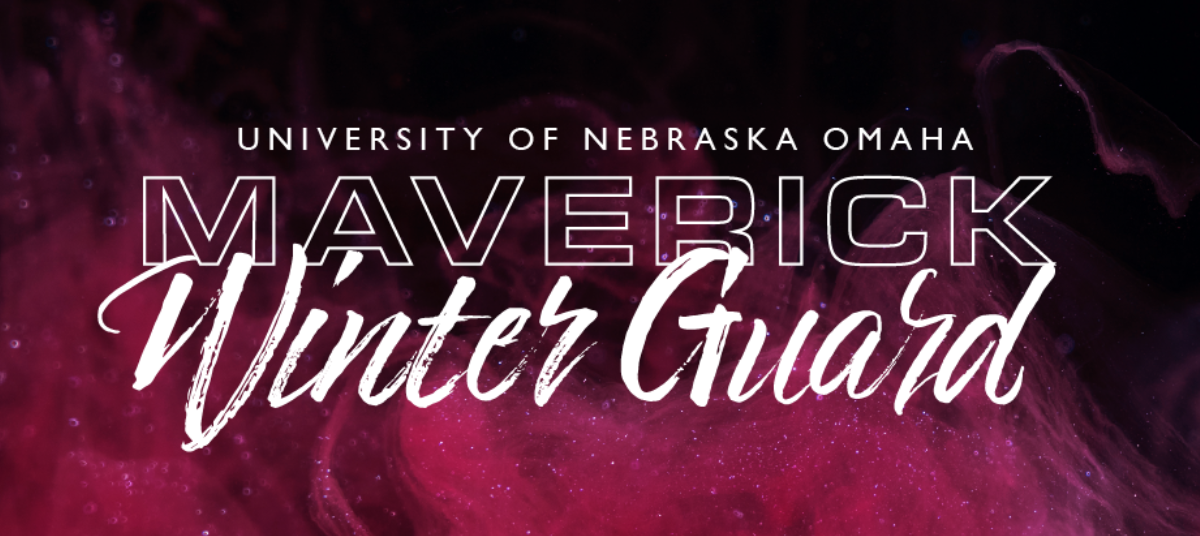 ---
About the Maverick Winter Guard
Founded in 2022, the UNO Maverick Winter Guard is a performing ensemble included in the UNO Sports Club program under the direction of Brooke Winsor. One may be part of the competitive ensemble (audition required) or may participate without competing (no audition required). The competitive ensemble will primarily compete in the local Heartland Winter Arts Association (HWAA) competition circuit with potential for participation in Winter Guard International (WGI) events.
The non-competitive ensemble is an option for members who would not like to compete, but would still like a chance to learn and grow their skills in the activity. Prospective members wishing to join the competitive ensemble must audition in-person or via video submission prior in order for the director and staff to evaluate their skills before being placed in the group.
Interested in joining or have more questions? Check out our FAQ section below.
---
Apply and be admitted to the University of Nebraska at Omaha.
Meet specific eligibility requirements depending on your competitive/non-competitive status.
Complete the Maverick Winter Guard application (forthcoming)
Season information will be posted below as it comes available.
---
2023-24 Season Information
Performer Handbook - TBA
Tentative Performance Schedule - TBA
Parking Information & Campus Maps - TBA
---
Frequently Asked Questions
Who can join the Maverick Winter Guard?
Membership in the Maverick Winter Guard (WG) is open to all UNO students. To participate, a student must have membership to the UNO H&K Building and Wellness Center (free and included for all in-person students). Online-only students must purchase a membership from the recreation center.
Prospective members wishing to join the competitive ensemble have additional eligibility requirements:
Performers can not be over 22 years of age as of 12:01am on April 1st (per circuit requirements)
Audition required (in-person or over video)
Availability for all competitions
There is no audition required for membership in the non-competitive ensemble.
Do I have to audition if if I'm not going to be in the competitive ensemble?
No. Only members in the competitive ensemble are required to complete an audition. The non-competitive ensemble is an option for members who would not like to compete but would still like a chance to learn and grow their skills in the activity.

What is the time commitment?
The Maverick Winter Guard will typically not rehearse during the week to allow performers to focus on school unless there is a school holiday and the gym is open. Both the competitive and non-competitive ensembles will rehearse Friday evenings, some Saturdays, and Sunday mornings during the season (approx. mid-November through the first week of April). The non-competitive ensemble will have a shortened rehearsal schedule.

Rehearsal is mandatory to grow the team's skills and to make progress on the show. Outside of rehearsal, the competitive ensemble will travel to local and regional competitions around the Omaha area. Non-competing members are welcome to attend. Competitions are mandatory for members wishing to join the competitive group.
Is Winter Guard a class at UNO?
At this time, Winter Guard is a part of the UNO Sports Club program and is not considered a class at UNO.
Is there an extra cost associated with participating in the UNO Winter Guard?
Due to the Winter Guard's status as a "Sport Club", there are nominal dues in order to participate. Dues are an essential part of helping the Maverick Winter Guard exist and thrive. They are used to pay for equipment, competitions, instruction, uniforms, and more. Dues will be determined based on the number of members in the competition and non-competing groups; they have historically not exceeded more than $650 per performer. The more members that join the WG, the less individual dues will cost. Non-competitive ensemble members will have limited dues as they will not need to purchase a uniform or pay competition entry fees. Additionally, members are expected to pay for any personal items they may need including their own uniform-specific makeup, rehearsal attire, knee pads, etc. Members will be expected to get to and from rehearsal and competitions on their own or carpool with other members.

The UNO Winter Guard will provide opportunities to fundraise. Please reach out to the Director, Brooke Winsor (unocolorguard1@gmail.com) with any concerns you may have.
​
Help! You didn't answer my question!
Please direct further questions to Brooke Winsor, UNO Color Guard Director, by email at unocolorguard1@gmail.com.