The Care Team serves as the coordinating hub of a network of existing resources and focuses on prevention and early intervention in campus situations involving students experiencing distress or engaging in harmful or disruptive behaviors.
The UNO Care Team will develop intervention and support strategies, offer case coordination, and will regularly review situations, and recommend actions in accordance with existing university policies.
Members of the Care Team will address every report that is submitted to the team. Intervention by the Care Team members typically involves handling confidential information, so those filing the report will not necessarily know the resolution of the Care Team situation.
All concerns are taken seriously and will be investigated promptly.
Every effort will be made to keep your report confidential; however, the members of the Care Team, as administrative agents in an educational institution, adhere to the laws and standards governing the disclosure of information to third parties both within and external to the university. Such information is only disclosed on an administrative need-to-know basis and only according to the relevant laws/policies that govern such disclosure.
---
Mission
In support of the Metropolitan University Mission, the Care Team's mission is to address concerns related to the health and safety of the campus community by coordinating information and developing support plans as needed.
Responsibilities
Receive, review and document information regarding behavior about members of the university community
Perform initial review of risk and refer cases to appropriate offices and officials as needed for additional action
Develop strategies to manage potentially harmful or disruptive behavior in an effort to protect the safety and rights of the individual and the university community
Engage in ongoing refinement of Care Team procedures and protocols to foster optimal Care Team functioning and interface with the university community
Provide appropriate follow-up as needed
Goals
Provide a safe physical environment for members of the university community
Provide a safe emotional environment for members of the university community
Promote peace of mind for friends and family of the university community
Assess and respond to incidents in order to promote a safe environment
Identify, assess, and respond to threatening behaviors that risk disruption of the learning and working environment and university activities
Overview
It is the responsibility of all faculty, staff, and students to immediately report any situation that could reasonably result in harm. Any member of the campus community may become aware of a troubling person or situation that is causing serious anxiety, stress, or fear. However, assessment of behavior that might constitute a threat should not be confused with the management of a crisis*.
*A crisis may be defined where a person may pose an active or immediate risk of violence to self or others. In these cases, UNO Public Safety should be contacted at 402.554.2911.
See a list of current members of the UNO Care Team
---
Frequently Asked Questions
What is the Care Team?
The UNO Care Team (formely BRT) is a multidisciplinary team that meets on a regular basis to review and respond to reports of concerning student behavior, including behavior that may pose a threat of self-harm or a threat to the university community.
Who can make a referral?

Anyone who feels there is a behavior that is concerning can make a Care Team referral, including students, parents, faculty, staff, and community members. Below you can see reporting data for the Care Team since 2017. We welcome all reports from students, faculty, staff, and others!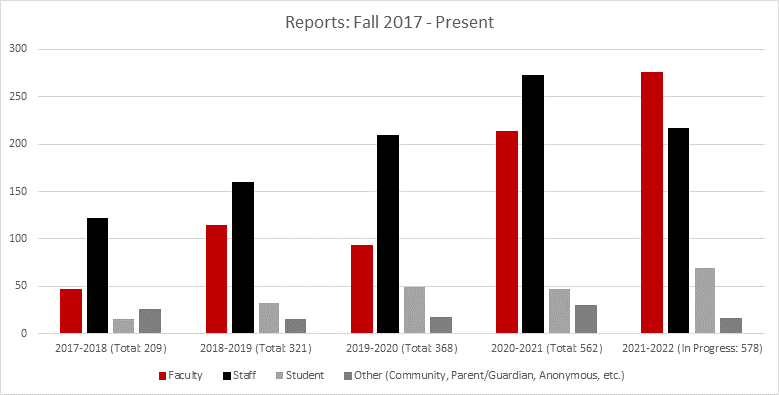 What happens after I make a referral?
The Care Team evaluates the information and makes recommendations on whether further action is warranted at the time. Remember, reporting is the most critical step.
How do I know if a concerning behavior is a Care Team issue?

You do not have to make that determination. We encourage you to take the next critical step, which is to report the concerning behavior by submitting the online referral form. If you would like to consult with a member of the Care Team before submitting an online report, please call our dedicated line at 402.290.3810.
Can I report a concern anonymously?

Yes. However, you are encouraged to identify yourself because this may assist the Care Team if clarification or additional information is needed.
I don't have a great deal of evidence, so should I wait before notifying someone?

Sometimes we don't have all the evidence. Let the Care Team weigh the information and see if gathering more facts is warranted as a response plan is evaluated.
---