President's Speech Makes Global Headlines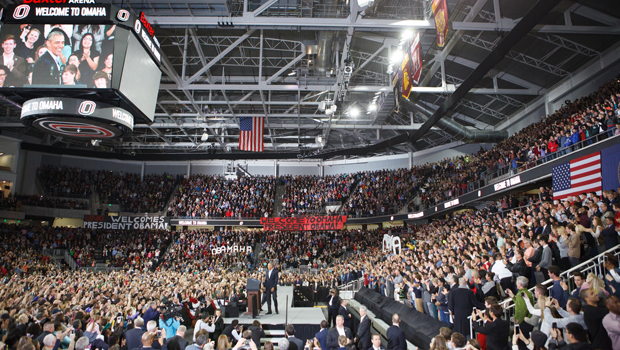 OMAHA – Just hours after President Barack Obama's speech, hundreds of stories appeared online, adding up to millions of pageviews. Each article mentions the University of Nebraska at Omaha (UNO), the President's first stop after delivering his final State of the Union address.
This story compiles local and international headlines covering different elements of the President's speech.
As Emily Szink reports, 9-year-old Savannah Devereaux got her second chance to see President Obama Wednesday. He probably didn't remember meeting her when she was just a toddler.
Professional journalists had company in the press area. "Students found out about the opportunity to cover Obama's visit on Sunday," writes Scott Stewart.
"Students hope the President's visit will not only get friends and fellow students more involved in politics, but in their community as well," reports Maria Thompson.
This KETV report starts with two words that we love: "Go Mavericks!" Jeremy Maskel reports on how President Obama tailored his message to Nebraska.
Covering touchdown to take off, Katie Schubert reports on President Obama's first visit to Omaha as commander-in-chief.
Ryan Robertson asks UNO Political Science experts Dr. Randall Adkins and Dr. Jody Neathery-Castro to analyze the President's speech.
As Zach Pluhacek reports, an airman had a unique reason to be excited for the President's speech. It gave him the rare chance to get dinner with his parents.
The President got "lots of adoration and lots of raucous ovations for mentioning UNO hockey," among other Nebraska topics. But as Mike Tobias reports, the President's main message was very similar to his State of the Union address.
"Alex Crawford, a 19-year-old sophomore at UNO, sported American flag shorts despite a temperature in the mid-20s," writes David Hendee. This article highlights the characters and memorable moments that added to the day's excitement.
"My whole heart is on fire," one attendee tells Erin Murray. WOWT reports on the electric atmosphere of the President's Address, talking with crowd members who couldn't be happier to see the historic address.
Mallory Thompson and Kevin Liptak report on the messaging of the "campaign-style rally."
Watch video highlights from the President's address, chosen by the Associated Press.