Cecil Hicks, Aileen Warren Begin New Positions
Beginning today, Cecil Hicks, Jr., will serve as Associate Vice Chancellor of Diversity, Equity, Access and Inclusion following six years leading UNO's Office of Human Resources. UNMC's Aileen Warren will oversee both campuses' human resources operations.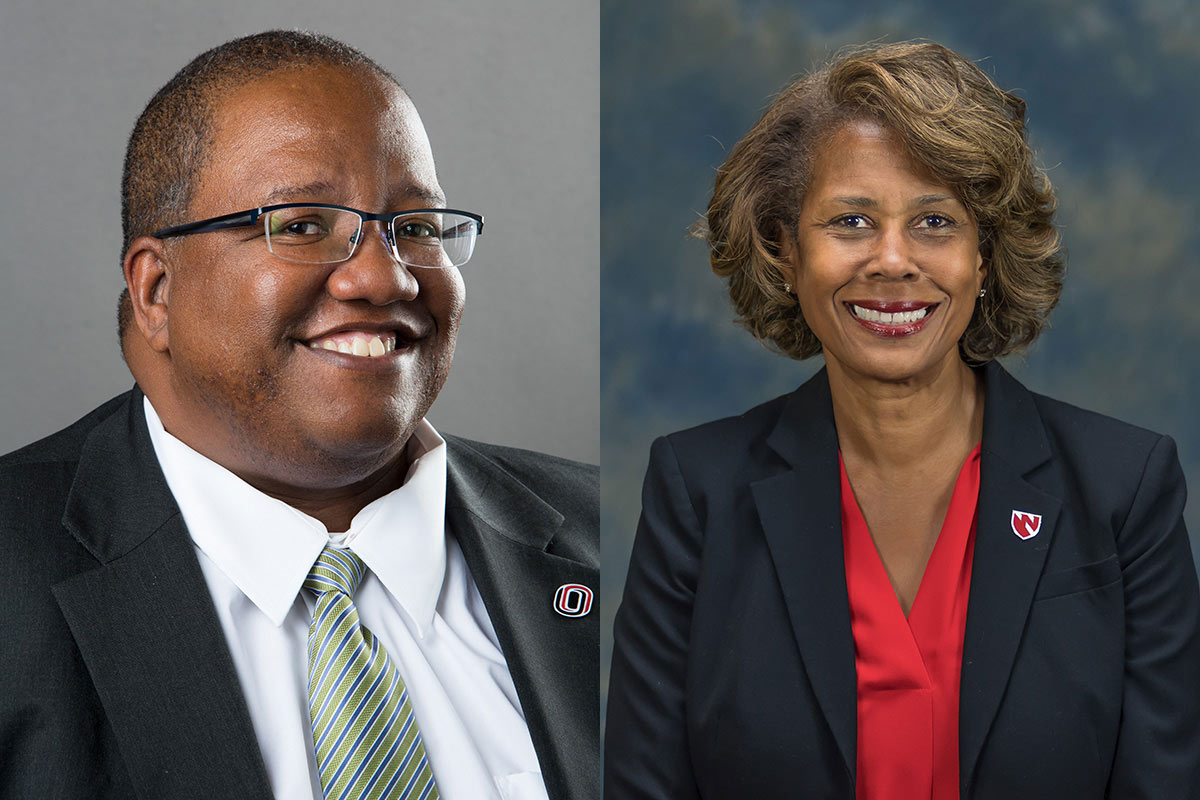 Cecil Hicks (left) and Aileen Warren (right).
On June 5, the University of Nebraska at Omaha (UNO) announced that Cecil Hicks, Jr., who has served as Assistant Vice Chancellor and Director for Human Resources since 2015, has been named the university's first Associate Vice Chancellor for Diversity, Equity, Access and Inclusion (DEAI) effective July 1, 2020.
In this new role, Hicks will provide campus-wide leadership towards enhancing and sustaining diversity through promoting a culture of inclusiveness, accessibility, and equity through the development and coordination of strategic initiatives that contribute to the overall success of faculty, staff, and students.
Hicks will also formally take over coordination of UNO's compliance efforts as it relates to federal programs such as Title IX, VAWA, the Campus SaVE Act and the Cleary Act.
"Cecil Hicks is very well suited to assume this responsibility. He has extensive knowledge and experience in all of these critical regulatory areas in addition to his extensive HR expertise," Chancellor Jeffrey P. Gold, M.D., said. "From the exceptional respect he has among his colleagues, to his knowledge of campus, to his involvement in the community, and his commitment to our Maverick mission of Access to Exceptional opportunities for our students, faculty, and staff, Cecil is a remarkable asset to UNO."
Hicks joined UNO in 2014 as Director of Human Resources following an extensive career in both human resource management and diversity initiatives. This includes serving as Director of Human Resources for Lincoln Financial Group, Director of Recruiting and Diversity for Woodmen of the World and Director of Human Resources for the City of Omaha, as well as leadership roles on Omaha community organizations including Inclusive Communities, the Omaha Public Schools Foundation, the Urban League of Nebraska, Kids Can, United Way of the Midlands, CASA for Douglas County, the Lauritzen Botanical Garden Board, Leadership Omaha and ICAN.
During his time at UNO, Hicks has lead and provided administrative support on a variety of key campus initiatives including the Staff Advisory Council Professional Development Fund, RESPECT Engagement Survey, Re-Imaging U, Durango Discounts, UNO's Smoke-and-Tobacco Policy and more.
"I am honored to serve in this role and to be part of the transformational change process at UNO," Hicks said. "Success will be achieved through strong partnerships and collaborations with not only the UNO family but the entire University of Nebraska System and the Omaha community at large."
Also effective July 1, 2020, Aileen Warren, Assistant Vice Chancellor and Director of Human Resources for the University of Nebraska Medical Center (UNMC), will serve in the same capacity at UNO, leading strategic employment initiatives for both campuses.
Warren, who earned her bachelor's and master's degrees from UNO, has served as head of UNMC's human resources efforts since 2014 and brings more than 30-year's experience in employee and community development, previously serving in positions with First National Bank of Omaha, WorldCom and First Data.
"Cecil and I have worked closely together on many issues related to Human Resources throughout our tenures with UNO and UNMC, and UNO faculty, staff and students will continue to see the terrific service they're accustomed to from the UNO HR office," said Warren, who will be an associate vice chancellor in her new role. "I look forward to the opportunity to lead the UNO office, and I'm really excited for Cecil's opportunity to serve the campus in his very important new role."
As a result of these changes, joint operations of UNO and UNMC's Office of Human Resources will continue moving forward, which will allow for supplemental, operational efficiencies and cost-savings across the two campuses.
A transition period is currently underway to help refine processes between the two units; however, day-to-day operations and leadership among key areas such as benefits, payroll and employee relations will not change.
Any additional updates that may impact campus as a result of these changes will be shared in a timely manner. Specific questions can also be addressed directly to UNO Human Resources by emailing unohr@unomaha.edu or calling 402.554.2321.
About the University of Nebraska at Omaha
Located in one of America's best cities to live, work and learn, the University of Nebraska at Omaha (UNO) is Nebraska's premier metropolitan university. With more than 15,000 students enrolled in 200-plus programs of study, UNO is recognized nationally for its online education, graduate education, military friendliness and community engagement efforts. Founded in 1908, UNO has served learners of all backgrounds for more than 100 years and is dedicated to another century of excellence both in the classroom and in the community.
Follow UNO on Facebook, Twitter (X), Instagram, TikTok, LinkedIn, and YouTube.