Flying Mavericks Once Again Finish in the Top 10 at National Competition
UNO's Flying Mavericks earn ninth place overall in a national aviation competition against some of the nation's top collegiate aviators.
published: 2019/05/21
contact: Brandon Bartling - University Communications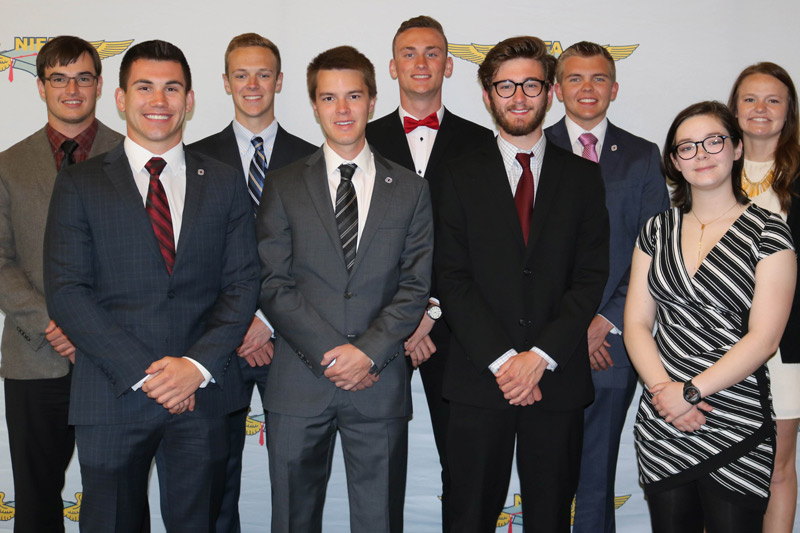 From left: Joel Heaps, Nick Scholz, Travis Nelson, Ian Kinslow, Jake Wohlers, Soren Johnson, Tate Beller, Cassie Batton, Sidney Due. Not pictured: Brendan Simmons, Nick Newstrom, Brittany LaPour.
JANESVILLE, WISC. – For the second year in a row, the University of Nebraska at Omaha (UNO)'s competitive student aviation team finished in the top ten at the 2019 National Intercollegiate Flying Association (NIFA) SAFECON competition.
The annual competition pits the top collegiate aviation programs in the country against each other in competitive events focused on landing, navigation, preflight procedures, and more. It was hosted Monday, May 13 through Saturday, May 18 at the Southern Wisconsin Regional Airport in Janesville, Wisconsin by the University of Wisconsin.
The Flying Mavericks placed ninth in the official rankings while also taking home seventh place in the Flight Events Championship, seventh place in the Judges Trophy competition, and 10th place in the Ground Events Championship. In 2018, the team placed eighth overall, the highest finish in program history.
"Two years in a row being in the top 10 is a great achievement," said Scott Vlasek, MPA, who serves as faculty advisor for the Flying Mavs. "We had not been in the top 10 prior to this, ever. The kids are doing remarkable work, they're putting in the effort and time they need to go out and compete with some of the best programs and collegiate aviators out there."
This year's team was led by co-captains Tate Beller, a Humphrey, Neb., native who graduated from UNO in May, and Nick Scholz, of Lincoln, who just finished his junior year at UNO.
Scholz says this year's team was a special one.
"It's amazing how we can lean on each other when one of us is falling short," Scholz said. "We really realized that if one of us doesn't do well, we have other pilots that we feel completely confident in that they can get the job done as well."
In individual events, UNO students earned 16 Top-20 finishes among all categories, including Top-10 finishes earned by six students across three events. Of note, UNO's performance in the Unlimited Navigation event, which allows teams to use technology to navigate their aircraft, resulted in all three of UNO's duos placed in the top five nationally.
Beller was named "Regional Top Pilot" in his final competition after finishing in sixth place in the same category in 2018; however, he credits his teammates for his success.
"At the end of the day, that's what it comes down to. It's the person sitting next to you over people that are just trying to go and get a cool plaque," he said. "The plaques might not last forever, but the friendships will."
A full list of results can be found at the NIFA website.
About the University of Nebraska at Omaha
Located in one of America's best cities to live, work and learn, the University of Nebraska at Omaha (UNO) is Nebraska's premier metropolitan university. With more than 15,000 students enrolled in 200-plus programs of study, UNO is recognized nationally for its online education, graduate education, military friendliness and community engagement efforts. Founded in 1908, UNO has served learners of all backgrounds for more than 100 years and is dedicated to another century of excellence both in the classroom and in the community.
Follow UNO on Facebook, Twitter, Instagram, TikTok, LinkedIn, and YouTube.