Community Engagement Spotlight | Jessica Foreman
Jessica Foreman worked as the Judy Monaghan Student Intern for Inclusive Communities.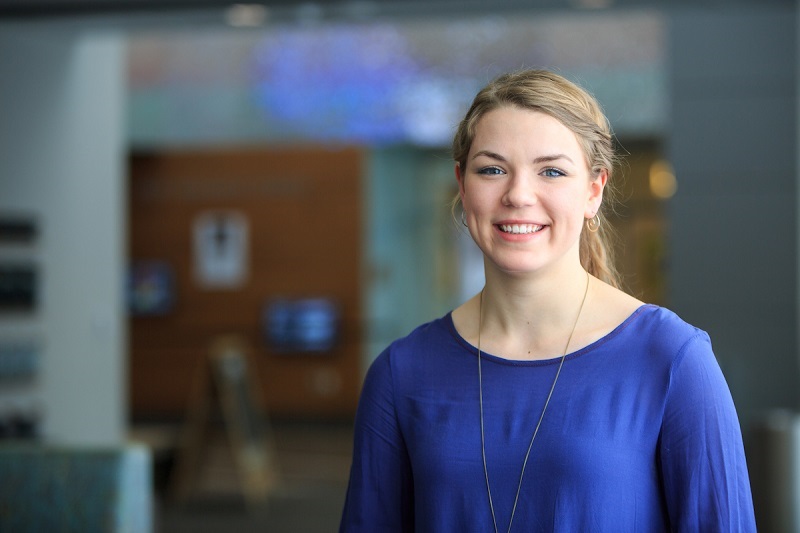 Jessica Foreman served as the Community Outreach Organizer with Inclusive Communities, a nonprofit dedicated to confronting prejudice, bigotry, and discrimination through educational programs that raise awareness, foster leadership and encourage advocacy for a just and inclusive society. The organization is also a building partner housed within the Barbara Weitz Community Engagement Center (Weitz CEC).
The Judy Monaghan Student Internship gave Foreman the opportunity to work as a paid intern for an organization, like Inclusive Communities, while the organization receives her support at no cost. The experience also provides professional and personal growth for eager students like Foreman.
Foreman's role as Community Outreach Organizer included facilitating the Trailblazers afterschool program at Lewis and Clark Middle School. She spoke to the students about bigotry and discrimination, engaging and educating them through open dialogue and reflection activities. Discrimination and residential segregation are both issues of large concern in Omaha.
"It just takes openness so I tried to encourage the middle schoolers to be open and understanding, and want to get to know each other a little more." Foreman believes she was able to make a change, and still can in the future.
Foreman says that being on campus in the Weitz CEC with over thirty other nonprofit building partner organizations has allowed her to see so much potential for partnerships. "The way it's set up with all the collaboration with the nonprofits is beautiful."
This internship opportunity has also helped her find other opportunities in the building. After Inclusive Communities, she worked as the Senior Analyst with the Volunteer Program Assessment-University of Nebraska Omaha (VPA-UNO). In this role, she helped VPA-UNO in the data collection and evaluation of nonprofit volunteer programs to help organizations engage and maintain their volunteers.
Foreman says she is excited to transition to the Urban Studies Master's Program in the near future.
---
Campus Commitment to Engagement
Community engagement and service are fundamental components of UNO's identity. This commitment to engagement is reflected in UNO's academics, student body, partnerships, and institutional framework. As an engaged campus, UNO values mutually-beneficial partnerships where information and expertise is shared and applied for the common good.
Share Your Story
Did you organize or participate in a community-oriented project or service? UNO wants to hear from you! UNO is committed to community engagement in its broadest form, and wants to feature your community service story.
Submit your story on MavSYNC or via e-mail.
Read other community engagement spotlight stories.
Contact Us
If you have a story idea, news tip, or other question, please email the UNO News team at unonews@unomaha.edu.