Success Academy: UNO's Newest Learning Community
contact: Nolan Searl - University Communications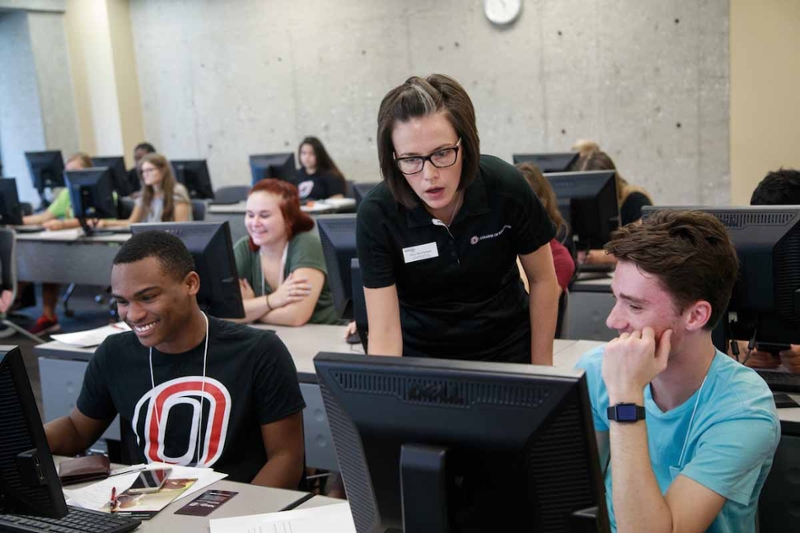 The Success Academy is seeing growth in its second year at the University of Nebraska at Omaha (UNO).
With 200 students in the program, having a large, knowledgeable staff available is crucial to its success. Now, thanks to a pair of grants from the Peter Kiewit Foundation and the Sherwood Foundation, their programming and staffing has increased significantly.
This new learning community was established through a task force led by Academic Career and Development Center. The task force, which is still involved in the Success Academy's programming, was formed to address ways to make higher education more accessible.
Members of the task force include:
Dr. Karen Dwyer, School of Communication
Kristina Cammarano, Student Affairs
Cathy Pettid, Student Affairs
Marissa Wolfe, Student Affairs
Dr. Maggie Christensen, English
Dusten Pendley, English
Craig Adler, Business Systems Intelligence
Cara Ortega, Office of University Registrar
Dr. Amy Morris, Art & Art History
Omar Correa, Enrollment Management
Mary Dennison, Mathematics
Jeffery Hazuka, Mathematics
Ellen Rice, School of Social Work
Chris Lode, Admissions
Marissa Wolfe, the program coordinator for the Success Academy, said program's ultimate goal is to retain its students and to give them all the resources they need to be successful.
"If a student can identify someone that is a champion for them, they are more likely to retain from one semester to the next," Wolfe said.
"We do a lot of intentional outreach," said Cathy Pettid, vice chancellor for student affairs. Pettid was on the task force that established the Success Academy.
"Because of our admissions process that allows for academically at risk students to come in, our goal with a learning community is, first and foremost, that (the students) can connect with an individual that they know is there for their success," she added.
Receiving the grants has enabled Wolfe to bring on one full-time graduate assistant and eight undergraduate students to act as peer mentors—even more resources for students in the Success Academy. The peer mentors will help students with things like time management and academic success, and they'll keep them up-to-date with new developments on campus.
"I really hope to see the peer mentor position grow as a leadership opportunity for Success Academy students," Wolfe said.
Many students also have financial barriers that may inhibit their chances for success. Wolfe hopes the Success Academy will help educate students about different scholarships that may be available to them.
"A lot of these students don't think they are eligible for scholarships because of their academic standing from high school," Wolfe said. "We try to open up a door and provide as much information as we can early on."
Savana Combs, a student in the Success Academy, said it's nice knowing there are staffers who are willing to go the extra mile for them.
"They are genuinely willing to help out," she said. "You can tell they really love their job."
"If I do need help, I know they will be there for me," said Abigail Rider, another Success Academy student.