UNO Study First to Examine Impact of 2008 Economic Crisis on Nebraska's Latinos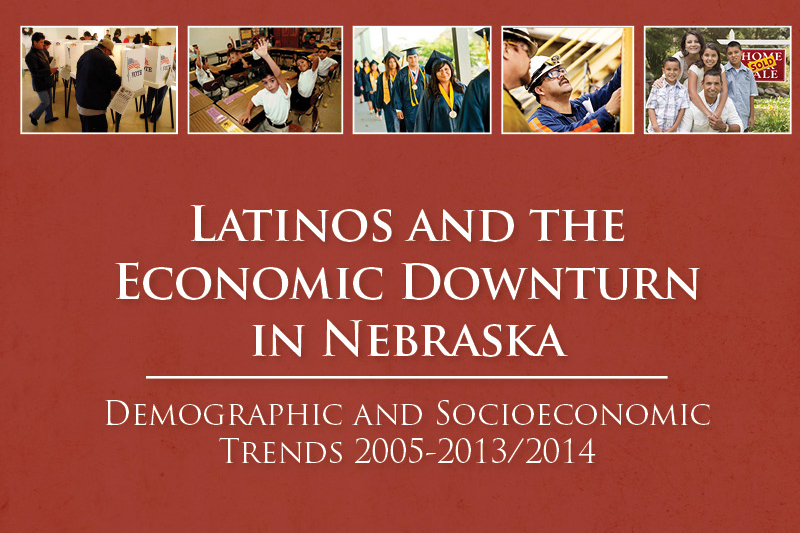 OMAHA – Researchers from the University of Nebraska at Omaha (UNO) have released a new report detailing the demographic and socioeconomic trends of Nebraska's Latinos before, during and after the 2008 economic crisis.
The study is titled "Latinos and the Economic Downturn in Nebraska: Demographic and Socioeconomic Trends 2005-2013/2014." Members of the UNO Office of Latino/Latin American Studies (OLLAS), Department of Sociology and Anthropology, and Center for Public Affairs Research (CPAR) produced the report.
This publication highlights that although Nebraska fared relatively well during the economic crisis, Latinos, and particularly foreign-born Latinos, appeared to be more affected than others. While many social indicators, such as language proficiency, college enrollment and the like, have shown improvement over time, the socioeconomic status of Latinos overall continues to be vulnerable to economic downturns.
This report marks the first time that the Nebraska Latino population's demographic and socioeconomic indicators have been studied both before, during and after an economic crisis.
Using Census data, the report examines trends in voter eligibility; language use and English proficiency; educational attainment; employment, income, poverty, youth and household indicators; and access to social services.
Some of the key findings include:
- From 2005-2013, Latino unemployment increased and neither U.S.-born Latino nor Latino immigrants' unemployment rates have declined to pre-crisis levels. Median earnings for full-time, year-round Latino workers also declined.
- Latino children continued to be disproportionally exposed to poverty compared to the average child in Nebraska.
- Since the economic crisis, Latino home ownership rates gradually declined and the cost of housing for renters as a percentage of their household income increased.
- Parallel to the economic downturn, and possibly due to greater immigration controls and the rise of deportations, the number of single-parent households has increased.
- The percentage of Nebraska's Latinos with health insurance coverage increased overall - yet more than half of Latino immigrants remained uninsured, particularly the children and elderly.
- The percentage of Latinos receiving food stamps did not decline to pre-crisis levels. This suggests that, by 2013, many Latino households were still struggling to make ends meet for their families.
- International migration has become less of a factor contributing to Latino population growth. Since 2005, migration from Latin America as a share of the new Latino arrivals to Nebraska decreased.
- The young age structure of the Latino population, with a large proportion of people at reproductive ages and a smaller proportion of the elderly, has become the most important source of population growth.
- US-born Latinos have shown some promising trends, such as an increase in college enrollment rates, a progressive decline of teenage pregnancy, and lower high school dropout rates – yet each of these trends continue to lag behind the state average.
The report uses data from the US Census Bureau 2005-2007, 2008-2010, and 2011-2013 three-year American Community Survey estimates at the state level.
The report is currently available in English. A Spanish version is forthcoming. Download a PDF copy directly from the OLLAS webpage: http://www.unomaha.edu/ollas.
For media requests, please contact:
Sam Petto, UNO Media Relations Coordinator
unonews@unomaha.edu
402.554.2704
or
Charley Reed, UNO Associate Director of Media Relations
unonews@unomaha.edu
402.554.2129
About the Authors
Lissette Aliaga Linares, Ph.D., is an OLLAS faculty member, assistant professor of Sociology and a Senior Research Associate with the Center for Public Affairs Research (CPAR). She holds a Ph.D. in Sociology from the University of Texas at Austin.
Jasney Cogua-Lopez, Ph.D., is a part time lecturer at the Office of Latino/Latin American Studies (OLLAS) and Community Intervention Evaluator for the Boys Town National Research Institute. She holds a Ph.D. in Sociology from Florida International University.

About OLLAS

The Office of Latino/Latin American Studies of the Great Plains (OLLAS—pronounced "oy-yas") at the University of Nebraska at Omaha (UNO) was established in 2003 with the support of UNO faculty, staff and students as well as the metropolitan community. OLLAS has helped fill a void in the Nebraska and Great Plains region's infrastructure dedicated to the productive incorporation of the new and growing Latino population into the political, economic and social life of the region. The office is dedicated to developing our institutional capacities and academic initiatives aimed at improving our understanding of Latino/Latin American issues and populations within and across borders. OLLAS offers a major in Latino/Latin American Studies and a minor in Chicano/Latino Studies. http://www.unomaha.edu/ollas/
About the University of Nebraska at Omaha

Located in one of America's best cities to live, work and learn, the University of Nebraska at Omaha (UNO) is Nebraska's premier metropolitan university. With more than 15,000 students enrolled in 200-plus programs of study, UNO is recognized nationally for its online education, graduate education, military friendliness and community engagement efforts. Founded in 1908, UNO has served learners of all backgrounds for more than 100 years and is dedicated to another century of excellence both in the classroom and in the community.
Become a fan of UNO on Facebook: www.facebook.com/unomaha and follow UNO's Twitter updates at http://twitter.com/unomaha.