Writer's Workshop Reading Series Continues with Poet Laureate
contact: Noelle Blood - College of Communication, Fine Arts and Media
email: nblood@unomaha.edu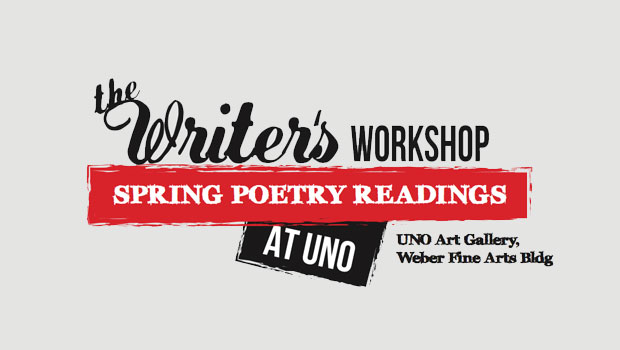 The Writer's Workshop proudly announces its spring poetry reading series, taking place Monday nights at 7:30 P.M. in the UNO Art Gallery on the first floor of the Weber Fine Arts Building. All readings are free and open to the public. The series brings a wide array of renowned poets to campus, including a UNO alum and current UNO staff member, as well as two state poet laureates.
P. Ivan Young & Emily Borgmann
 
Monday, March 7 | 7:30 P.M. | UNO Art Gallery, Weber Fine Arts Building
The series kicks off March 7 with a doubleheader featuring Emily Borgmann and P. Ivan Young. Borgmann earned her BFA and MFA in Creative Writing from the University of Nebraska at Omaha, where she received an Academy of American Poets Prize. Her poems, essays, and book reviews have appeared in such journals as Salamander, Alligator Juniper, Skidrow Penthouse, and Green Mountains Review. In fall 2015, she launched the INTRODUCING Reading Series, which features the work of homeless and at-risk youth, in cooperation with Youth Emergency Services (YES). Young is the coordinator for UNO's Center for Faculty Excellence and the author of Smell of Salt, Ghost of Rain and the chapbook A Shape in the Waves. He was the 2013 winner of the Norton Girault Literary Prize through Barely South Review and the recipient of a Maryland State Arts Council Individual Artist Award. Some of his more recent publications are in Passages North, The Southeast Review, Apple Valley Review, and Hayden's Ferry Review.
Lee Ann Roripaugh

Monday, March 28 | 7:30 P.M. | UNO Art Gallery, Weber Fine Arts Building
On March 28, Lee Ann Roripaugh, poet laureate of South Dakota, will read. Roripaugh is the author of four volumes of poetry, the most recent of which, Dandarians, was released by Milkweed Editions in September 2014. Her second volume, Year of the Snake, was named winner of the Association of Asian American Studies Book Award in Poetry/Prose for 2004, and her first book, Beyond Heart Mountain, was a 1998 winner of the National Poetry Series. The recipient of a 2003 Archibald Bush Foundation Individual Artist Fellowship, she was also named the 2004 winner of the Prairie Schooner Strousse Award, the 2001 winner of the Frederick Manfred Award for Best Creative Writing awarded by the Western Literature Association, and the 1995 winner of the Randall Jarrell International Poetry Prize. Her short stories have been shortlisted as stories of note in the Pushcart Prize anthologies, and two of her essays have been shortlisted as essays of note for the Best American Essays anthology. Her poetry and short stories have appeared in numerous journals and anthologies.
William Trowbridge

Monday, April 11 | 7:30 P.M. | UNO Art Gallery, Weber Fine Arts Building
Finishing up the series on April 11 is William Trowbridge, poet laureate of Missouri. His latest collection, Put This On, Please: New and Selected Poems, was published in 2014 by Red Hen Press. His other collections are Ship of Fool, The Complete Book of Kong, Flickers, O Paradise, Enter Dark Stranger, and the chapbooks The Packing House Cantata, The Four Seasons, and The Book of Kong. His graphic chapbook, Oldguy: Superhero, came out in March 2016 from Red Hen, which will publish his seventh full collection, Tilt-A-Whirl, in 2017. His poems have appeared in more than 35 anthologies and textbooks, as well as in The Writer's Almanac and in American Life in Poetry. They have also appeared in such periodicals as Poetry, The Gettysburg Review, The Georgia Review, Boulevard, The Southern Review, Plume, Columbia, Rattle, The Iowa Review, Prairie Schooner, Epoch, Green Mountains Review, and New Letters.  ­­
Contact Us
If you have a story idea, news tip, or other question, please email the UNO News team at unonews@unomaha.edu.