Omaha Ambassadors Forum
Changing Constants: Diplomatic Challenges for the Trump Administration
date: 04/03/17
time: 11:30 AM - 2:00 PM
location: UNO Scott Conference Center • maps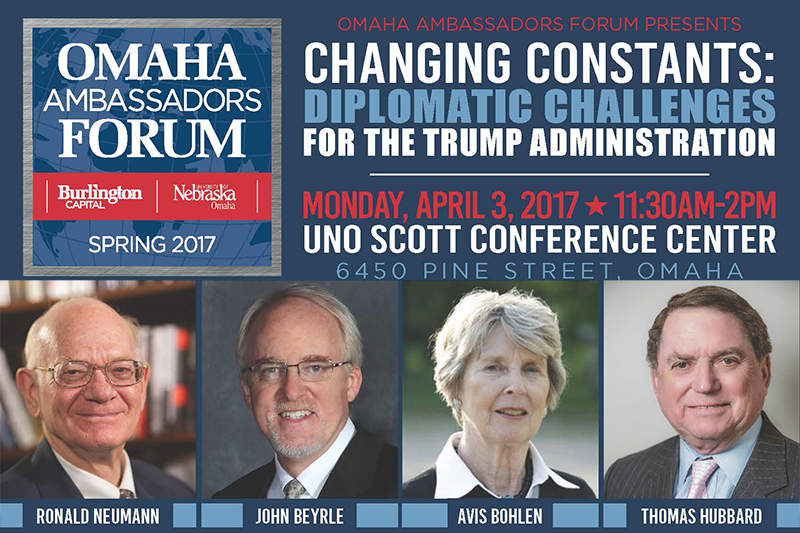 The new administration of President Trump is facing a raft of diplomatic challenges around the world. But underlying many of the specifics is a basic dilemma that many of the principles and values that have guided US foreign policy for over 70 years are now challenged. What alliances are worth keeping? How different must our assumptions and policies be from the those that have guided administrations of both parties?
Join us for a panel discussion on this and other emerging topics with distinguished Ambassadors Ronald Neumann, John Beyrle, Avis T. Bohlen, and Thomas Hubbard, moderated by Tom Gouttierre, Dean Emeritus of International Studies & Programs and Director Emeritus of Center for Afghanistan Studies at UNO.
Registration deadline is March 27. Lunch will be provided.
A private student-only session will also be held at the Scott Conference Center from 2:30-4pm for students interested in careers in foreign diplomacy or with additional questions about the forum topics. Please RSVP to kbreen@unomaha.edu if interested in attending.
---
This event is made possible by a partnership between Burlington Capital International, The American Academy of Diplomacy, and UNO International Programs.