Global Engagement During a Pandemic
Despite the absence of travel and some physical exchanges, global engagement is happening in innovative, meaningful ways. The University of Nebraska at Omaha's International Programs Unit highlights global engagement activities during COVID-19.
Learning with Global Engagement amid COVID-19
---
Dr. Lyn Holley | Comparative Gerontolgy
Despite the disruption of the COVID-19 pandemic, faculty members are exploring new ways to bring global engagement to students without leaving their classrooms. In Dr. Lyn Holley's Comparative Gerontology class, students have been working virtually with students from the University of Wroclaw, and the University School of Physical Education in Wroclaw, Poland over this semester to learn about aging around the world.  The course was designed by Dr Holley in partnership with Dr. Alina Zurek and Dr. Grzegorz Zurek, and with the support from an Omaha community member, Nancy Schlesiger, who is active in the Polish Heritage Society in Omaha. 
Students in both countries are engaged in shared assignments that include comparative analysis of their findings from the practice of field-based research in local and international contexts. Each student is matched with a senior partner from the local community to conduct an interview and use their findings to work with their international partners to compare the "age-friendliness" of neighborhoods in Omaha and Wroclaw for their final service learning presentation. 
This course offers USA students and students in Poland the opportunity to work collaboratively to explore and critique literature describing the experience of aging, public and private resources for older adults, and the work, social, and economic contexts of aging and being old in the USA and in Poland within a global framework. The virtual learning experience also sheds light on strengthening global and international collaborations amid COVID-19.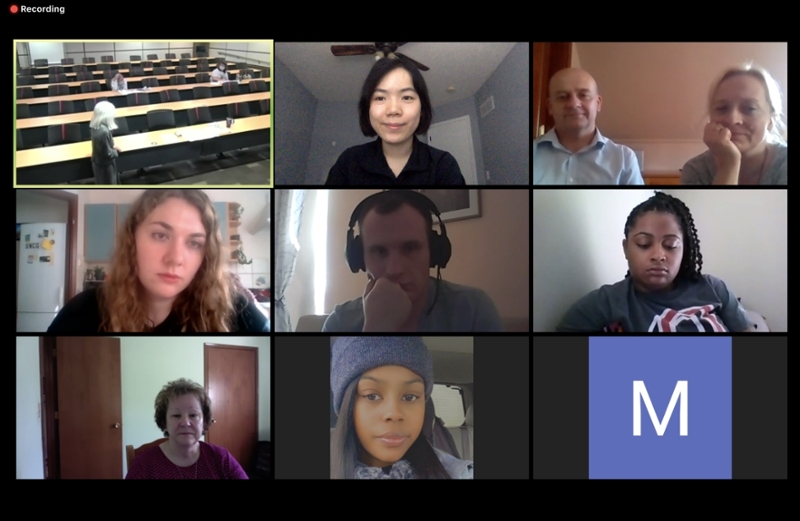 Maintaining Global Connections
---
Young Southeast Asian Leaders Initiative (YSEALI) | A Virtual Family Reunion
Launched in 2013, the Young Southeast Asian Leaders Initiative (YSEALI) is U.S. government's signature program to strengthen leadership development and networking in Southeast Asia. Through a variety of programs and engagements, including U.S. educational and cultural exchanges, regional exchanges, and seed funding, YSEALI seeks to build the leadership capabilities of youth in the region, strengthen ties between the United States and Southeast Asia, and nurture an ASEAN community. The YSEALI Institute at the University of Nebraska at Omaha (UNO) focuses on Civic Engagement. Each cohort consists of 21-22 academic fellows from the 11 ASEAN countries: Burma/Myanmar, Brunei, Cambodia, Indonesia, Laos, Malaysia, Philippines, Singapore, Thailand, Timor-Leste and Vietnam.
Since 2015, UNO has hosted eight cohorts totaling 169 alumni. The deferment of 2020 fellows due to the pandemic opened a window of opportunity to reconnect with alumni. YSEALI Administrative Director Franecia Moore organized "YSEALI Unwind". These sessions take place twice a month and provide a space for grace for the UNO YSEALI alumni, program team, and student ambassadors to reconnect, share updates, and build new relationships across cohorts - reinforcing the sense of family that is uplifted during the program. The first Unwind session included over 65 YSEALI alumni with all 11 ASEAN countries represented.