Workshops on Intercultural Learning in Education Abroad hosted by University of Nebraska
Research on education abroad demonstrates the central role of 'cultural mentoring' to help students develop intercultural awareness and competence, especially as they study and live in increasingly diverse environments, and engage in the global workplace after graduation.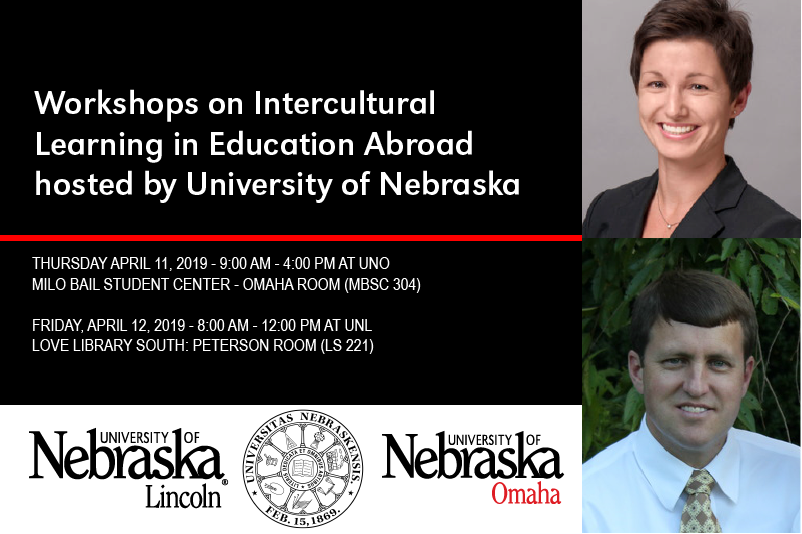 The Need to Enhance Intercultural Learning
 
Research on education abroad demonstrates the central role of 'cultural mentoring' to help students develop intercultural awareness and competence, especially as they study and live in increasingly diverse environments, and engage in the global workplace after graduation. This research has also shown that simply traveling to another country or even being immersed in another culture does not cause students to develop intercultural competence or become more capable of interacting with individuals across language barriers or cultural difference. Intentionality in designing and facilitating intercultural learning experiences is essential.
 
In April 2019, the University of Nebraska will host two workshops on intercultural learning through education abroad. University of Nebraska employees are welcome to attend whichever workshop fits their schedules: in Omaha on Thursday April 11 (7 hour workshop), or in Lincoln on Friday April 12, 2019 (4 hour workshop). 
Both workshops will explore how students engage with their host communities when studying internationally, how students can gain transferrable intercultural competencies through this experience, and how faculty and staff can effectively intervene in the student learning process to facilitate intercultural competence development both while abroad with students and in a campus-based classroom. 
These workshops will provide both theoretical foundations and practical tools for incorporating intercultural learning into courses and study abroad programs.  As such, they will be useful for faculty who are new to study abroad program design and implementation, for seasoned study abroad program directors seeking to enhance existing programs, and for all others with an interest in intercultural competence development in students.  
 
Learning Objectives
 
These workshops are designed to be a hands-on, active learning environment in which all participants are actively engaged. By the conclusion of the workshop, you will:
Gain a foundation in intercultural concepts and theories to help you and your students understand cultural similarities and differences;
Examine your own cultural background and its relevance and impact on thought, behavior and experience;
Recognize common myths about intercultural learning abroad;
Begin to identify ways to incorporate intercultural learning into your classes and work with students;
Identify common obstacles that hinder intercultural learning in study abroad programs.
Registration
 
Registration for this workshop will be capped at 40 individuals. There is no cost for University of Nebraska employees who use their university email address to register for the event.
For the workshop at UNO on Thursday April 11th: https://bit.ly/2C9zeiC
For the workshop at UNL on Friday April 12th: https://training.unl.edu/public/Course/browse?courseid=5700
 
About the workshop facilitators:

Tara Harvey, Ph.D., has been in the field of international/intercultural education for more than fifteen years. She has taught English abroad and worked as an international student advisor at
Texas A&M and the University of Wisconsin-Madison. At the University of Minnesota—where she also earned a Ph.D. in Comparative and International Development Education—Tara taught two innovative courses designed to help students learn from and through their own intercultural experiences. As the Academic Director of Intercultural Learning at CIEE (Council on International Educational Exchange), Tara developed the signature course, 'Intercultural
Communication and Leadership' (offered at more than 20 study centers around the world) and integrated intercultural learning frameworks into CIEE's wide array of study abroad programs.
A contributing author to Student Learning Abroad: What our Students Are Learning, What
They're Not, and What We Can Do About It (Stylus, 2012), Tara is currently co-authoring a follow-up book—an educator's guide to facilitating intercultural learning—to be published by
Stylus in 2017. As Founder/Consultant of True North Intercultural, Tara is a consultant, trainer, and coach focused on helping educators and institutions of higher education increase students' intercultural learning.
Steven Duke, Ph.D., is Associate Vice President for Global Strategy and International Initiatives at the University of Nebraska. With a doctorate in history from Indiana University, Steve has taught Russian, European and world history courses at the University of Nebraska-Lincoln, Wake Forest University, the University of Wisconsin-Madison, and Brigham Young University. He has also taught cross-cultural engagement courses and conducts research on intercultural learning and intercultural competence development. He created and spearheaded the WISE Conference from 2008 to 2015, turning it into the premier conference on intercultural learning in education abroad and an important training environment for faculty who lead education abroad programs. He is a frequent presenter at regional, national and international conferences on international education and at workshops for faculty and international education professionals. His publications include Preparing to Study Abroad: Learning to Cross Cultures (Stylus, 2014) and "The Importance of Intercultural Learning in Study Abroad," in T. Milby and J. Rhodes, ed. Advancing Teacher Education and Curriculum Development through Study Abroad Programs (IGI Global, 2015), pp. 73-88.