Open House
Still considering adding studying abroad to your academic career? Whether you want to go abroad for two weeks on a faculty-led program with fellow UNO students or adventure independently for an entire academic year (or anything in-between), we have the right option for you.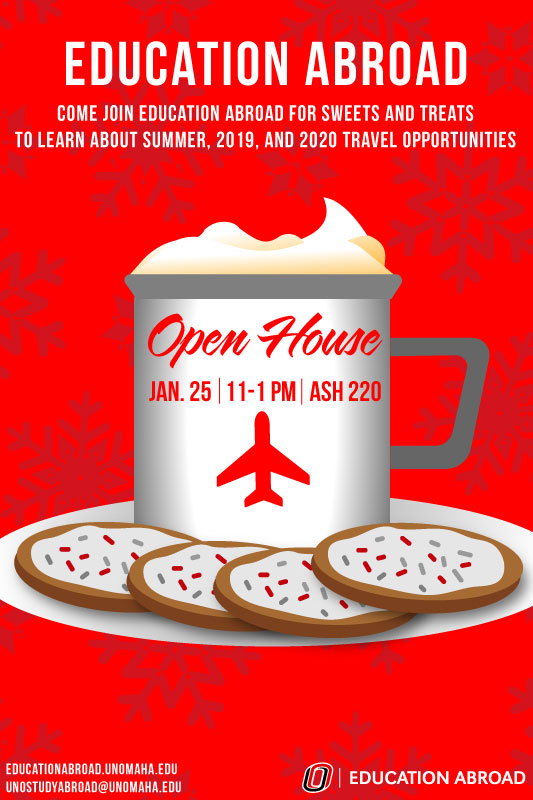 Education Abroad is hosting an Open House on Friday, January 25th from 11 AM – 1 PM in Arts and Sciences Hall, room 220. Students will be able to learn more about Summer, Fall and Academic Year programs including Faculty-Led Programs still accepting applications, the Nene Field Ambassador Scholarship, and internships abroad.
In an era of globalization, employers of all kinds are looking for students with an international education. As a job applicant, you will stand out as someone who can navigate diverse cultures and face challenges competently. Your real-world experiences will enhance your résumé.
Join us for some sweets, treats and information during the Open House where you will be able to talk with the Education Abroad Team and study abroad alumni.
---
Want to get started on your own path to study abroad but can't make it to the Open House? UNO Education Abroad wants to help! Study abroad is an attainable goal for all students and there are endless opportunities to find something that works for you. Get in touch today to speak with our awesome peer advisors and learn more about education abroad options and funding opportunities!
Drop in to ASH 220 between 8 AM and 5 PM, Monday through Friday;
Give us a call at 402.554.3168; or,
Shoot us an email at  unostudyabroad@unomaha.edu.
Check out our social media to learn about events and opportunities and see what #MavsAbroad are up to all over the world!