International Programs Hosts YSEALI Alumni Summit
Young leaders from across Southeast Asia unite to make a difference in their communities.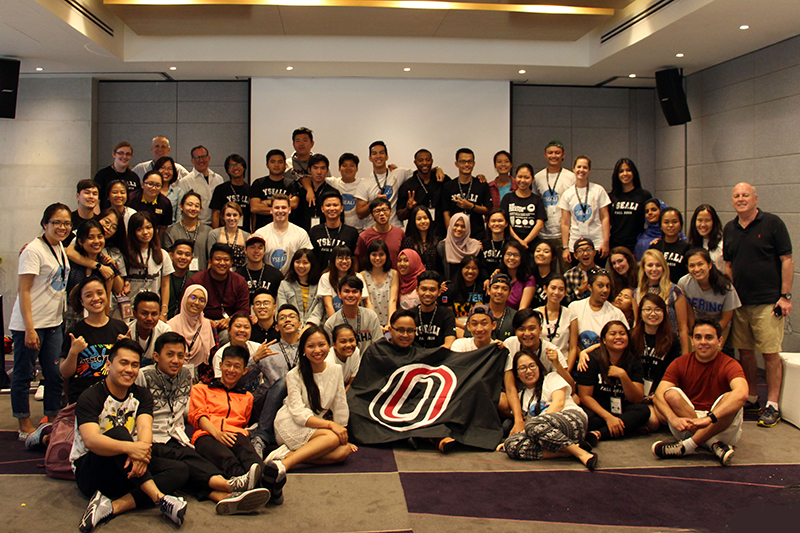 Ho Chi Minh City – The University of Nebraska at Omaha (UNO) is gearing up for the arrival of a new cohort of leaders from Southeast Asia thanks to the Young Southeast Asian Leaders Initiative (YSEALI), a grant-funded program of the United States State Deparment, after the completion of a YSEALI Alumni Summit this summer.  The YSEALI team convened 60 alumni from the ten Association of Southeast Asian Nations (ASEAN) countries for a three-day workshop in Ho Chi Minh City, Vietnam. Dr. Patrick McNamara and Dr. Paul Landow led the summit with assistance from two staff members and eight UNO students or recent graduates. 
All 60 participants were alumni of the YSEALI Institute on Civic Engagement at UNO, which is held at UNO in the Fall and Spring semesters. Sixty-three of Southeast Asia's best and brightest young people have completed the five-week institute at UNO, where they study civic engagement, community service, and American culture and values. The program builds people-to-people ties between the United States and the ASEAN people, as well as ties within the Southeast Asian nations. All of the alumni have gone on to make a difference in their communities, many implementing programs conceived during their time at UNO.
The Alumni Summit served as a reunion for the students, while continuing their learning experiences from their time in Nebraska. Activities included lectures from faculty in Vietnam, participant presentations, role plays, and community action in partnership with a local non-profit organization, AIESEC Vietnam.
Katrina Jenkins, a senior at UNO majoring in Library Science, has served as a Student Mentor for YSEALI for one year and attended the summit. "It was really rewarding getting to see how far the YSEALI alumni have come since their time in Omaha. I am very thankful that I got to make an impact in their lives, and I look forward to seeing all that they will accomplish in the future!" she shared.
Program alumni have gone on to run non-profits in their countries dedicated to a wide-range of challenges, including mental health, refugees, education, health care, and youth empowerment. Many others are pursuing advanced degrees.
Dr. Patrick McNamara, the Project Director for YSEALI at UNO and Interim Director of International Programs, described the summit as "A wonderful opportunity to reconnect with our YSEALI program graduates."
UNO will welcome its next cohort of YSEALI fellows this coming September 2017, followed by another cohort in April 2018.
Learn more about the Young Southeast Asian Leaders Initiative and follow UNO's cohorts on Facebook.
Our Campus. Otherwise Known as Omaha.
The University of Nebraska does not discriminate based on race, color, ethnicity, national origin, sex, pregnancy, sexual orientation, gender identity, religion, disability, age, genetic information, veteran status, marital status, and/or political affiliation in its programs, activities, or employment. Learn more about Equity, Access and Diversity.
scroll to top of page