Students Awarded National Study Abroad Scholarship
Peyton Wells and Melissa Ramos have been named recipients of the prestigious Benjamin A. Gilman International Scholarship in the early application round for summer 2017.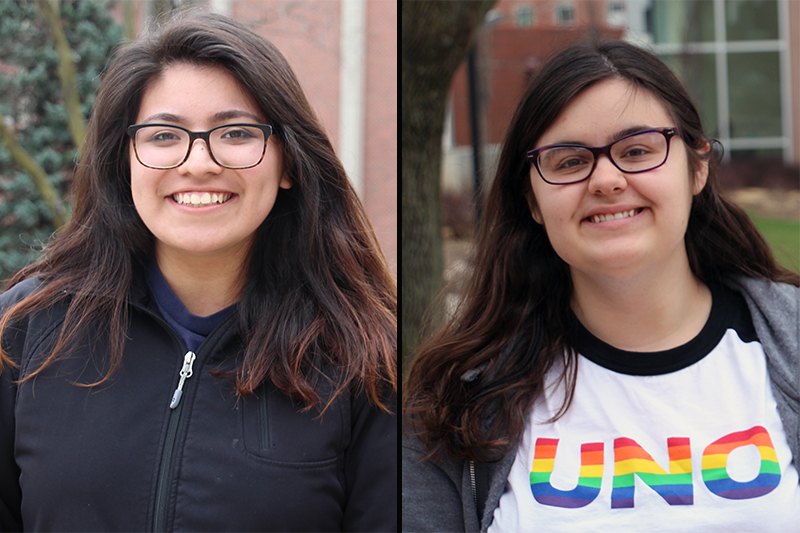 Melissa Ramos and Peyton Wells, two University of Nebraska at Omaha (UNO) students, are part of over 250 American undergraduate students from 154 colleges and universities across the U.S. selected to receive the prestigious Benjamin A. Gilman International Scholarship, sponsored by the U.S. Department of State's Bureau of Educational and Cultural Affairs to study or intern abroad during the Summer 2017 Early Application cycle.
Melissa Ramos, a junior Spanish major with Latino/Latin American Studies and Russian minors, will spend her summer in Dushanbe, Tajikistan studying Persian through the Eurasian Regional Language Program. Melissa is fluent in Spanish and English and currently studying Russian, Korean, and Persian.
Melissa describes her interest in languages as a passion, and she hopes to use her language skills to communicate with and help people in need, looking to careers in the military or government. She is in her third year of studying Persian-Farsi, having received the Project Global Office Scholarship to support her study, and this will be her first time studying abroad.
Secondary Education major and French minor Peyton Wells will also be using her study abroad experience to support language learning as she heads to France this summer on the faculty-led French Language in Besançon program.
"I understand that there's absolutely no equal replacement to learning a new language by being in a culture that speaks it. I've had the amazing privilege to attend UNO and enjoy all of its resources to help me realize my dreams. I hope to come back from studying abroad with not just better French, but an appreciation for different cultures and new life experiences," explains Peyton, adding – of course – "Go Mavs!"
Gilman Scholars receive up to $5,000 to apply towards their study abroad or internship program costs.  The program offers grants for U.S. citizen undergraduate students of limited financial means to pursue academic studies or credit-bearing, career-oriented internships abroad. Such international exchange is intended to better prepare U.S. students to thrive in the global economy and interdependent world. Students receiving a Federal Pell Grant from two- and four-year institutions who will be studying abroad or participating in a career-oriented international internship for academic credit are eligible to apply. Scholarship recipients have the opportunity to gain a better understanding of other cultures, countries, languages, and economies — making them better prepared to assume leadership roles within government and the private sector.
The program is administered by the Institute of International Education. The list of students who have been selected to receive Gilman Scholarships, including students' home state, university and host country, is available on their website: gilmanscholarship.org.
Melissa Ramos and Peyton Wells join the ranks of a number of UNO students who have been successful with the Benjamin A. Gilman International Scholarship in the past. The University of Nebraska at Omaha is committed to supporting its diverse student population and helping students find opportunities to enrich their education.
Congratulations Melissa and Peyton!
---
Students with an interest in studying abroad or questions about applying for a Gilman Scholarship can contact UNO Education Abroad:
Drop in to ASH 220 between 8 AM and 5 PM, Monday through Friday;
Give us a call at 402.554.3168; or,
Shoot us an email at unostudyabroad@unomaha.edu.
Check out our social media to learn about events and opportunities and see what #MavsAbroad are up to all over the world!
Our Campus. Otherwise Known as Omaha.
The University of Nebraska does not discriminate based on race, color, ethnicity, national origin, sex, pregnancy, sexual orientation, gender identity, religion, disability, age, genetic information, veteran status, marital status, and/or political affiliation in its programs, activities, or employment. Learn more about Equity, Access and Diversity.
scroll to top of page