Spring 2020 Newsletter, a Service Learning Highlight
Read stories of dedicated service learning faculty members and community partners on how they effectively transitioned their teaching, service, and research this spring during the remote/online learning mode.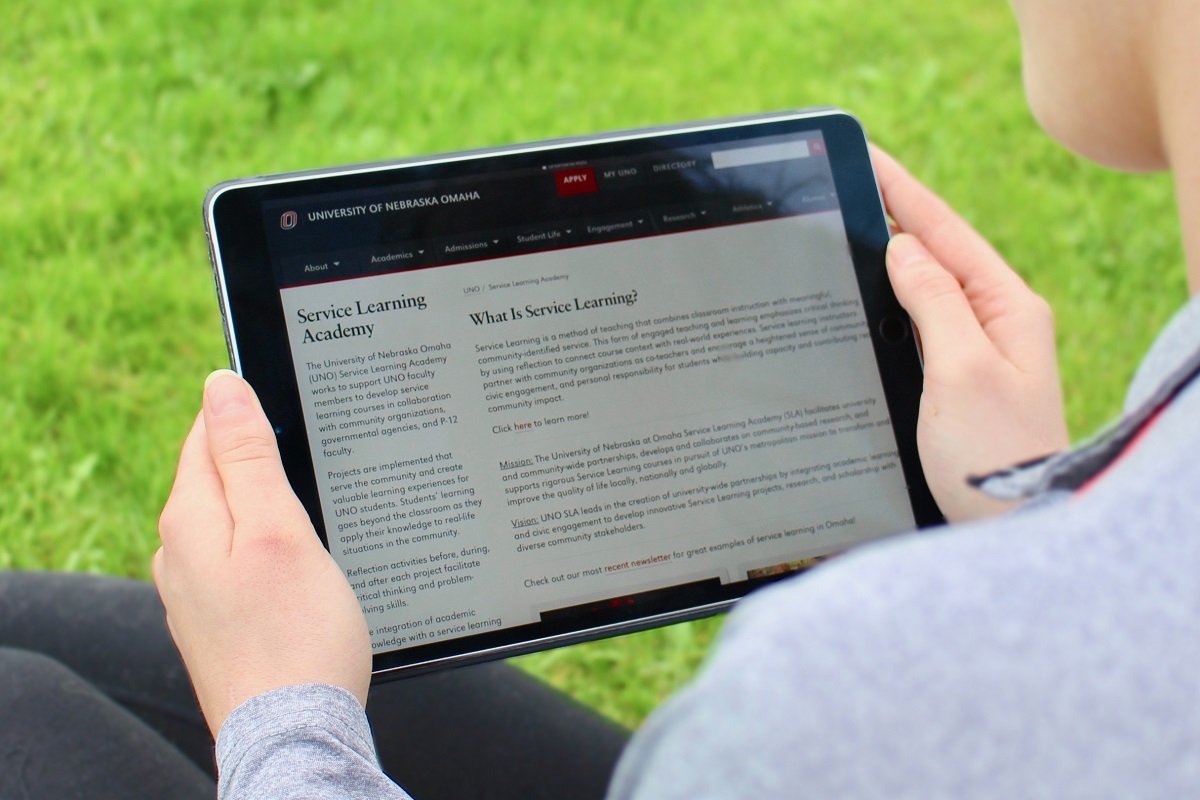 The UNO Service Learning Academy (SLA) is working with UNO faculty, preschool through 12th grade (P-12) teachers, and community partners to creatively adapt service learning projects to remote learning. Service learning projects will be highlighted throughout the remote learning phase.
Showcasing Service Learning's New Online Delivery Platform
This week, the Service Learning Academy released the Spring 2020 SLA Newsletter featuring stories from service learning faculty members and community partners who adapted their projects and research after the transition to UNO's remote/online learning mode effective March 30 due to the coronavirus pandemic.
The overall theme of this newsletter issue focuses on the service learning opportunities available through an online delivery platform. In addition to sharing project testimonials, the SLA team members also provide recommendations for the development and implementation of future online service learning courses.
"I hope you enjoy reading the stories about how our partners were creative and collaborative together, and how students advocated for change in and outside of a pandemic," said Julie Dierberger, SLA Paul Sather Distinguished Director. "That the Service Learning Academy is committed to innovating, no matter the delivery platform is what we hope you read in these stories."
View the Spring 2020 Newsletter
Learn more about the UNO Service Learning Academy
The UNO Service Learning Academy (SLA) works to support UNO faculty members to develop service learning courses in collaboration with community organizations, governmental agencies, and preschool through 12th grade (P-12) teachers.
What is service learning? Service learning is a method of teaching that combines classroom instruction with meaningful, community-identified service.
Learn more about how the Service Learning Academy is responding during UNO's online and remote learning mode by visiting the UNO SLA Resource website.
The University of Nebraska Omaha (UNO) is actively monitoring the novel Coronavirus (COVID-19). In response, the UNO CEC is temporarily operating under a locked-door policy. Find more information and updates about the CEC on our website.
Contact Us
If you are sponsoring a special or public event happening in the CEC or would like to share a news tip or story please let us know.
Robyn Loos
Special Projects Associate
Email: rloos@unomaha.edu
Phone: 402.554.2173