Future Women Leaders in Omaha Inspired to Run for Political Office
This October, the League of Women Voters of Greater Omaha partnered with UNO faculty member Rita Shaughnessy's Honors Public Speaking course and UNO Service Learning Academy to host the 7th biannual Running and Winning workshop.
published: 2019/11/06
contact: LaTrina Parker - UNO Service Learning Academy
email: ldparker@unomaha.edu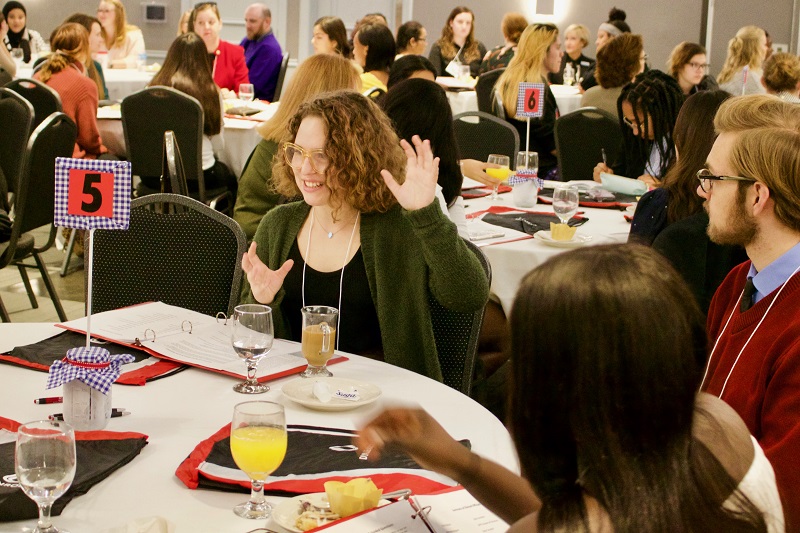 The event introduces young women in Omaha to the political process and aims to inspire them to run for office in the future.
Running and Winning brings together students from area high schools to interview past and present female elected officials throughout the Omaha community and learn from their rich political and professional experiences. Students put their new knowledge to test by creating and presenting a mock political campaign concerning a public policy issue facing Nebraska.
This year, 55 total students participated ranging from Omaha Public Schools across the community including Benson, North, South, Central, and Northwest High Schools. The female officials who attended the event ranged in experience and position, which included state senators, city council members, OPPD Board of Directors, and members of school boards.
"I enjoyed listening to women who were empowered to speak their truth and be who they are," said a high school student. "Our representatives are people who just wanted to make a difference and we are not so different from them."
After interviewing the elected officials, high school students broke into teams to develop their own mock political campaigns, including a speech, poster, and slogan. Using research compiled by UNO students, teams decided their stance on whether or not Nebraska should ban plastic bags. Students quickly and efficiently prepared their campaign materials, before presenting them to a judging panel.
UNO students contributed to the event by deciding the campaign issue, providing research, and volunteering as facilitators. Running and Winning is categorized as a P-16 service learning project as it connects pre-kindergarten through 12th grade and UNO student learning outcomes with community-identified opportunities while meeting curriculum and course standards.
To learn more about service learning or other projects, visit the UNO SLA Website.