WhyArts Exhibition: Reframed
Reframed, an exhibit displaying the works of WhyArts teaching faculty at the UNO Barbara Weitz Community Engagement Center.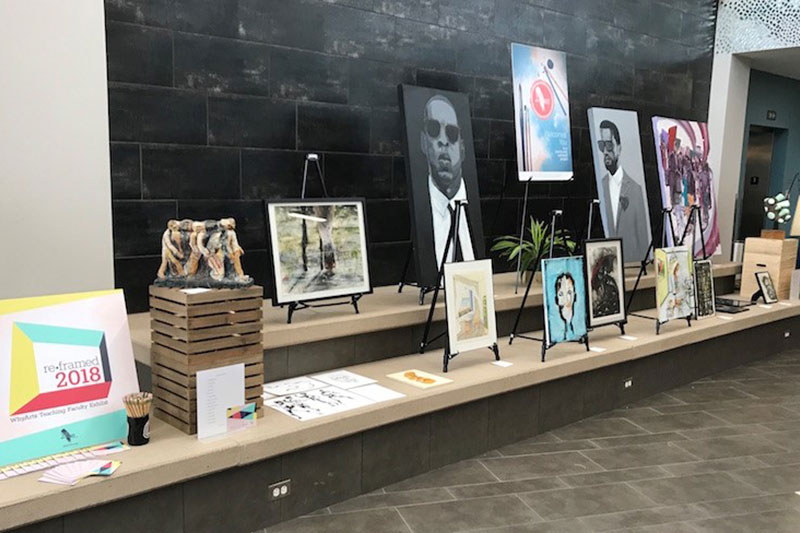 Reframed is now on display at the University of Nebraska Omaha Barbara Weitz Community Engagement Center (CEC), First Floor Union Pacific Atrium.
Reframed is the inaugural WhyArts Teaching Faculty Exhibition.
"This is a chance for our talented artists to step outside their WhyArts duties and showcase their professional work," said WhyArts Director Carolyn Anderson. "We plan on making it an annual event."
Reframed displays the professional work of more than a dozen WhyArts artists from a number of disciplines, including Joe Broghammer, Rich Chung, Kim Darling, Mike Giron, Pam Hinson, Bill Hoover, Lisa Kalantjakos, Shawnequa Linder, Brandon Mass, Tom McLaughlin, Jennifer Radil, Sarah Rowe, Paula Wallace, Bird Williams and Hugo Zamorano.
For more information about WhyArts, visit www.whyartsinc.org.
A Public Reception in April
UNO and the community were invited to a public reception on April 26, from 5 P.M. to 8 P.M. in the UNO CEC. This celebration featured an art blessing by WhyArts artist Felicia Webster, live music by Michael Murphy, comments from WhyArts artists and more.
---
WhyArts is one of 40 UNO and community organizations housed in the CEC.
---
Contact Us
If you are sponsoring a special or public event happening in the CEC or would like to share a news tip or story please let us know.
Robyn Loos
Special Projects Associate
Email: rloos@unomaha.edu
Phone: 402.554.2173