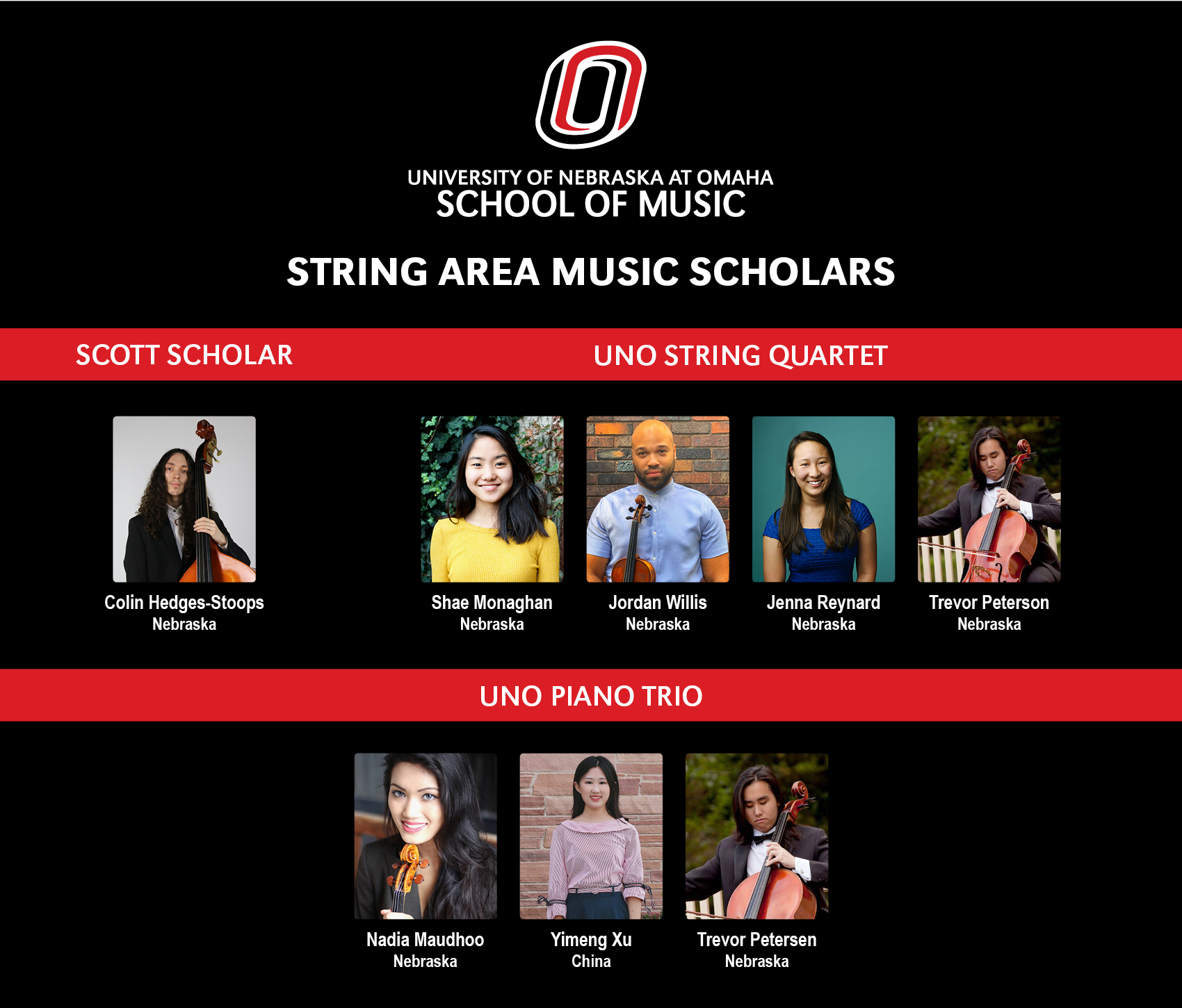 Strings at UNO 
The UNO String Area is dedicated to student success and meeting the individual educational, musical, and technical goals of each student.  Students perform and engage with K12 students throughout the Omaha metro and the state of Nebraska through novel engagement and educational programs like Partners in Performance, a partnership with area schools and the Omaha Area Youth Orchestra. String students also participate in a thriving UNO chapter of NE American String Teachers Association. 
In addition, our students perform frequently at the Fred and Pamela Buffett Cancer Center Healing Arts program as part of UNO's Sound Health program and the Maverick String Quartet, UNO's faculty quartet, is quartet-in-residence at the Cancer Center. String Area faculty are in demand as soloists and chamber musicians and have performed, adjudicated, and cliniced throughout NE and the world.  The faculty host all-state help sessions every fall and post all-state help-session YouTube videos each fall. 
The String Area proudly hosts over 250 K12 students for our annual String Olympics each spring.  Most recently, the string faculty recently piloted Teaching Strings for the Non-String Player for area K12 teachers.
Program Requirements:
---
Audition Requirements:
Undergraduate (B.M. Performance/Education; B.A. Music Studies)
String students should perform two pieces/movements of contrasting style.

Graduate (M.M. Performance)
Prospective graduate students should perform a program comprised of the following: 1) one movement of a concerto, 2) one movement of a sonata, and 3) one movement of solo Bach.
---
All-State YouTube Videos
The String Area is pleased to pilot all-state help session videos for students across the state. The videos feature UNO string faculty giving feedback and tips on required all-state audition scales, etudes, and excerpts. Click the link below to be taken to the appropriate page:
---
Maverick Quartet
The Maverick Quartet was founded in 2016 by UNO string faculty Drs. Mary Perkinson and Olga Smola, violins; Brian Sherwood, viola; and Gregory Clinton, cello.  The members have established careers as soloists, chamber musicians, and orchestral musicians and have performed throughout North and South America, Europe, Russia, and Asia. The quartet performs annual chamber music concerts and frequently perform with invited guest artists from Omaha and beyond. 
The Maverick Quartet is dedicated to enriching the lives of young string players through pedagogy and artistry.  They conduct frequent clinics throughout the state and co-founded Partners in Performance, nationally recognized and award winning and program that partners with Omaha Area Youth Orchestras and area schools to contribute to a culture of leadership and mentorship. 
In addition, the quartet takes part in annual events to benefit the string community such as, String Olympics, All-State Help Sessions and All-State You-Tube tutorials,  the workshop Teaching Strings for the Non-String Player, and the UNO BOCH festival.  UNO's Maverick String Quartet has been string-quartet-in-residence at the Fred and Pamela Buffett Cancer Center's Healing Arts program since 2018.
In partnership with the University of Nebraska Medical Center Fred & Pamela Buffett Cancer Center Healing Arts program, the Maverick Quartet is pleased to serve as Quartet-in-Residence. 
Listen to the Maverick Quartet during our lobby performances at 12pm, 505 S. 45th St.
Learn more about how the UNO String Area brings together School of Music students and faculty through Sound Health; Bringing Music to Medicine
---