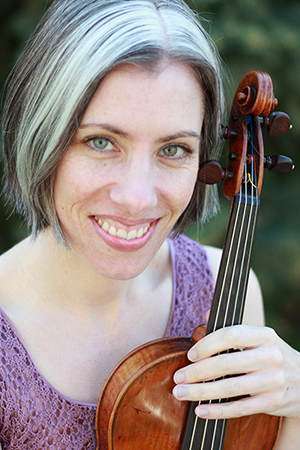 Mary Perkinson
Associate Professor
String Studies Coordinator
---
email:
office:
office phone:
fax:
402.554.2252
Additional Information
---
Biography
An award-winning artist, educator, and community leader, Dr. Perkinson began her violin studies at the age of 5 in the Philadelphia public schools.  She has been a visiting artist/lecturer in Europe, Asia, South America, and in 35 U.S. states. She performs with the Omaha Symphony, and as an avid chamber musician has been featured on the Vespers Concert Series, Omaha Chamber Music Society, Madison Bach Musicians, and the Token Creek Chamber Music Festival.  Recent artistic collaborations and projects include recitals of the six J.S. Bach sonatas for baroque violin and harpsichord, an appearance at Oregon's Fringe Festival, a collaboration with members of Apollo's Fire, and a national tour of Timeless Music, Timeless Disease; Classical Composers and Consumption,a collaborative recital with microbiologist Dr. Yolande Chan. 
Dr. Perkinson has contributed to the School of Music curriculum through several service-learning initiatives and recently developed the course Musician Health and Wellness which launched in spring 2019.   In addition to her interest in musician wellness she is also committed to contributing to the environment of care in healthcare and is a member of the UNO Faculty Quartet-in-Residence at the UNMC Fred and Pamela Buffett Cancer Center through the Healing Arts Program.  In addition, she has served as a faculty mentor in the Nebraska Medical Orchestra since its inception in 2018. 
Her students teach and perform throughout the Omaha Metro, and have been recipients of Creative Activity awards at UNO, presented at UNO's Creative Activity Fair, the American String Teachers Association National Conference, and performed at the World Equestrian Games, and for UNO's Chancellor Gold.  Dr. Perkinson is a sought-after adjudicator, clinician, and pedagogue and has cliniced over 100 orchestra classes since arriving in Omaha in 2014.  In addition, in 2019 she co-founded Teaching Strings to the Non-String Player, a workshop aimed at increasing skill and knowledge of string playing for non-string players who teach strings.  Currently, Dr. Perkinson serves as the President of the Nebraska chapter of American String Teachers Association. 
In 2009, Dr. Perkinson founded Sound Health; Bringing Music to Medicine, a program that contributes to the environment of care for patients, visitors and staff through live music, while giving music majors performing and service learning opportunities. Sound Health has given over 200 performances since its inception and engaged hundreds of music majors in contributing to the Greater Good through music. She also co-founded Partners in Performance, a nationally recognized program that brings together area school orchestras, Omaha Area Youth Orchestras, and UNO students to support and promote a culture of mentorship and leadership. 
Dr. Perkinson has received grants and awards for her creative activity, teaching, and  community engagement from the College Music Society, the Nebraska Arts Council, Nebraska American String Teachers Association, the University of Nebraska at Omaha, and the University of Wisconsin-Madison.  She has been invited to present internationally at the International Arts & Wellbeing Conference, and at the Hawaii International Conference on Arts and Humanities.  She has presented nationally at the Coalition of Metropolitan and Urban Universities, Engaged Scholarship Consortium, and at the American String Teachers Association National Conference. Dr. Perkinson has also shared her work on the state and regional stage at conferences hosted by the College Music Society, Nebraska Music Educators Association, and the Wisconsin Music Educators Association.
Dr. Perkinson has held positions in K-12 schools, universities, and arts administration and is currently Coordinator of String Studies at the University of Nebraska at Omaha. Her primary teachers include Felicia Moye, Vartan Manoogian, Magdalena Richter, and Bayla Keyes.   She graduated magna cum laudefrom Boston University; received a Performance Diploma from The Boston Conservatory; and completed the MM, K-12 Certification, and DMA at University of Wisconsin-Madison.