Community Educational Outreach
2015-2016 Festival and Camp Information
Show Choir Festival
February 10 & 11, 2016
The UNO Show Choir Festival is going into its 19th season. This festival hosts on average over 50 groups. Groups are broken into sections from JV/Prep Ensembles, Women's and School Division for the Varsity Groups. Each division receives awards for the top ranking groups determined by the judges. Please join us for the this exciting festival!
Tickets are $5 for everyone
For more information, please contact Prof. Dayle Johnson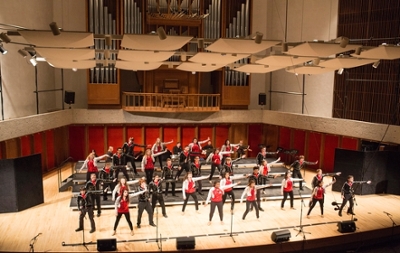 Fifth Annual Brass Day
February 16, 2016
This festival is designated for outstanding high school brass players. Annually over 70 students participate from high schools throughout the Midwest. We aim to expose students to challenging ensemble repertoire and other excellent musicians. Clinics are rehearsals throughout the day focus on the fundamental skills required for good ensemble playing and masterclasses designated to develop students' abilities on their chosen instrument.
Brass Day is presented by Midwest Brass Society & Getzen.
For more information, or to register for the event, download the Brass Day Brochure. Please contact Prof. Jason Johnson for further questions about Brass Day.
Great Plains Jazz Festival
February 26 & 27, 2016 featuring the Brubeck Brothers
UNO Great Plains Jazz Festival XLIV
Founded in 1973, UNO's Great Plains Jazz Festival is one of the premier educational jazz festivals in the nation. Featuring nationally renowned adjudicators and clinicians, the festival is designed to be an educational experience for band directors and students from middle school through college. Ensembles perform for written and taped comments and then proceed to a different room for a clinic from one of the adjudicators. In addition to the individualized clinic that each band receives, participants also have the opportunity to attend general clinic sessions presented by guest artists and adjudicators. The highlight of the festival is the opportunity to hear professional jazz concerts for free or greatly reduced prices. Jazz artists that have recently appeared at the Great Plains Jazz Festival include Bela Fleck, the USAF Noteables Jazz Ensemble, the Jim Widner Big Band, the New Orleans Jazz Orchestra, Jim Pugh, Marvin Stamm, Hubert Laws, and the Blue Note 7 featuring Ravi Coltrane and Nicholas Payton.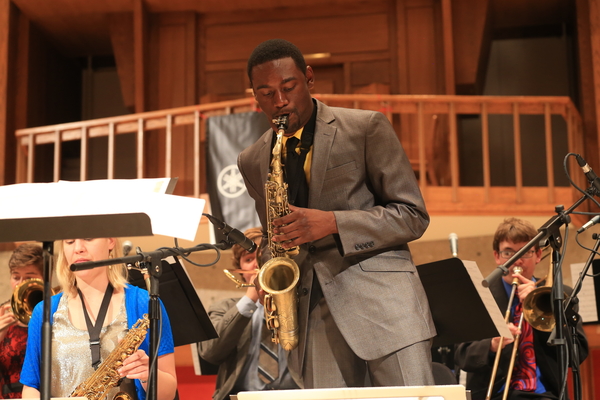 String Olympics
March 5, 2016
UNO String Olympics is a day-long skills and general fun event for younger string players.  This is not an audience participation event, and is only open to the registered elementary through middle school participants.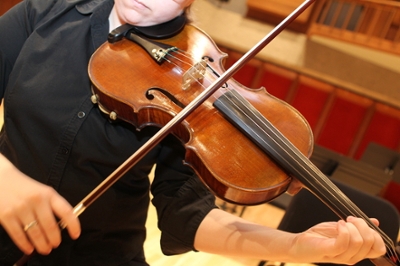 Day of Percussion
March 12, 2016 | University of Nebraska Kearney
The Day of Percussion was made possible by the Nebraska Chapter of the Percussive Arts Society. This festival has clinics, masterclasses, and performances led by national recognized artists. NE DOP will host its third annual solo and ensemble festival, open to elementary-collegiate level players. Past clinicians include Ji Hye Jung, Gwen Burgett, Kyle Maxwell-Doherty, Micheal Vercelli, and Terreon Gully. 

Petite Musique Chamber Clinic for Student Ensembles
April 9, 2016
The Petite Musique Chamber Clinic offers an afternoon of exciting, educational, enlightening chamber music which features student chamber ensembles ranging from 8th grade to college level from the Nebraska community. Student ensembles will interact with the acclaimed guest chamber artists, as well as professional Omaha chamber musicians.  
The day of events will conclude with an evening performance at Strauss Performing Arts Center Recital Hall at the University of Nebraska at Omaha which will feature our world class chamber guest artists from the Chamber Music Clinic.  
 The artist for the 2016 Clinic will be the Amernet String Quartet known for sweeping, exuberant performances and an effortless ability to share the rich history and repertoire of the piano trio with audiences of all stripes, the Amelia Piano Trio is renowned as one of the great young chamber ensembles.
For more information about the 2015-2016 Petite Musique Concert Series, click here.
Jazz Camp featuring the Jim Widner Big Band
June 12-17, 2016
The UNO Jazz Camp and the Jim Widner Big Band have combined their efforts to bring you some of the top jazz educators and performers in the country.  This big band camp is designed for enthusiastic instrumental students grades 7 and older to learn more about jazz theory, improvisation and performance.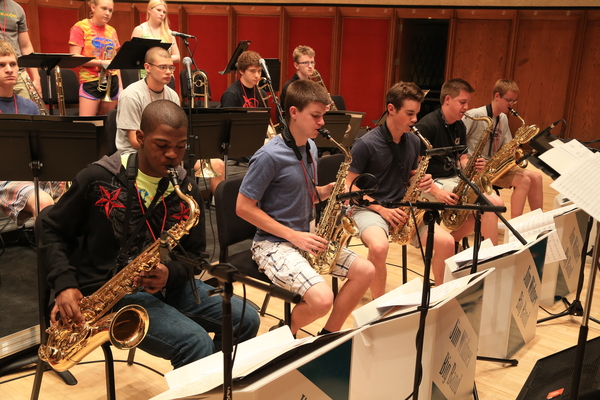 2016-2017 Festival and Camp Information
All-State Orchestra Help Session
September 16, 2016
This is our first annual Orchestra Help Session. During the session faculty will perform the excerpts, give audition preparation tips, and give group and individual coachings. The event will be 4:00 P.M. - 6:00 P.M.
Click here for more information, please send a head count to Dr. Mary Perkinson at mperkinson@unomaha.edu by Tuesday September 15.
All-State Choral Help Session
September 17, 2016
Please join us for UNO's Annual Choral Help Session. The students simply need to show up with music, pencil, and water, and be ready to have an excellent morning of learning and singing. The event will be 8:00 A.M. - 12:00 P.M.
Click here for more information, and please send any questions to Hannah Stephenson at mstephenson@unomaha.edu.
Middle School Honor Choir
January 6, 2017
This will be the 20th year of the Heartland Festival Middle School Honor Choir! This Honor Choir has student participation from all over the Metro Omaha Area. The final concert will be at 3:00 P.M.
For more information, please contact our Choral Teaching Assistant, Hannah Stephenson.
BOCH Festival | High School Band, Orchestra & Choir Honor Festival
Dates for 2017 are coming soon!
The School of Music of the University of Nebraska at Omaha hosts the annual Bands, Orchestra and Choirs Honor (BOCH) Festival each year. An outgrowth of the individual honor festivals hosted by the School of Music, the BOCH Festival is in its Eighth Year. Each January, over 350 high school students from across Nebraska and the Midwest come to the BOCH Festival to work with nationally renowned clinicians.