Great Plains Jazz Festival
The Great Plains Jazz Festival features nationally renowned adjudicators, clinicians and guest artists. The festival is designed to be an educational experience for band directors and students from middle school through college. Ensembles perform for written and recorded comments and then proceed to a different room for a clinic from one of the adjudicators. In addition to the individualized clinic that each band receives, participants also have the opportunity to attend general clinic sessions presented by guest artists and adjudicators. The highlight of the festival is the opportunity to hear professional jazz concerts for free or greatly reduced prices. Jazz artists that have recently appeared at the Great Plains Jazz Festival include Brubeck Brothers, Bela Fleck, Doc Severinsen, Diane Schuur, the Jim Widner Big Band, the New Orleans Jazz Orchestra, Jim Pugh, Marvin Stamm, Hubert Laws, and the Blue Note 7 featuring Ravi Coltrane and Nicholas Payton.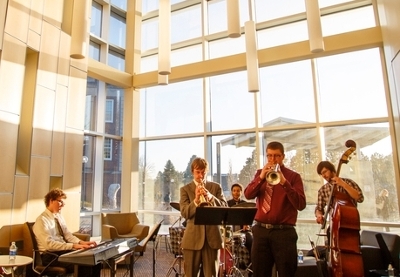 Director Information
Coming Soon!
2017 Great Plains Jazz Festival featuring Sean Jones
February 24-25
Friday Festival Participants will perform at the University of Nebraska at Omaha Strauss Performing Arts Center Recital Hall and  Milo Bail Student Center.
Saturday Festival Participants will perform at the Holland Performing Arts Center Scott Recital Hall.
Evening headliner performances will take place both nights at 8:00 P.M. Saturday's concert will feature the Sean Jones.
Guest Artist & Clinicians
Thrilling hard bop trumpeter and composer Sean Jones balances technical virtuosity with the music of his gospel-embedded upbringing. Jones, who served as the lead trumpet for the Jazz at Lincoln Center Orchestra until 2010, stands out from the horn-blowing pack with his bright, muscular tone and impeccable sense of swing.

"When Jones solos, soaring with a gentle strength as his band swells behind him, it's not just a pretty melody…It's praise." - JazzTimes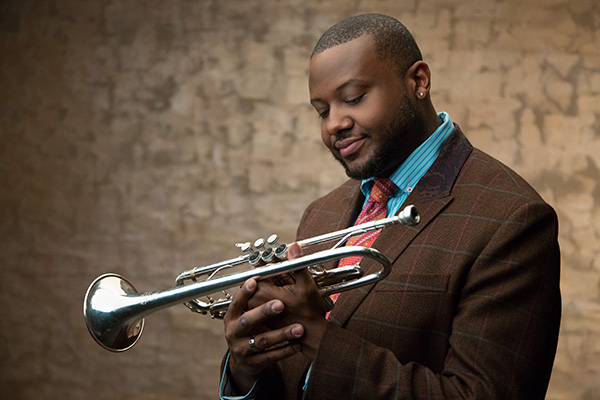 Ticket Information
School performances at the Great Plains Jazz Festival are free and open to the public.
Tickets are required for the evening headliner concerts. At this time tickets are not available, we will begin selling early 2017.
Friday, February 24 - 8:00 P.M. | Featuring Artist Coming Soon!

Tickets for Friday are $15 general admission and $5 for students
Strauss Performing Arts Center Recital Hall
Saturday, February 25 - 8:00 P.M. | Featuring Sean Jones

Tickets for Saturday are $15 general admission and $5 for students
Holland Performing Arts Center Scott Recital Hall
2017 Omaha Performing Arts Combo Competition (Saturday Only)
Omaha Performing Arts will be holding their annual jazz combo competition in conjunction with the UNO Great Plains Jazz Festival. This annual competition element of the festival provides outstanding student ensembles a chance to shine in a combo setting. Winners will perform as the opening act to an upcoming Jazz Concert and will also perform at a masterclass.
Competition Guidelines
High School and College student jazz combos of 10 or fewer musicians are eligible to compete.
Combos will have a clinic in the same venue after their performance in the remaining allotted performance time.
Fee: $50 per Jazz ComboTerms and conditions of competition and performance prize are subject to change.
Visit their website for more information.
Great Plains Jazz Festival Parking
The School of Music will be hosting the Annual Great Plains Jazz Festival on the UNO Campus at the Strauss Performing Arts Center and Thompson Alumni Center on February 26, 2016.
There will be increased traffic and parking demand on the Dodge Campus from 7:00 A.M. to 10:00 P.M.  There is Relaxed Ticketing on the Dodge Campus.  Visitors may park without UNO parking permits in surface lots; except Lots D and E, which are reserved for a CEC Event.  The East Parking Garage, behind Arts and Sciences Hall, will be open during the Festival.  Visitors, Students, Faculty and Staff may park for free in the garage during the Festival.  Please consider parking at the Pacific or Center Campus and ride the free shuttle bus. Click here to view a parking map of UNO.
Parking will be available downtown at the Holland Performing Arts Center for February 25, 2017.