Great Plains Jazz Festival
The Great Plains Jazz Festival features nationally renowned adjudicators, clinicians and guest artists. The festival is designed to be an educational experience for band directors and students from middle school through college. Ensembles perform for written and recorded comments and then proceed to a different room for a clinic from one of the adjudicators. In addition to the individualized clinic that each band receives, participants also have the opportunity to attend general clinic sessions presented by guest artists and adjudicators. The highlight of the festival is the opportunity to hear professional jazz concerts for free or greatly reduced prices. Jazz artists that have recently appeared at the Great Plains Jazz Festival include Bela Fleck, Doc Severinsen, Diane Schuur, the Jim Widner Big Band, the New Orleans Jazz Orchestra, Jim Pugh, Marvin Stamm, Hubert Laws, and the Blue Note 7 featuring Ravi Coltrane and Nicholas Payton.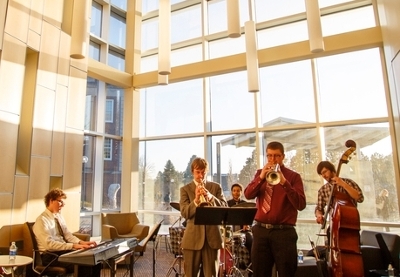 February 26-27
Friday Festival Participants will perform at the University of Nebraska at Omaha Strauss Performing Arts Center Recital Hall and Thompson Alumni Center.
Saturday Festival Participants will perform at the Holland Performing Arts Center Scott Recital Hall.
Evening headliner performances will take place both nights at 8:00 P.M. Friday's concert will feature the Omaha Big Band with Justin Kisor and Saturday's concert will feature the Brubeck Brothers.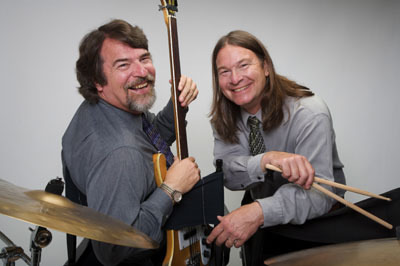 Guest Artist & Clinicians
Chris Brubeck is a composer, orchestral arranger, lyricist and performer, Christopher Brubeck is equally at home playing jazz, rock, classical, funk and folk music, displaying his multiple talents on three instruments. An award-winning composer, Chris has been called "…a 21st Century Leonard Bernstein" by John von Rhein of the Chicago Tribune. Chris's composition, "Vignettes for Nonet," for woodwind quintet and The BBQ was commissioned by, and premiered at Bay Chamber Concerts, Rockport, Maine in August, 2003 to great acclaim. Since its premiere Vignettes has been performed by many woodwind quintets, including the Russian National Orchestra Woodwind Quintet. It is on the Brubeck Brothers Quartet's new Koch recording, Classified, with the ASCAP award-winning woodwind quintet, Imani Winds.
Chris's composition "Interplay for 3 Violins and Orchestra" featuring The Boston Pops and violin virtuoso Nadja Salerno-Sonnenberg, Jazz violinist Regina Carter and Celtic fiddler Eileen Ivers of Riverdance fame was broadcast on PBS' "Evening at Pops" and won the ASCAP Deems Taylor award for Chris for best composi¬tion for television broadcast. Chris has twice been named a Meet The Composer/Music Alive Composer. In addition to his instrumental work with the Brubeck Brothers Quartet, Chris tours, records and sings with his acoustic funk-blues group, Triple Play. Chris' most recent orchestral cd, Koch International Classics CD, "Convergence," with the Czech National Symphony Orchestra features his "Prague Concerto for Bass Trombone." The L.A Times wrote "Chris has become one of the most capable electric bassists, delivering imaginative solos." The New York Post wrote of a Carnegie Hall performance, "The high point of the night came when Chris horned in on a beautifully reflective solo and switching instruments, blew one of the best trombone solos I've heard in years."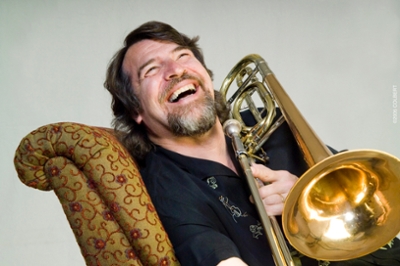 Drummer Daniel Brubeck is the rhythmic force of the Brubeck Brothers Quartet and has toured the international music circuit for more than two decades. He has led his own group, The Dolphins, in addition to performing with the legendary Dave Brubeck Quartet. As a featured soloist with many of the world's top jazz artists, his original drumming style and use of odd-time signatures have earned him international acclaim. With The Dolphins, he released three CDs that have been played extensively on U.S. and Japanese radio stations. His recording credits include performances with Larry Coryell, Livingston Taylor, Michael Franks and Roy Buchanan. Dan and Chris were featured on the Dave Brubeck CD "Live with the London Symphony Orchestra." Dan produced and played on "Trio Brubeck" a Music Masters CD with Dave & Chris Brubeck which received a Grammy Nomination. Dan has appeared on The Today Show, The Tonight Show, The Grammy Awards Show with an all-star jazz group including Dave Brubeck and Christian McBride, BBC specials and the nationally syndicated PBS series Jazz in America, as well as with Chris, Mike & Chuck on the Sierra Center Stage Concert Series broadcast on PBS. JazzTimes Magazine wrote about Dan: "Dan will cause your mouth to drop open when you hear him. To call his drum solos exciting is to sell him short, but it is awesome soloing like this that characterize the entire recording." His original drumming style, distinctive polyrhythmic solos, and use of odd time signatures have earned him standing ovations worldwide, and the respect of the international jazz community.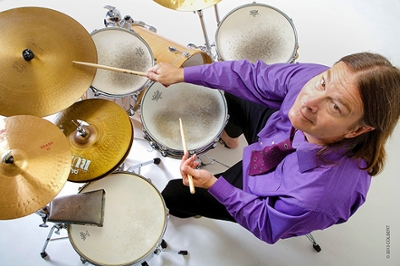 Ticket Information
School performances at the Great Plains Jazz Festival are free and open to the public.
Tickets are required for the evening headliner concerts. At this time tickets are not available, we will begin selling early 2016.
Friday, February 26 - 8:00 P.M. | Featuring the Omaha Big Band with Justin Kisor

Tickets for Friday are $15 general admission and $5 for students
Strauss Performing Arts Center Recital Hall
Saturday, February 27 - 8:00 P.M. | Featuring Brubeck Brothers

Tickets for Saturday are $15 general admission and $5 for students
Holland Performing Arts Center Scott Recital Hall
Omaha Performing Arts Combo Competition (Saturday Only)
Omaha Performing Arts will be holding their annual jazz combo competition in conjunction with the UNO Great Plains Jazz Festival. Winners will perform as the opening act for legendary singer Dee Dee Bridgewater with Irvin Mayfield and his New Orleans Jazz Orchestra at the Holland Center on Saturday, March 12, 2016. The winning combo will also perform for a master class led by artists from the New Orleans Jazz Orchestra. High School and College student jazz combos of 10 or fewer musicians are eligible to compete. Register online at OmahaPerformingArts.org/Educate Deadline: January 15, 2016 Fee: $50 per Jazz Combo.
Questions? Please click here for more information or contact Joanie Mathis, Assistant Manager for Programming and Education: jmathis@omahaperformingarts.org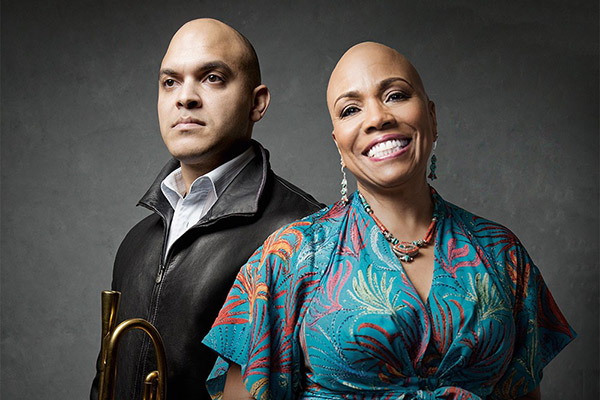 Great Plains Jazz Festival Parking
The School of Music will be hosting the Annual Great Plains Jazz Festival on the UNO Campus at the Strauss Performing Arts Center and Thompson Alumni Center on February 26, 2016.
There will be increased traffic and parking demand on the Dodge Campus from 7:00 A.M. to 10:00 P.M.  There is Relaxed Ticketing on the Dodge Campus.  Visitors may park without UNO parking permits in surface lots; except Lots D and E, which are reserved for a CEC Event.  The East Parking Garage, Behind Arts and Sciences Hall, will be open during the Festival.  Visitors, Students, Faculty and Staff may park for free in the garage during the Festival.  Please consider parking at the Pacific or Center Campus and ride the free shuttle bus. Click here to view a parking map of UNO.
Parking will be available downtown at the Holland Performing Arts Center for February 27, 2016.