Great Plains Jazz Festival
The Great Plains Jazz Festival features nationally renowned adjudicators, clinicians and guest artists. The festival is designed to be an educational experience for band directors and students from middle school through college. Ensembles perform for written and recorded comments and then proceed to a different room for a clinic from one of the adjudicators. In addition to the individualized clinic that each band receives, participants also have the opportunity to attend general clinic sessions presented by guest artists and adjudicators. The highlight of the festival is the opportunity to hear professional jazz concerts for free or greatly reduced prices. Jazz artists that have recently appeared at the Great Plains Jazz Festival include Bela Fleck, Doc Severinsen, Diane Schuur, the Jim Widner Big Band, the New Orleans Jazz Orchestra, Jim Pugh, Marvin Stamm, Hubert Laws, and the Blue Note 7 featuring Ravi Coltrane and Nicholas Payton.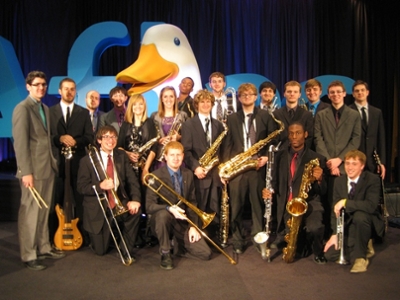 2015 Great Plains Jazz Festival
February 27, 2015
Festival Particpants will perform at the University of Nebraska at Omaha Strauss Performing Arts Center Recital Hall and Thompson Alumni Center.
The evening performance will feature Ralph Lalama and the Nebraska Jazz Orchestra at 8:00 PM in the Strauss Performing Arts Center Recital Hall.
February 28, 2015
The Festival will be held at the Holland Performing Arts Center Scott Recital Hall.
The evening performance will featuring Randy Brecker & the UNO Jazz Ensemble.
Guest Artist & Clinicians
Ralph Lalama, sax - "A solid fixture of the New York jazz scene and respected world-wide, Ralph Lalama embodies the best of the jazz sound ideal – great time, great swing, expressed through great melodic ideas."
The Nebraska Jazz Orchestra was founded in 1975 and is one of the Midwest's premier big bands, celebrating over 35 years of great performances. The ensemble's concerts feature a variety of traditional big band compositions by jazz masters such as Woody Herman, Duke Ellington, and Count Basie, reflecting the rich legacies of the Mississippi Basin territory bands. The ensemble also adds to this legacy by performing new compositions and arrangements regularly.
Randy Brecker, trumpet - "Jazz trumpeter and composer Randy Brecker has helped shape the sound of jazz, R&B and rock for more than four decades. His trumpet and flugelhorn performances have graced hundreds of albums by a wide range of artists."
Ticket Information
School performances at the Great Plains Jazz Festival are free and open to the public.
Tickets are required for the evening headliner concerts.
Friday, February 27 - Ralph Lalama & the Nebraska Jazz Orchestra | 8:00 PM.
Tickets for Friday are $15 general admission and $5 for students
Strauss Performing Arts Center Recital Hall
Tickets can be purchased at the door the night of the concert
Saturday, February 28 - Randy Brecker & the UNO Jazz Ensemble | 8:00 PM.
Tickets for Saturday are $15 general admission and $5 for students
Holland Performing Arts Center Scott Recital Hall
Tickets can be purchased at the door the night of the concert