---
University of Nebraska at Omaha Brass Studio Faculty:
Prof. Jason Johnson, Trumpet, Brass Area Coordinator
Prof. Ross Snyder, Horn
Dr. Pete Madsen, Trombone, Jazz Area Coordinator
Dr. Jay Wise, Trombone/Euphonium
Prof. Alex Serwatowski
Conductor, UNO Brass Day Brass Choir
Dr. Karen Fannin, UNO Director of Bands
Click here to learn more about the UNO Brass Area.
---
COVID-19 Guidelines:
All selected students will be expected to adhere to UNO's policies regarding masks and bell covers.
Masks are required indoors for everyone.
Bell covers (for wind players) and masks will be provided. Wind players are permitted to pull down the masks to play.
---
Special Guest Artist
Rex Richardson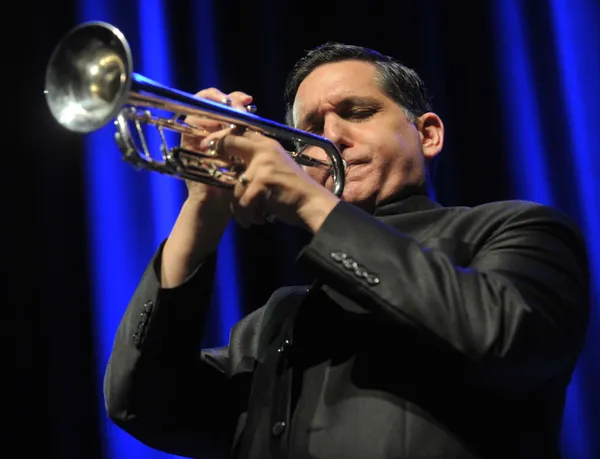 "A startling display of virtuosity...This was something very different, played by a performer of rare gifts indeed." -- 4barsRest.com, in a review of Rex Richardson's performance at the 2013 World Music Championship in Kerkrade, Netherlands

Renowned as champion of new, genre-busting music featuring the trumpet as a solo voice, Yamaha Performing Artist Rex Richardson was named the 2008 Brass Herald International Personality of the Year, has been called "One of the finest virtuosos of our time" (Brass Herald, 2018).

A veteran of the acclaimed chamber ensemble Rhythm & Brass, jazz legend Joe Henderson's Quintet and Sextet, William Russo's Chicago Jazz Ensemble, and the world-renowned Brass Band of Battle Creek, his hundreds of soloist appearances include festivals and ensembles on six continents, such as the Phoenix Symphony and Thailand Philharmonic Orchestras, the U.S. Army Field Band and Tokyo Symphonic Winds, England's Fodens Brass Band, and the U.S. Air Force's Airmen of Note Jazz Ensemble.

His latest CD Freedom of Movement: 21st Century Trumpet Concertos was released to critical and public acclaim, and named a top-ten finalist for 4barsrest.com's 2018 Solo CD of the Year. The Journal of the International Trumpet Guild called it "A triumph of virtuosity and musicianship"(March, 2019).

Richardson has taught at Virginia Commonwealth University since 2002, served as International Tutor in Trumpet at England's Royal Northern College of Music from 2012-2015 and at Austria's JAM Music Lab University since 2018.
---

| | |
| --- | --- |
| 8:30am: | Registration (Strauss Performing Arts Center Lobby) |
| 9:00am: | Brass Choir Rehearsal (Concert Hall) |
| 10:15am: | Break |
| 10:30am: | UNO Brass Faculty Showcase (Concert Hall) |
| 11:00am: | Masterclasses with UNO Faculty (Locations TBA) |
| 12:15pm: | Lunch (Students may bring lunch or eat in the Milo Bail Student Center (MBSC) food court) |
| 1:15pm: | Brass Choir Rehearsal (Concert Hall) |
| 2:15pm: | Break |
| 2:30pm: | Symphonic Wind Ensemble Performance (109) |
| 2:45pm: | Break |
| 3:00pm: | Masterclass with Rex Richardson (109) |
| 4:00pm: | Brass Choir Rehearsal (Concert Hall) |
| 5:15pm: | Snack break (snacks available for purchase in MBSC) |
| 6:00pm: | Concert featuring Brass Day Brass Choir, Rex Richardson, and UNO Jazz I (Concert Hall) |
*Schedule subject to minor revisions. All changes will be posted on this page.
---

Early Bird Registration (by Nov. 1): $40
Registration (after Nov. 1): $50
---
Brass at UNO
In the brass area, students have the opportunity to study with experienced teachers that maintain careers as active professional musicians.
UNO brass teachers have varied backgrounds including extensive experience in symphony orchestras, jazz, chamber music, and professional wind bands. In addition to private lessons, students participate in a weekly brass masterclass presented by UNO faculty or guest artists.