Why Composting?
Composting is a closed loop, complete circular economy process that introduces no waste into the environment. By partnering with Omaha metro's only commercial composting company. Hillside Solutions, we have the unique opportunity to transform valuable materials previously discarded into landfills into rich soils that are used within our local agriculture and community gardens.
Bringing compost to UNO is essential. It is a necessary next step as the University continues to be a sustainability leader in Omaha and move towards a more sustainable future.
The UNO pilot compost program takes the university closer to achieving the goal of being a zero-waste campus by 2030. UNO's students have advocated for, led, championed, and designed this program, and it is students who will ensure program success. As such, this program exemplifies that UNO values students' voices and needs.
What Can Go Into the Compost Bin?
Just like the recycling bins everyone is familiar with, we need to make sure we are properly disposing of materials into the correct bins.
Cross-contamination of recycling and compost bins means the contaminated bins have to be taken to the landfill instead of a recycling or composting facility.
Here is what you can put into the new composting bins: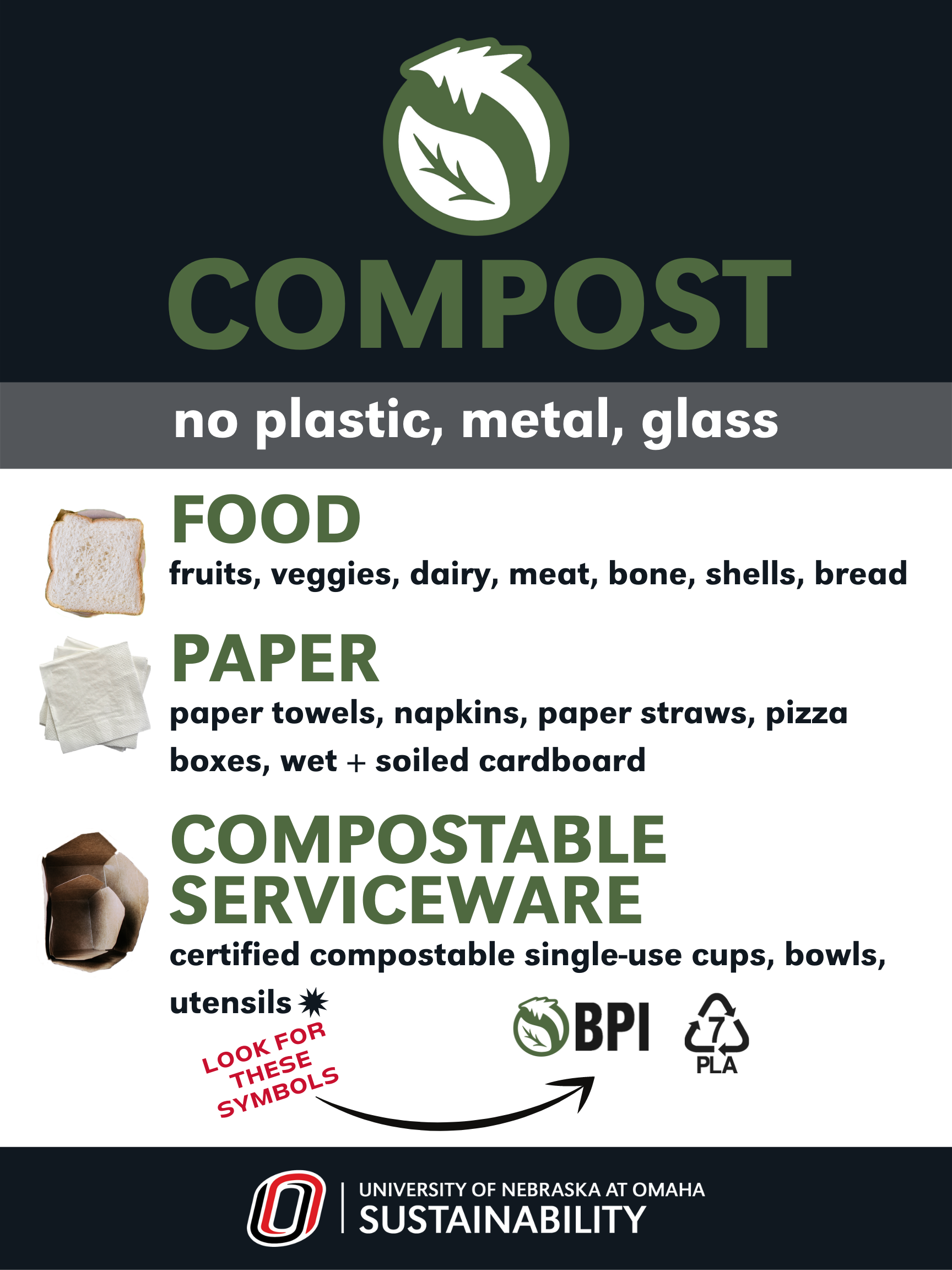 Food including fruits, dairy, meat, bone, fat, shells, bread, juice, and coffee grounds.
Non-recyclable paper including paper towels, napkins, paper straws, pizza boxes, coffee filters, soiled cardboard.
Compostable servicewear such as single-use cups, bowls, plates, and utensils that have been taken out of packaging.
Yard waste, including grass, leaves, dirt, plants, and branches.
Remember that NO plastic, metal, or glass materials can be placed in a compost bin.
Be sure to reference this resource from UNO's composting partner, Hillside Solutions, which provides a full list of compostable materials.
Composting in Housing
Students living in both Maverick Village and University Village will be able to opt-in to a composting program to gain access to unlimited compost drop-offs, free of charge. In 2020, students in Dodge Campus Housing previously had access to compost drop-off for a small monthly fee, and due to the success of this program, we are excited to offer this service to students free of charge.
Students living in Maverick Village and University Village will sign up for composting services through Presence. Each student, along with their roommates will meet with UNO Sustainability to discuss a compost management strategy and sign a Roommate Agreement form.
Once approved, students will be able to drop off all their compostable items in the outdoor compost bins.