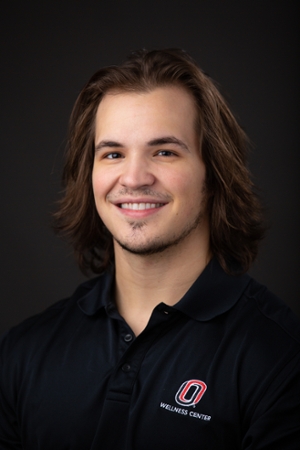 Josh Bruno
Graduate Assistant
HIIT Instructor
Strength and Fitness
---
Additional Information
---
Certifications
NSCA-CSCS, AFAA-Group, CPR, American Red Cross Instructor
Teaching Experience
I have experience as both a personal trainer and a Group Ex instructor. During my undergraduate career, I ran several Bootcamp/HIIT-style workouts and worked as a Performance Coach and Group Ex leader at Pure Edge Performance Training.
Why Try My Classes?
If you don't enjoy traditional cardio, then HIIT might be for you. It is a fun, high-intensity functional movement class. I utilize bodyweight, bands, dumbbells, and even bring out machines every once in a while. This class is designed to be a challenging but rewarding 45 minutes of intense activity to get you stronger and burn some calories. If you want to incorporate something new in your exercise routine, give HIIT a try!
Favorite Mode of Physical Activity
I love powerlifitng and bodybuilding when I'm in the gym. I enjoy challenging myself by setting new, harder goals. If I'm not getting active in the gym, I love to hike and be outside.