*NOTE: It is recommended that parents use the care package for the specific location of their student. Your student will receive the package regardless.
---
Dodge Campus | Student Care Packages
Have questions? Call us at 800.929.8184 or email service@swaku.com
View all student care package options.
Care packages are a nice way to support your student during events such as Durango Days (UNO's signature welcome week), finals, Halloween, Valentine's Day, and more. You can order from a wide selection of value-packed traditional packages as well as some of the best organic packages available. If these don't meet your needs, simply build your own package with our custom package option. You can also take advantage of our bundled package offerings, and order packages for the entire year at one time.
You will also have an opportunity to write an encouragement card which will be included in the package, along with a stamped, addressed thank you card, giving your student the chance to express their thanks.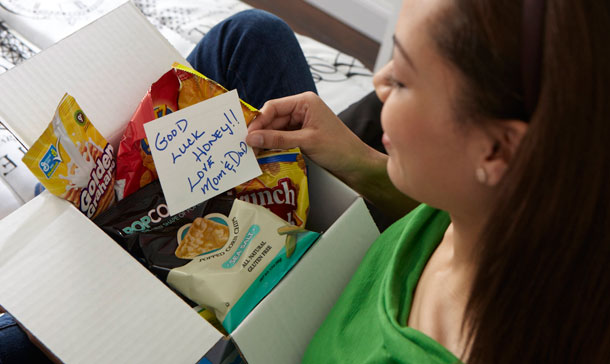 Our web store is secure, and the entire process will take about 5 minutes. There is no need to enter a shipping address or ship date for a particular event, those details have been taken care of. Simply choose your packages for each event, put in your information, and you are done.
Support Students Living at UNO
This is a fundraiser for the University of Nebraska Omaha Residence Hall Association (RHA), a student-run organization that provides programming and support for on-campus populations. The proceeds from this fundraiser go right back to UNO students through programs, scholarships, and leadership development opportunities throughout the school year. Please direct any questions about our care package program to 800-929-8184 or email service@swaku.com. Your support is greatly appreciated.
Scott Campus | Love From Home
Welcome Home

Includes SunChips, Cracker Jack popcorn, Aquafina bottled water, animal crackers, Kellogg's Mixed Berry Fruity Snacks, Fig Newtons, Famous Amos Chocolate Chip Cookies, Blueberry Nutri-Grain Cereal Bars, Planters Trail Mix, Nut & Chocolate, Skittles, Chex Mix, and more.

$19.95

Halloween

Includes Orange Gatorade, Lays BBQ chips, Cheetos, Orville Redenbacher's microwave popcorn, hot chocolate, Oatmeal Cream Pies, Gardetto's Planter's Cashews, cheese and crackers, Kellogg's Special K Bar, assorted Halloween candy and more.

$19.95

Fall Finals 

Includes Oreo cookies, Red Bull Energy Drink, Orville Redenbacher's microwave popcorn, hot chocolate, Nature Vallery Peanut Granola Bar, Cool Ranch Doritos, Peanut M&M's, General Mills cereal, Grandma's Chocolate Chip Cookie, Brown Sugar Cinnamon Pop-Tarts, Fritos, and more.

$19.95

Valentine's Day

Includes Strawerry Pop-Tarts, Cherry Twizzlers, Keebler Fudge Stripes Cookies, Nacho Cheese Doritos, G2 Fruit Punch Gatorade, Nature Valley Fruit & Nut Granola Bar, Funyuns, assorted Valentine's Day candy and more.

$19.95

Spring Break

Includes Orville Redenbacher's microwave popcorn, 3 Musketeers, sour cream and onion chips, Planters Trail Mix, Nut & Chocolate, Nature Valley Oats N' Honey Granola Bar, SunChips, Nutter Butter Cookies, Mountain Dew, Kellogg's Mxed Berry Fruity Snack and more.

$19.95

Spring Finals

Includes Orville Redenbacher's microwave popcorn, Amp Energy Sugar Free, Reese's Peanut Butter Cup, chips and salsa, salt and vinegar chips, Oreo cookies, Honey Nut Cheerios Cereal Bar and more.

$19.95

Select All

Inclues six pacages shown above (does not include birthday).

$100

Birthday

Includes ice cream and cake baked fresh in our kitchen. Choose from a variety of cake, frosting, and ice cream flavors.

$19.95
Our Campus. Otherwise Known as Omaha.
The University of Nebraska does not discriminate based on race, color, ethnicity, national origin, sex, pregnancy, sexual orientation, gender identity, religion, disability, age, genetic information, veteran status, marital status, and/or political affiliation in its programs, activities, or employment. Learn more about Equity, Access and Diversity.
scroll to top of page