*NOTE: It is recommended that parents use the care package for the specific location of their student. Your student will receive the package regardless.
---
Dodge Campus | Our Campus Market Student Care Packages
Have questions? Call us at 877.942.7887.
View all care package options.
Share your love and support all year long with the UNO care package program. A care package is the best way to remind your student that mom and dad are thinking of them on a birthday, a holiday, and during final exams. A care package says it all.
Each of our care packages can be loaded with all of your student's favorite snacks, including fresh baked cakes or cookies, fresh fruit, candy bars, and more! The best part is that you can include your own personal note to your student in every package.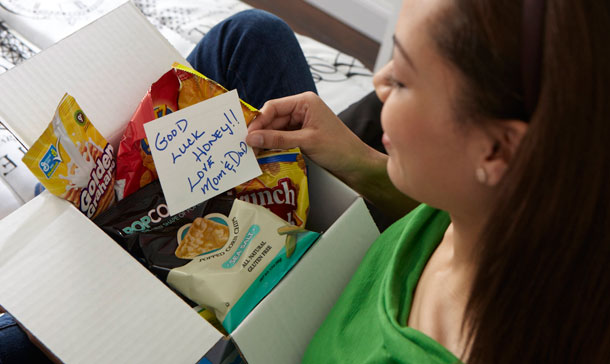 Our goal is to ensure that every student receives at least one care package. Your student is practically guaranteed to call home and say thank you when their package arrives. We offer a wide variety of options that will fit any budget and satisfy your student's cravings. We even have gluten-free and peanut-free packages to choose from. Here are some of the most popular care packages we can arrange for your student:
Welcome Care Package
Halloween Care Package
Valentine's Care Package
Birthday Cake Care Package
Midterms Care Package
Final Exams Care Package 
Graduation Care Package
Miss You Care Package
Thinking of You Care Package
Peanut-Free Care Package
Gluten Free Care Package
Fresh Baked Cookies or Cakes
Testimonials
"I wanted to let you know that my son was surprised and very pleased with his Halloween package. He really liked the variety of goodies you sent! Thank you for your great service." - Sheryl C, parent of student
"My son did receive his care package and said it is great! Full of awesome things...this is a wonderful service you provide. He said it will definitely help him get through his final exams in the most positive light." - Barb F, parent of student
"My daughter called to tell me how surprised she was to receive such a nicely done up gift basket, it was beautifully done. The excitement in her voice was certainly worth it, and a nice way to take the stress off during her finals and enjoy the goodies. Thank you again." - Maria G, parent of student
"Just wanted to let you know that you do an amazing job! My daughter and her friends (I sent them gift baskets also) said that they are wonderful! Great job and thank you for having this service! I love it and love sending them to my daughter!" - Yolanda S, parent of student
---
Scott Campus | Love From Home
Welcome Home

Includes SunChips, Cracker Jack popcorn, Aquafina bottled water, animal crackers, Kellogg's Mixed Berry Fruity Snacks, Fig Newtons, Famous Amos Chocolate Chip Cookies, Blueberry Nutri-Grain Cereal Bars, Planters Trail Mix, Nut & Chocolate, Skittles, Chex Mix, and more.

$19.95

Halloween

Includes Orange Gatorade, Lays BBQ chips, Cheetos, Orville Redenbacher's microwave popcorn, hot chocolate, Oatmeal Cream Pies, Gardetto's Planter's Cashews, cheese and crackers, Kellogg's Special K Bar, assorted Halloween candy and more.

$19.95

Fall Finals 

Includes Oreo cookies, Red Bull Energy Drink, Orville Redenbacher's microwave popcorn, hot chocolate, Nature Vallery Peanut Granola Bar, Cool Ranch Doritos, Peanut M&M's, General Mills cereal, Grandma's Chocolate Chip Cookie, Brown Sugar Cinnamon Pop-Tarts, Fritos, and more.

$19.95

Valentine's Day

Includes Strawerry Pop-Tarts, Cherry Twizzlers, Keebler Fudge Stripes Cookies, Nacho Cheese Doritos, G2 Fruit Punch Gatorade, Nature Valley Fruit & Nut Granola Bar, Funyuns, assorted Valentine's Day candy and more.

$19.95

Spring Break

Includes Orville Redenbacher's microwave popcorn, 3 Musketeers, sour cream and onion chips, Planters Trail Mix, Nut & Chocolate, Nature Valley Oats N' Honey Granola Bar, SunChips, Nutter Butter Cookies, Mountain Dew, Kellogg's Mxed Berry Fruity Snack and more.

$19.95

Spring Finals

Includes Orville Redenbacher's microwave popcorn, Amp Energy Sugar Free, Reese's Peanut Butter Cup, chips and salsa, salt and vinegar chips, Oreo cookies, Honey Nut Cheerios Cereal Bar and more.

$19.95

Select All

Inclues six pacages shown above (does not include birthday).

$100

Birthday

Includes ice cream and cake baked fresh in our kitchen. Choose from a variety of cake, frosting, and ice cream flavors.

$19.95
Our Campus. Otherwise Known as Omaha.
The University of Nebraska does not discriminate based on race, color, ethnicity, national origin, sex, pregnancy, sexual orientation, gender identity, religion, disability, age, genetic information, veteran status, marital status, and/or political affiliation in its programs, activities, or employment. Learn more about Equity, Access and Diversity.
scroll to top of page