UNO Community Makes Voices Heard at I Love NU Day
Students, faculty, staff and alumni of UNO joined other friends of the University of Nebraska at the State Capitol to show support for UNO and NU on Tuesday, March 10.
published: 2020/03/10
contact: University Communications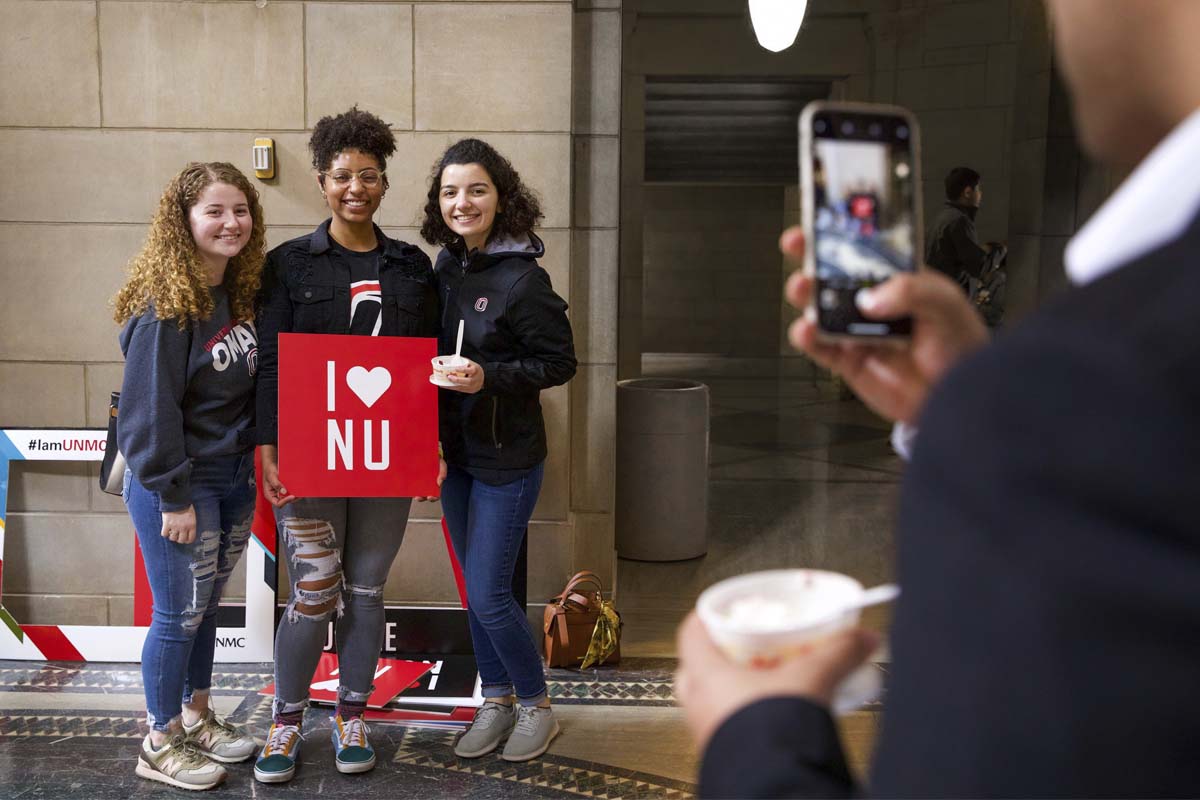 It's not every day you see Durango the Maverick, Herbie Husker and Louie Loper joined together in one place - let alone the Nebraska State Capitol.
That's the power of I Love NU Day.
On Tuesday, March 10, a group of 200 students, faculty, staff and alumni from the University of Nebraska system came together to meet with their state representatives and share why public higher education has made an impact in their lives.
"From my perspective, I Love NU Day is every day" NU President Ted Carter told the group as they prepared to meet with dozens of state senators from the Nebraska Unicameral. "But today is a special day for us."
In addition to NU President Ted Carter, the chancellors of the University of Nebraska-Lincoln and University of Nebraska-Kearney were also in attendance. University of Nebraska at Omaha and University of Nebraska Medical Center Chancellor Jeff Gold was unable to attend, but with good reason, Carter said, as Gold was briefing U.S. Vice President Mike Pence on the latest steps Nebraska was taking to combat COVID-19.
"This is just an example of how much we, as the University of Nebraska system, are at the epicenter of everything, not just across the United States, but globally," he explained, adding that the students in the audience would be the ones to carry that momentum forward. "This is the future of our state, this the future of our nation, this is the future that will change our world."
Aya Yousuf, UNO's Student Body President and Student Regent and a junior political science major, was among the students who made the trip down from Omaha to Lincoln to represent UNO and the NU system.
"Not only is [I Love NU Day] an awesome opportunity to meet with senators but with students from other campuses as well. What I love is how more senators are becoming more engaged with our university and understand how big of a part we play in our state."
During the visit, guests had the opportunity to hear from state senators about their thoughts on higher education, visit with their own state representative and sit in on an active legislative session where the coalition of campuses were formally recognized as guests.
That visibility is important for students like Bri Full, a senior public health student who will graduate this May. As another member of UNO's student government, Full said she knows the important elected officials play in making decisions that impact large groups and institutions like the NU system.
"Interaction with senators is important for them to hear our voices and understand our needs and our wants, as well as get that feedback from them that the Nebraska public school system is important to them, including the NU system, and that they will continue to fight for us."
As director of state relations for the NU system, Heath Mello, who also serves as associate vice president for university affairs, agreed that these kinds of events are ones that make a difference. That's why, he said, I Love NU Day, which will celebrate its fourth year in 2021, will continue to look for ways to enhance the experience provided to students and other supporters of the NU mission.
"It's just a testament to the dedication that the university community, across UNO, UNL, UNMC and UNK have to wanting to make sure that they are able to show the legislature, particularly, all the great work and the impact they are having in their communities across the state."
There was perhaps no better symbol of the day than the dozens of visitors to the capitol, sharing stories over bowls of ice cream with black chocolate chips, red cherry swirls and blue cotton candy.
The name of the ice cream?
UNity.
About the University of Nebraska at Omaha
Located in one of America's best cities to live, work and learn, the University of Nebraska at Omaha (UNO) is Nebraska's premier metropolitan university. With more than 15,000 students enrolled in 200-plus programs of study, UNO is recognized nationally for its online education, graduate education, military friendliness and community engagement efforts. Founded in 1908, UNO has served learners of all backgrounds for more than 100 years and is dedicated to another century of excellence both in the classroom and in the community.
Become a fan of UNO on Facebook and follow UNO's Twitter updates. 
Contact Us
If you have a story idea, news tip, or other question, please email the UNO News team at unonews@unomaha.edu.