Shining a Light on Mental Health
After finding stability with his depression, COVID-19 upended Drew Giambattista's life. With the help of resources like UNO's Counseling and Psychological Services (CAPS) office, he's finding his footing once again.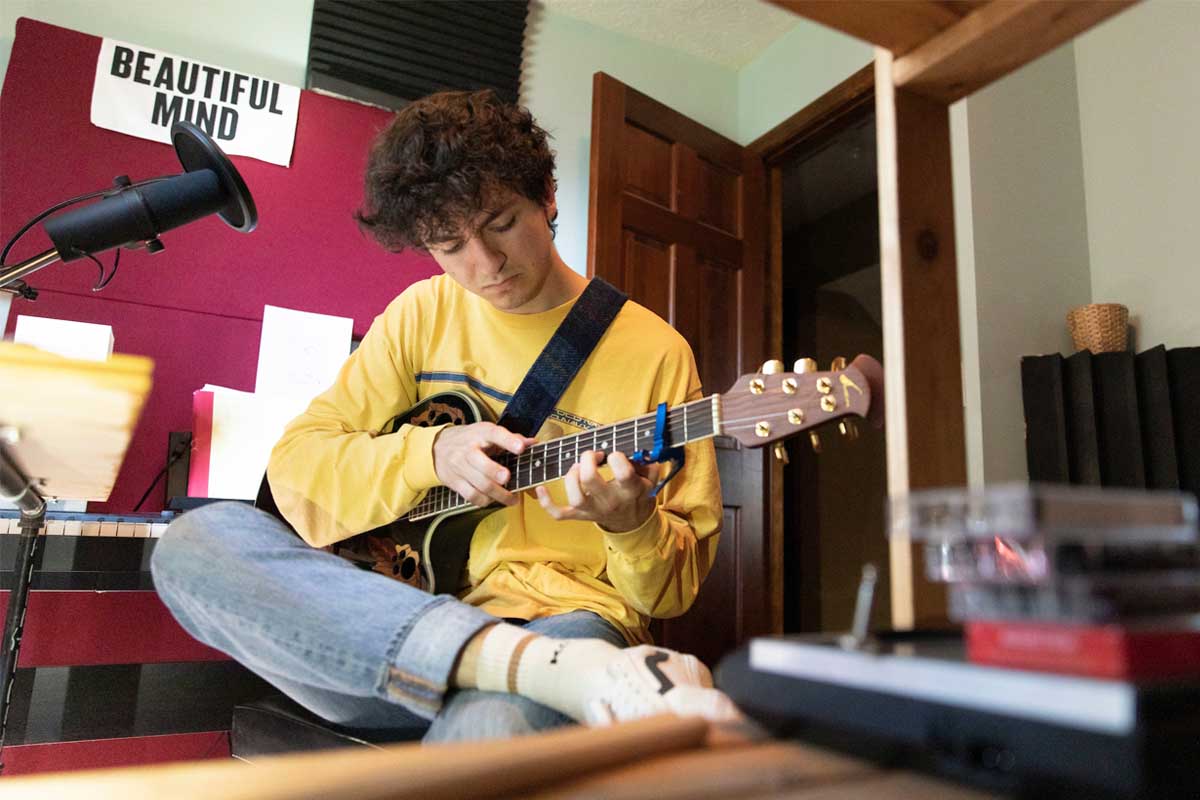 Drew Giambattista struggled with depression as COVID-19 isolated him from classmates, friends, and professors. With the help of staff from UNO's Counseling and Psychological Services office he's been able to begin to heal and wants others like him to know there is help out there for those looking for support.
Drew Giambattista was in a good place in early 2020.
After years of dutifully managing the ups and downs of years-long struggle with depression, the 20-year-old Omaha native and political science major had finally settled into the rhythm of college life. He had friends, got involved in clubs on campus, and loved the university environment.
Then the COVID-19 pandemic swept that hard-earned progress away.
His social life disappeared with physical distancing. The student groups he was a part of still met, but the interactions just weren't the same. The interpersonal connections he made with classmates and the campus energy he fed off of during what he called "one of the best seasons of his life" didn't translate over Zoom.
After the silver lining of having more time to spend on his passions like music production, reading, and long walks at Fontenelle Forest had worn off, he found himself increasingly isolated. It had gotten to the point where he was hospitalized.
"I was very tired. I wasn't seeing my friends very much. There would be days at a time where I didn't really talk to anybody outside of my house, and that's not good," Giambattista said. "For most people it's kind of a nuisance, but if you're already struggling with depression – if you've already got that going against you and you add on not seeing anybody ever – it's not a good place to be."
Getting Help
Giambattista wasn't - and isn't - alone in his mental health struggles. A recent study found that the rate of depression among college students was up to 90 percent higher in the early months of the COVID-19 pandemic, compared with pre-pandemic levels.
At his lowest point in his struggles with depression, prior to coming to UNO, Giambattista said he was hospitalized for two days at age 17. The isolation he felt during the pandemic had nearly brought him back to that point before a conversation with his mother led to the decision to seek counseling help on campus through UNO's Counseling and Psychological Services (CAPS)
"It started to affect my life again in pretty big ways," he said.
The path from deciding he needed support and getting connected with it was a short one.
"I went to the UNO website and it was really easy," he said. "I found CAPS, looked for someone who seemed compatible with me and sent them a message."
---
Need Help? You're Not Alone!
UNO understands that overall wellness means mental, emotional, physical, occupational, intellectual, and spiritual wellness. Here are just some resources students can make use of right away:

Need to speak to a CAPS counselor urgently? Call 402.554.2409 and press "2". Mental health therapists are available 24/7, including on weekends and holidays.
---
Going the Extra Mile
Jaisy Girija Kumar, MA, LIMHP, LPC, PLADC, is part of a team of mental health therapists, counselors, and specialists who make up the CAPS team. She has been a licensed professional since 2010 and has been with CAPS since 2017.
At the beginning of the pandemic, CAPS quickly transitioned to remote operations. As this happened, Kumar noticed trends emerge. First, there were fewer no-shows and cancellations because students had a need for their services. Students were losing loved ones and the dangers of the pandemic created a high-stress environment. These pressures of new daily life caused past traumas to resurface.
Despite the increase in demand for their services and the rapid transition to remote operations, CAPS upheld their commitment to fostering a comforting, calming environment. It isn't uncommon to see staffo the extra mile to make sure students feel welcome, cared for, and at ease with every interaction. In fact, Kumar kept a tea station and hot chocolate readily available for students prior to the pandemic.
"Our leadership does really take an effort to cater to our students and their needs and provide a well-rounded environment that encourages wellness," Kumar said.
First, students who call CAPS are connected with a triage specialist who helps guide them to identify their needs, field specific requests, and make an appointment. Telehealth and in-person options are both available. Then, when it is time for the appointment, students meet with their therapist for an initial 1.5-hour-long, conversational visit to get to know the student and better understand their needs and goals. The therapist and the student will talk through their plan and any future sessions. CAPS follows a brief therapy model, meaning they are able to provide up to 10 sessions before referring the student to a professional in the community.
"Students who are on the fence about seeking out our services, to them I would say you are on a journey, and this journey can be difficult," Kumar said. "If there is anything I want to put out there as a therapist and as a representative of CAPS is you are not alone in your journey. We are here to walk along with you."
Courage to Speak Up
For Giambattista, a partner in his journey is exactly what he found. He received the tools he needed to better understand his situation and support his own wellness. It gave him the courage and the confidence to be open and honest about his mental health. AAfter a series of appointments he found himself going about his day remembering the guidance he received from his CAPS therapist and leaning on that guidance to support himself in the moment.
"That's why CAPS was really helpful, because you're not just talking to any person, you're talking to someone who knows where to push you, someone who knows how to get you to the next step away from depression," he said.
Through CAPS, Giambattista now had the tools and resources he needed to manage his depression. But it was his Christian faith that allowed him to be open about his journey and share it with others.
"Christ became my rock, my thing I could fall back on in my fight against depression," Giambattista said. "When you have that firm rock, hey, no matter what I have Christ, so what if I have depression, I'm not really concerned about that. It doesn't make me concerned anymore. I've got something else defining me that's not depression."
As someone whose depression was made worse through feelings of isolation, he knew what was at stake for students who were in a similar position as him. During a student town hall with UNO Chancellor Joanne Li, Ph.D., CFA, early in the Fall 2021 semester, Giambattista stood up and shared his experience directly with Li and members of UNO's executive leadership team. He shared his story about how isolation impacted his mental health and urged university leadership to maintain in-person activity.
"When I saw I had the opportunity to speak with her face-to-face I thought I want to let her know personally what my stakes are, what's at stake for me with class modality," Giambattista said. "Of course it's a big deal in a pandemic, there's a risk factor there, but there's more risks than just COVID. You have a lot of people who need this daily getting out of the house."
Li and the leadership team took the message to heart, thanked Giambattista for speaking up, and continue to support in-person and on-campus activity while supporting campus wellbeing
"Learning is not only about the material. Learning is to interact. Education is to inspire," Li said during the town hall. "If you are not inspired, you cannot learn. So trust me, UNO, our faculty and our staff will always be holding firm. We will be your rock. Count on us. And for all those students that have challenges emotionally, we understand that. You are not alone."
Giambattista said the interaction showed him that support for student wellness permeated throughout campus.
"I was really grateful to be able to have the opportunity to speak with her," he said. "She was very receptive, she heard me, she let me know she heard me, and I am very thankful to her for that."
Every step in Giambattista's journey required courage: From making the decision to seek help, to taking the time to work with a counselor, to sharing his personal story in a public setting, to being open and honest about mental health. This is a journey he encourages everyone to take, because it's a battle that can't be fought alone.
"You've got to take that first step," he said. "That's vital, because no one is going to take you into CAPS, no one is going to take you into those meetings, you've got to take that first step and make that meeting. It might be hard for some people, but you've got to fight this, you've got to drag it out into the light, you've got to have multiple people on your team. So, take action."
About the University of Nebraska at Omaha
Located in one of America's best cities to live, work and learn, the University of Nebraska at Omaha (UNO) is Nebraska's premier metropolitan university. With more than 15,000 students enrolled in 200-plus programs of study, UNO is recognized nationally for its online education, graduate education, military friendliness and community engagement efforts. Founded in 1908, UNO has served learners of all backgrounds for more than 100 years and is dedicated to another century of excellence both in the classroom and in the community.
Follow UNO on Facebook, Twitter, Instagram, TikTok, LinkedIn, and YouTube.