USSTRATCOM Fellows Program Renewed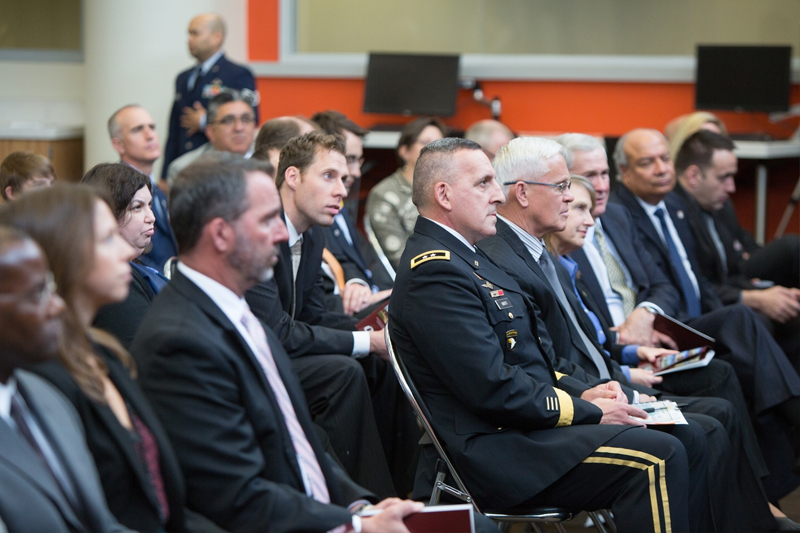 OMAHA – The Strategic Leadership Fellows Program, a graduate-level program at the University of Nebraska at Omaha (UNO) that recruits top civilian employees at U.S. Strategic Command (USSTRATCOM), is set to continue for an additional three years.  Advancing its longstanding investment in national security research solutions, the National Strategic Research Institute (NSRI) at the University of Nebraska has been awarded a follow-on contract from USSTRATCOM to continue the fellows program during the spring semesters of 2017, 2018 and 2019 at UNO.  
 
The NSRI is a University of Nebraska-wide institute that leverages talent and research-based expertise from across the University of Nebraska system to provide national security solutions to USSTRATCOM and other Department of Defense (DoD) agencies.
 
The NSRI, UNO and USSTRATCOM launched the inaugural fellows program in 2014.  Each year, 10 USSTRATCOM civilian employees are hand-selected as Strategic Leadership Fellows for the spring academic semester.  Fellows are charged with scholarly research and writing aimed at addressing the nation's most urgent challenges.  "The anticipated result of each fellowship is a strengthened civilian workforce that is capable of effectively addressing complex challenges and advocating for global operations" said Lt Gen (Ret) Bob Hinson, NSRI Executive Director.
 
"The Fellows program has become an important part of professional growth and development for our civilians, who make up more than 60 percent of my headquarters staff," said U.S. Navy Adm. Cecil D. Haney, USSTRATCOM commander. "The achievements of these talented professionals during the program, and the knowledge and skills they've brought back to the command, have been very impressive. I want to thank the staff and faculty at the University of Nebraska for your continued partnership and contributions to national security."
"It is a mutually beneficial program – the Fellows learn from faculty across the University of Nebraska's four campuses as they spend three months offsite in a 'skunkworks' type of environment. Our faculty love teaching the Fellows because they get to discuss their research and ideas with high level, talented leaders at USSTRATCOM," said Gina Ligon, Ph.D., co-director of the program and Associate Professor of Management in the College of Business Administration at UNO.
 
From January through April, the Fellows take classes in Mammel Hall's Executive Decision Laboratory, housed in UNO's College of Business Administration and administered by UNO's Center for Collaboration Science, a multi-college effort that brings together subject matter experts to improve collaboration between organizations.  Fellows learn problem-solving competencies such as team building, collaboration management, data-driven decision making and project management, combined with mission core competency development.
 
In addition to coursework and capstone projects, Fellows engage with other academic professionals from UNO, as well as the University of Nebraska Medical Center, the University of Nebraska-Lincoln, University of Nebraska at Kearney and senior military leaders from USSTRATCOM and private business leaders throughout Nebraska.
 
Overseeing the program with Ligon is Douglas Derrick, Ph.D., Associate Professor of IT Innovation.
 
Derrick and Ligon have conducted numerous other research projects, many with the NSRI, on national security strategies for the DoD and Department of Homeland Security.
 
UNO's fourth Strategic Leadership Fellows selections will be announced and formally welcomed in a January 2017 ceremony.
 
About NSRI
Founded in 2012, the National Strategic Research Institute (NSRI) at the University of Nebraska is the only University Affiliated Research Center (UARC) in the country dedicated to delivering solutions for Combating Weapons of Mass Destruction (CWMD) to U.S. Strategic Command (USSTRATCOM) and across other federal agencies. NSRI provides research and development for the U.S. Department of Defense, Department of Homeland Security, and other governmental agencies in multiple mission-critical competency areas — including development of medical countermeasures to WMD; nuclear detection and forensics; consequence management; chemical and biological weapons detection; and space, cyber, and telecom law.  Learn more at nsri.nebraska.edu.
 
About the University of Nebraska at Omaha
Located in one of America's best cities to live, work and learn, the University of Nebraska at Omaha (UNO) is Nebraska's premier metropolitan university. With more than 15,000 students enrolled in 200-plus programs of study, UNO is recognized nationally for its online education, graduate education, military friendliness and community engagement efforts. Founded in 1908, UNO has served learners of all backgrounds for more than 100 years and is dedicated to another century of excellence both in the classroom and in the community.
 
About USSTRATCOM
One of nine DoD unified combatant commands, U.S. Strategic Command (USSTRATCOM) has global strategic missions, assigned through the Unified Command Plan, which include strategic deterrence; space operations; cyberspace operations; joint electronic warfare; global strike; missile defense; intelligence, surveillance and reconnaissance; combating weapons of mass destruction; and analysis and targeting.
Contact Us
If you have a story idea, news tip, or other question, please email the UNO News team at unonews@unomaha.edu.
Our Campus. Otherwise Known as Omaha.
The University of Nebraska does not discriminate based on race, color, ethnicity, national origin, sex, pregnancy, sexual orientation, gender identity, religion, disability, age, genetic information, veteran status, marital status, and/or political affiliation in its programs, activities, or employment. Learn more about Equity, Access and Diversity.
scroll to top of page