Third Annual Meet the Buyers was a Success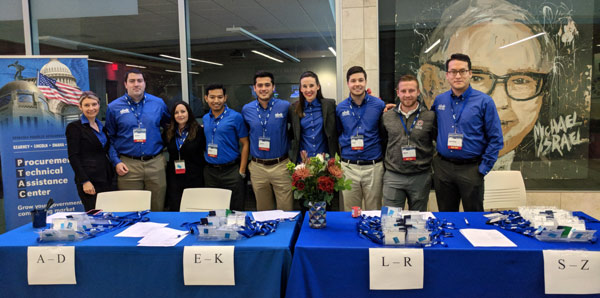 On November 4, the Nebraska Business Development Center (NBDC) hosted the third annual Government Contracting Conference: Meet the Buyer at UNO's College of Business Administration in Omaha. Featuring buyers from local, state and federal agencies as well as prime contractors, the event increases opportunities for Nebraska small businesses to participate in government sales.
The conference featured addresses by U.S. Representative Don Bacon, Nebraska second congressional district, and Courtney Dentlinger, director, Nebraska Department of Economic Development. Theodore Bujewski, associate director and cybersecurity lead, Department of Defense Office of Small Business Programs, gave the keynote address.
Afternoon breakout sessions covered" "How to Construct a Winning Proposal," by Richard Rice, Proposals 2 Win; "Successful Contract Management," by Sandy Burns, Project Solutions, Inc.; and "Cybersecurity Requirements," by Michael Semmens, Imprimis, Inc.
Buyers who networked with business owners during the event represented: Department of the Air Force, Ellsworth Air Force Base, Offutt Air Force Base, Omaha Public Schools City of Lincoln, Lancaster County, GSA, National Park Service, Department of Veteran Affairs. U.S. Marine Corps, City of Omaha, U.S. Army Corps of Engineers, Nebraska, Department of Transportation. Department of Homeland Security, Department of Housing and Urban Development, and Nebraska Purchasing Bureau.
 Prime contractor CH2M Hill in partnership with the Society of American Military Engineers (SAME) helped sponsor the event.
Uhing Earns Procurement Professional Certification
Richard Uhing, a consultant for the Nebraska Business Development Center (NBDC) procurement technical assistance program, received the Certified Procurement Professional (CPP) certification from the International Institute for Procurement and Market Research. The certification requires that a candidate is a university graduate and completes the rigorous certification coursework and exam. Uhing's achievement was announced this month at the Association of Procurement Technical Assistance Centers fall conference in Washington DC.
 APTAC represents ninety-eight procurement technical assistance programs partially funded by the Defense Logistics Agency. Together they form a nationwide network of professionals helping local businesses compete successfully in the government marketplace. NBDC's program offers assistance to Nebraska from offices in Omaha, Lincoln, Kearney and Wayne.
 Prior to joining NBDC, Uhing was president and general manager of Norfolk Beverage Company. He received his undergraduate degree from Chadron State College and MBA from Wayne State College.
NBDC Export Consultant in Japan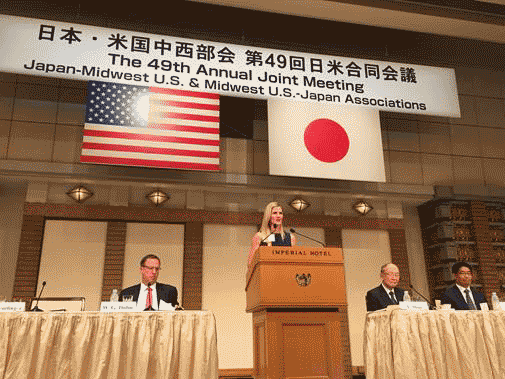 NBDC consultant Josh Nichol-Caddy joined Governor Pete Ricketts, DED Director Courtney Dentlinger and NDA Director Greg Ibach for the Nebraska trade mission to Japan.

The Nebraska delegation, currently in Japan through September 16, will be strengthening relationships with current and potential investors, as well as hosting events to promote Nebraska products. Governor Ricketts and the delgattion are meeting with government officials, community leaders, and industry representatives.

The Nebraska Department of Economic Development (DED), Department of Agriculture (NDA) and the Nebraska Center Japan in Yokohama developed the Nebraska Delegation's itinerary for the upcoming trade mission, which includes visits to Tokyo, Shizuoka, and the Kansai region.

The delegation's first stop in Tokyo included a visit to the annual conference of the Midwest U.S.-Japan Association and the Japan-Midwest U.S. Association. The Midwest U.S.-Japan Association is comprised of eight Midwestern states, including Nebraska, and is designed to bolster international relationships with companies with a particular interest in growing in the central U.S.
Aretha Boex named Nebraska State Star by ASBDC

   
Aretha Boex, Lead Center Director, attended the ASBDC (America's Small Business Development Centers) Annual Conference in Nashville in early September along with a delegation of NBDC consultants. She is pictured at the conference with NBDC state director Catherine Lang. In addition to providing consulting in business planning, financial forecasting and SBA loan packaging, Boex supervises the team of UNO graduate assistants who provide support to NBDC clients. Boex has received two awards for Excellence in Reflective Practice.
NBDC Group Attends SBDC Conference in Nashville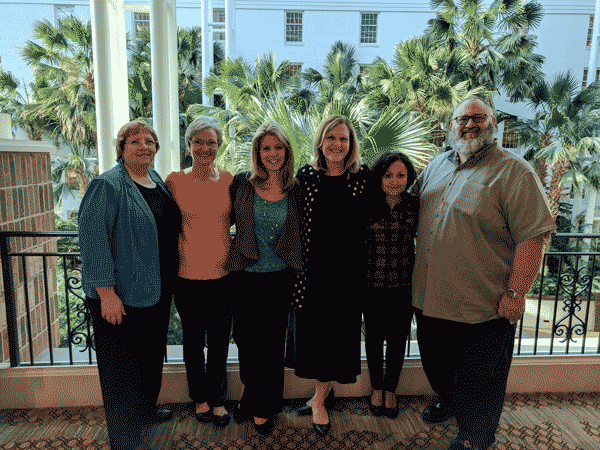 Margaret Akin, Catherine Lang, Sara Bennett, Jean Waters, Aretha Boex, Jerry Parriott
Charlie McPherson officially opens service center in McCook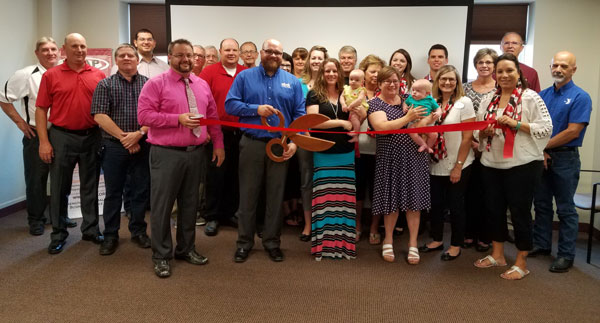 On August 2 Charlie McPherson cut the ribbon on the new NBDC service center in McCook. McPherson serves as business consultant and NBDC center director for the North Platte and McCook area, a position he has held since 2013. In addition to business hours in North Platte, he will now offer consulting in McCook at the Keystone Business Center, 402 Norris Ave Room 316. 
Kucera is newly elected president of NED board of directors

Loren Kucera, NBDC center director in Wayne, was elected president of the Board of Directors for the Northeast Economic Development, Inc. (NED, Inc.). NED is a non-profit organization under the Northeast Nebraska Economic Development District. (NEDD) that operates with a separate board of directors. Nominations and elections were held on July 11 at the monthly meeting in Norfolk. 
Governor's Economic Development Summit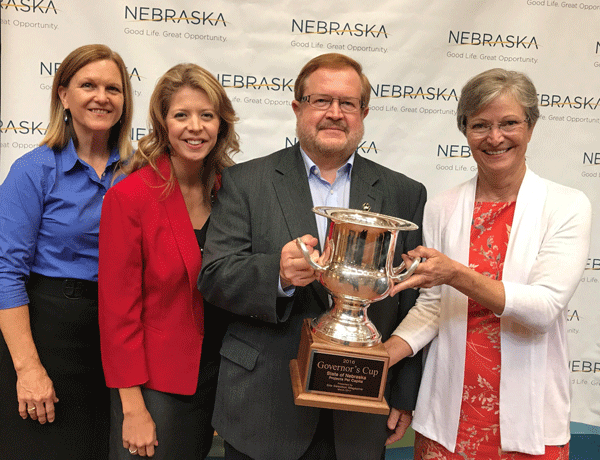 Representatives from the Nebraska Business Development Center attended the 2nd Annual Governor's Economic Development Summit on July 13 in Lincoln. L to R: Jean Waters, Sara Bennett, Loren Kucera, and Catherine Lang
NBDC state director expresses her vision
NBDC Joins Collaborative Effort in Lincoln
The Nebraska Department of Economic Development (DED), Nebraska Business Development Center (NBDC), NUtech Ventures, Invest Nebraska, UNL Industry Relations, and Nebraska Innovation Campus announced efforts to connect business leaders and entrepreneurs from across the state with economic development resources. On Wednesday, May 10, staff from DED, NBDC, and Invest Nebraska will begin holding weekly office hours on the Nebraska Innovation Campus (NIC). Established in 2011, NIC was designed to facilitate partnerships between the University of Nebraska and private sector businesses.
NBDC technology commercialization consultants Wei Jing, Rick Yoder (SBIR funding) and Josh Nichol-Caddy (export and market research) will offer appointments on alternating Wednesdays. 
 
2021 Transformation Drive, 2nd Floor Commons Area
Our Campus. Otherwise Known as Omaha.
The University of Nebraska does not discriminate based on race, color, ethnicity, national origin, sex, pregnancy, sexual orientation, gender identity, religion, disability, age, genetic information, veteran status, marital status, and/or political affiliation in its programs, activities, or employment. Learn more about Equity, Access and Diversity.
scroll to top of page