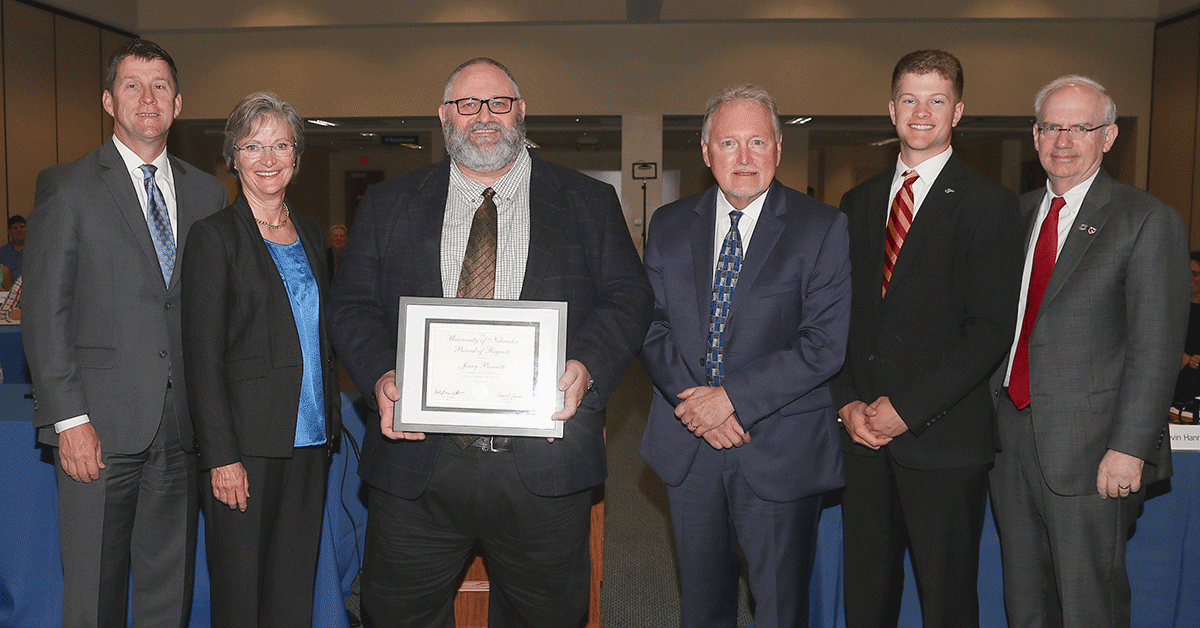 NBDC business manager honored by Board of Regents
Jerry Parriott, NBDC business manager and grant financial officer for the College of Business Administration (CBA), received the University of Nebraska Board of Regents Kudos Award October 3. The University of Nebraska Office of the President established the Kudos Award to recognize the accomplishments of outstanding employees from across the four University of Nebraska campuses.
---

NBDC welcomes a new team member
As NBDC's new communications manager, Jen Decker will be developing and executing communications, marketing and outreach strategies to expand awareness of our services throughout the state. She will focus on marketing to prospective clients through automation, including social media and email campaigns, and will strengthen NBDC presence online. Jen will also curate digital content including blogs, press releases, white papers, and video. She is a graduate of Iowa State University and has over 15 years of experience helping companies achieve their marketing goals. Jen enjoys spending time with her family — three active kids, her husband of 20 years and her beloved French Bulldogs.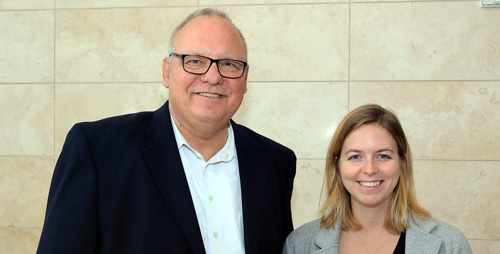 NBDC graduate assistant Gabriella (Gabby) Hezel received the Robert E. Bernier NBDC Graduate Assistant Fellowship for 2018-19. Hezel is currently working for the NBDC Procurement Technical Assistance Center. She plans to graduate from Creighton with a JD degree in December, 2018, and from the University of Nebraska at Omaha with an MBA the following May. Robert Bernier, state director of NBDC from 1979-2016, has been a strong supporter of business education. NBDC is one of the few university entities that use graduate assistants to engage with clients one-on-one.
---
Press Release: GROW Nebraska & Nebraska Business Development Center Present Get Your Business Online (with Google) Workshop Scheduled for October 18
---
Consultants complete CGPB Training
In August, Aretha Boex and Josh Nichol-Caddy attended a training event in Columbia, MO that was part the CGBP re-certification process. The Certified Global Business Professional (CGBP) designation confirms knowledge in international trade. The designation shows employers and the public that the individual is proficient in global business and capable of working with the level of expertise and professionalism that is required in today's competitive environment.
.
The CGBP designation is managed by NASBITE International,
Cass County Green Business Project recognizes accomplishments
NBDC consultant Rick Yoder and UNO student worker Jay Harmon helped a group of Cass County businesses focus their efforts on reducing resource use, saving energy and preserving the environment. The group of wide ranging organizations met recently to discuss their accomplishments and future plans. Plattsmouth Main Street Association, UNO's Nebraska Business Development Center (NBDC) and Cass County Nebraska Economic Development Council (CCNEDC) were partners on the project funded by a grant from the U.S. Department of Agriculture. For more on this story, read the Plattsmouth Journal.
---

NBDC attends Governor's Economic Development Summit
SBA Administrator Linda McMahon was in Lincoln on Thursday as the keynote speaker for the Governor's Economic Development Summit. She took time to meet the NBDC center directors Loren Kucera, Umeda Islamova and Sara Bennett, PTAC manager Veronica Doga, and state director Catherine Lang.  She gave NBDC a shout-out in her remarks, which is a great recognition of the services of NBDC to all Nebraska.

Nebraska Diplomats Honor Jack Schreiner, Induct Catherine Lang
Jack Schreiner, Bruckman Rubber Co., received the Ambassador Plenipotentiary Award from Governor Pete Ricketts and Jane McDaniel, Nebraska Diplomats president, at the annual awards banquet in Lincoln. Bruckman Rubber was NBDC's 2014 Export Business of the Year.
Catherine Lang, NBDC state director, was inducted as a new Diplomat at the event. With a membership of more than 280 business executives and community leaders, the Nebraska Diplomats, Inc. is the largest economic development organization in Nebraska.
Colleen Loges receives CBA Dean's Citation
Loges supports the accounting functions of the general manager for NBDC as well as the planning and logistics for special events, including the annual business awards luncheon at the capitol, awards reception in Omaha, and statewide quarterly meetings. She was recognized for her contributions along with CBA department awardees by Dean Louis Pol at the April 27 end-of-semester meeting in Mammel Hall.
---

NBDC celebrates SBA Small Business Week
Mark Santo, pictured above with Aretha Boex, lead center director, was recognized as Nebraska Small Business Person of the Year during the U.S. Small Business Administration (SBA) Business Week events that took place in Washington, D.C. from April 29-30. Click for interview with Santo
To celebrate Small Business Week, NBDC saluted five small companies that represent the best of Nebraska entrepreneurship—innovative, eager to learn, and responsive to their communities. State Director Catherine Lang selected businesses that engage with NBDC to successfully improve sales, commercialize innovation, plan for transition, pursue global sales, or invest in their companies. Schuster's Outdoor & RV, FarmAfield, Saunders Archery, Control Management Inc, and Kearney Glass were highlighted during the week.

NBDC Spring Awards Reception at UNO
On March 22 at UNO's Thompson Alumni Center, NBDC celebrated the six Businesss of the Year awardees (see below). In addition, six regional businesses were honored for achieving significant growth as NBDC clients: Midwest Hop Producers, Al's Old House Repairs, Duo Lift Manufacturing, Precise Family Care, Klute inc. Steel Fabrication, and Optimal Family Preservation. Other annual awards announced were:
NBDC Faculty Award
Dr. Robert Ottemann, Associate Professor, College of Business Administration, University of Nebraska at Omaha

Bob Bernier NBDC Excellence in Reflective Practice Award
Sara Bennett, associate director and consultant
Josh Nichol-Caddy, market researcher and export consultant

2018 NBDC Distinguished Service Award
Mark Spadaro, President, Dyna-Tech Aviation Services

SBDC State Star
Aretha Boex

Robert Bernier NBDC Graduate Student Scholarship
Kyle Hampton
---
NBDC Honors 2017 Business Award Winners at Nebraska Capitol
The 2017 Annual Business of the Year awards were officially presented during a luncheon March 23, 2018 at the Nebraska capitol in Lincoln attended by senators from the winners' unicameral districts.
"The NBDC Advisory Board selected the winners for exemplifying the contribution small businesses make to Nebraska's economy," according to Catherine Lang, state director.
Champion of Small Business
Mead Lumber/ Truss Craft, Grand Island
Innovation Business of the Year
Sanguine Diagnostics and Therapeutics, Omaha
Manufacturing Business of the Year
Exmark Manufacturing, Beatrice
Government Contractor of the Year
Cash-Wa Distributing, Kearney
Export Business of the Year
American Premium Foods, Omaha
Sustainability Business of the Year
West Point Design, West Point
---
Chadron office featured in news article
Jennifer Wittrock and Gary Dusek from the Chadron NBDC office were interviewed by the Rapid City Journal about area business clients including The Bean Broker in Chadron, Greenhouse in the Snow in Alliance, Table Top Meats in Hemingford, White River Feed in Chadron, Engravers in Chadron and Fryday's 120 Bar and Grill in Chadron. 
Read more in the Rapid City Journal
---
Sara Bennett honored by REAP
Sara Bennett, NBDC associate director and consultant, is the REAP 2017 Friend of the Year. REAP stands for Rural Enterprise Assistance Project, which operates under the Center for Rural Affairs of Lyons. Bennett will receive the honor March 9 in Red Cloud.
The REAP Friend of the Year Award goes each year to an individual, organization or institution that provides invaluable service to entrepreneurs by assisting REAP staff in offering technical help, business training, loans and networking across rural Nebraska.
Read more in Grand Island Independent
---
NBDC Calculates 2017 Economic Impact
In 2017, NBDC consultants assisted 2,026 Nebraska businesses. We offered assistance in packaging and placing commercial loans, including SBA guaranteed loans; helping business qualify for and submit proposals for government contracts; identifying customer leads, including for international sales; improving process flow in both manufacturing and service businesses; and commercializing innovative products.
Our clients created 1,858 jobs, invested $46.4 million in their operations and increased their sales, including government contracts, by $221.7 million. NBDC clients perform substantially better than the average of small businesses in Nebraska.
The total economic impact on the state last year was $496.5 million. 1
2017 KPI by NBDC program
1Total statewide economic impact includes direct, indirect, and induced impact as calculated using the IMPLAN economic model
NBDC Welcomes New Center Director to Lincoln
The Nebraska Business Development Center (NBDC) announces the selection of Umeda Islamova as new Director of the NBDC Lincoln Service Center.  
Umeda received her MBA and BBA degrees from the University of Nebraska-Lincoln, and grew up in a family of small business owners. She has extensive management and advising experience in the startup and small business community in Lincoln, having held positions at Presage Analytics, ISoft Data Systems, and NUTech. She is also the founder of the Dua Journal. Umeda's experience includes successful grant funding applications, marketing skills, financial analysis, and a proven enthusiasm for building relationships that aid in the growth and success of local businesses.
The NBDC Lincoln Center is supported by the Center for Entrepreneurship at the University of Nebraska-Lincoln College of Business.  The NBDC Lincoln Center will be overseen by Dr. Sam Nelson, Director of the Nebraska Center for Entrepreneurship at UNL.  From 2012 to 2017, the NBDC Lincoln Center was located at Southeast Community College.  NBDC is extremely grateful to the support that Southeast Community College provided to host NBDC and for the business coaching that they continue to provide. 
Third Annual Meet the Buyers was a Success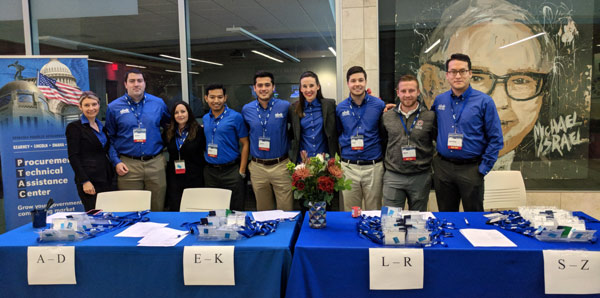 On November 3, the Nebraska Business Development Center Procurement Technical Assistance Center (NBDC PTAC) hosted over 70 businesses for the third annual Government Contracting Conference: Meet the Buyer at the University of Nebraska at Omaha. The conference provided an opportunity for businesses to connect to purchasing agents from local, state and federal agencies, as well as prime contractors. Informational sessions addressed how to construct a winning proposal, successful contract management and cybersecurity requirements.
Stressing the importance of small business to the Nebraska economy, addresses by U.S. Representative Don Bacon, Nebraska second congressional district, and Courtney Dentlinger, director, Nebraska Department of Economic Development, kicked off the event. Theodore Bujewski, associate director and cybersecurity lead, Department of Defense Office of Small Business Programs, gave the keynote address.
Buyers who networked with business owners during the event represented the Air Force, Ellsworth Air Force Base, Offutt Air Force Base, Omaha Public Schools, City of Lincoln, Lancaster County, GSA, National Park Service, U.S. Marine Corps, City of Omaha, U.S. Army Corps of Engineers, Nebraska Department of Transportation, Nebraska Purchasing Bureau and the  Departments of Veteran Affairs, Homeland Security, and Housing and Urban Development.
Prime contractor CH2M Hill in partnership with the Society of American Military Engineers (SAME) helped sponsor the event.
"The goal of this conference is to provide needed "how-to" information on government contracting with the added benefit of highly productive networking to generate actual leads," says Veronica Doga, event administrator. Doga, director of the NBDC PTAC, has organized three conferences beginning in 2015.
Uhing Earns Procurement Professional Certification
Richard "Dick" Uhing, a consultant for the Nebraska Business Development Center Procurement Technical Assistance Center (NBDC PTAC), received his Certified Procurement Professional (CPP) certification this month. It was awarded to him by the Association of Procurement Technical Assistance Centers (APTAC) at its fall conference in Washington D.C.
The certification requires completion of rigorous coursework and an exam.
APTAC represents ninety-eight procurement technical assistance programs partially funded by the Defense Logistics Agency. Together they form a nationwide network of professionals helping local businesses compete successfully in the government marketplace. NBDC PTAC offers assistance to Nebraska businesses from offices in Omaha, Lincoln, Kearney and Wayne.
Prior to joining NBDC PTAC, Uhing was president and general manager of Norfolk Beverage Company. He received his undergraduate degree from Chadron State College and MBA from Wayne State College. Uhing was recently recognized as a distinguished alumnus by the Nebraska Community College Association for outstanding career achievement.
NBDC Export Consultant in Japan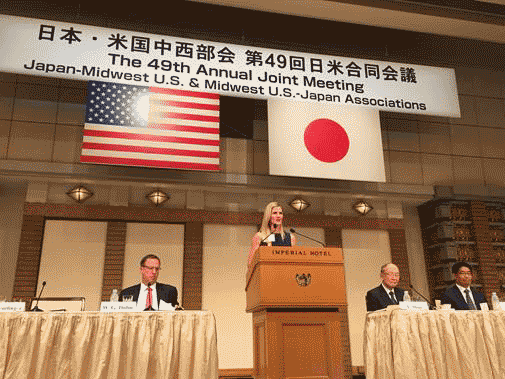 NBDC consultant Josh Nichol-Caddy joined Governor Pete Ricketts, DED Director Courtney Dentlinger and NDA Director Greg Ibach for the Nebraska trade mission to Japan.

The Nebraska delegation, currently in Japan through September 16, will be strengthening relationships with current and potential investors, as well as hosting events to promote Nebraska products. Governor Ricketts and the delgattion are meeting with government officials, community leaders, and industry representatives.

The Nebraska Department of Economic Development (DED), Department of Agriculture (NDA) and the Nebraska Center Japan in Yokohama developed the Nebraska Delegation's itinerary for the upcoming trade mission, which includes visits to Tokyo, Shizuoka, and the Kansai region.

The delegation's first stop in Tokyo included a visit to the annual conference of the Midwest U.S.-Japan Association and the Japan-Midwest U.S. Association. The Midwest U.S.-Japan Association is comprised of eight Midwestern states, including Nebraska, and is designed to bolster international relationships with companies with a particular interest in growing in the central U.S.
Aretha Boex named Nebraska State Star by ASBDC

   
Aretha Boex, Lead Center Director, attended the ASBDC (America's Small Business Development Centers) Annual Conference in Nashville in early September along with a delegation of NBDC consultants. She is pictured at the conference with NBDC state director Catherine Lang. In addition to providing consulting in business planning, financial forecasting and SBA loan packaging, Boex supervises the team of UNO graduate assistants who provide support to NBDC clients. Boex has received two awards for Excellence in Reflective Practice.
NBDC Group Attends SBDC Conference in Nashville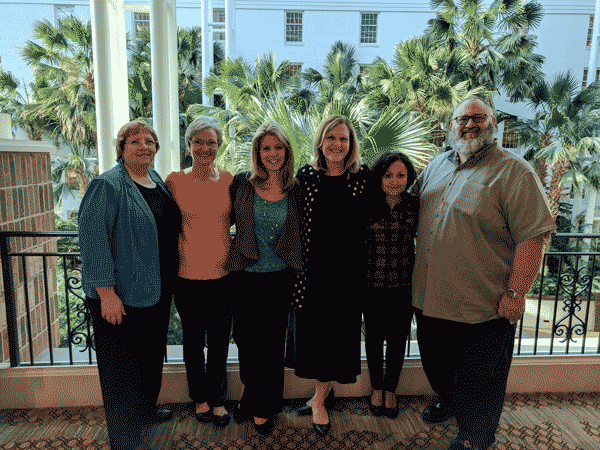 Margaret Akin, Catherine Lang, Sara Bennett, Jean Waters, Aretha Boex, Jerry Parriott
Charlie McPherson officially opens service center in McCook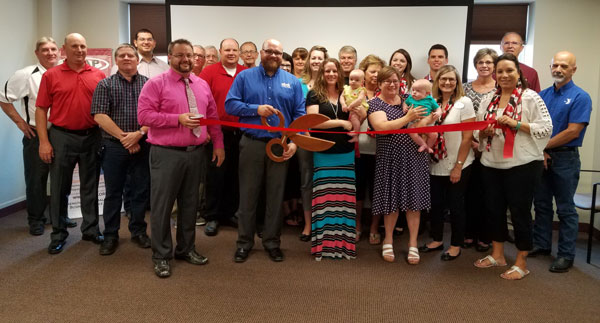 On August 2 Charlie McPherson cut the ribbon on the new NBDC service center in McCook. McPherson serves as business consultant and NBDC center director for the North Platte and McCook area, a position he has held since 2013. In addition to business hours in North Platte, he will now offer consulting in McCook at the Keystone Business Center, 402 Norris Ave Room 316. 
Kucera is newly elected president of NED board of directors

Loren Kucera, NBDC center director in Wayne, was elected president of the Board of Directors for the Northeast Economic Development, Inc. (NED, Inc.). NED is a non-profit organization under the Northeast Nebraska Economic Development District. (NEDD) that operates with a separate board of directors. Nominations and elections were held on July 11 at the monthly meeting in Norfolk. 
Governor's Economic Development Summit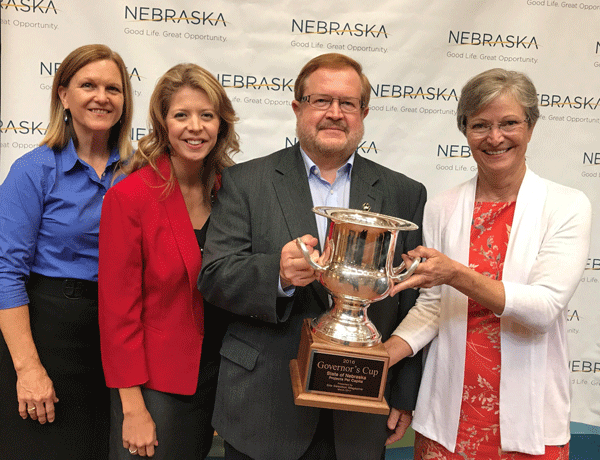 Representatives from the Nebraska Business Development Center attended the 2nd Annual Governor's Economic Development Summit on July 13 in Lincoln. L to R: Jean Waters, Sara Bennett, Loren Kucera, and Catherine Lang
NBDC state director expresses her vision
NBDC Joins Collaborative Effort in Lincoln
The Nebraska Department of Economic Development (DED), Nebraska Business Development Center (NBDC), NUtech Ventures, Invest Nebraska, UNL Industry Relations, and Nebraska Innovation Campus announced efforts to connect business leaders and entrepreneurs from across the state with economic development resources. On Wednesday, May 10, staff from DED, NBDC, and Invest Nebraska will begin holding weekly office hours on the Nebraska Innovation Campus (NIC). Established in 2011, NIC was designed to facilitate partnerships between the University of Nebraska and private sector businesses.
NBDC technology commercialization consultants Wei Jing, Rick Yoder (SBIR funding) and Josh Nichol-Caddy (export and market research) will offer appointments on alternating Wednesdays. 
 
2021 Transformation Drive, 2nd Floor Commons Area