New Office Open in McCook
The University of Nebraska Omaha (UNO) announces its sponsorship for the Nebraska Business Development Center (NBDC) North Platte office as well as a new office in McCook. 
Charlie McPherson will continue to serve as business consultant and NBDC center director for the North Platte and McCook area, a position he has held since 2013. Prior to January, 2017, McPherson was employed by Mid-Plains Community College. 
He is now an employee of UNO. McPherson is a certified Economic Development Finance Professional and Certified Business Advisor with experience and expertise in budgeting and forecasting, new business development, and market research and analysis.
---
Intensive Business Development Project Teams Up With Business Owners
In November, a team from NBDC spent the better part of a week in Lexington providing consulting to owners of small businesses from the community. The project paired a business owner with NBDC consultants for three days of intense collaboration to assess opportunity for improvement. Nuridin Nur (pictured below) has operated a store, African International Food Market, on mainstreet Lexington for the past eight years. His business was one of nine that were selected to receive advice on issues including customer service, markets and marketing strategies, government contracting, and merchandising.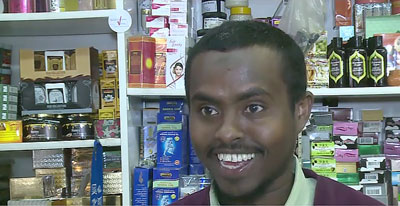 ---
NBDC Consultant Elected to OPPD Board
Rick Yoder, a sustainability and technology commercialization consultant at NBDC, was elected to represent OPPD ratepayers in Subdivision 4, which includes portions of Sarpy County with Cass, Ote, Johnson, Nemaha, Pawnee and Richardson Counties, in the November general election.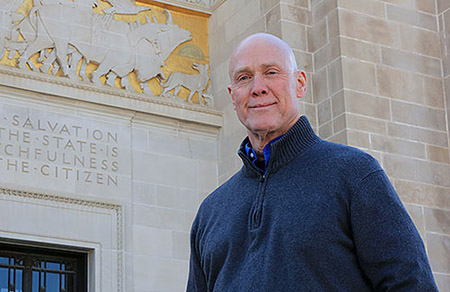 ---
Congressman Brad Ashford Speaks at NBDC Conference
NBDC hosted its Second Annual Meet the Buyers Conference at UNO's College of Business Administration on November 4. Congressman Brad Ashford representing Nebraska's 2nd District in the U.S. House of Representatives gave opening remarks. He is pictured below with conference coordinator Veronica Doga, director of NBDC's procurement assistance program, and the NBDC graduate assistants who helped facilitate this successful event.
The day-long program featured national speakers and presentations addressing small business opportunities in government contracting and included networking time with government agencies and prime contractors.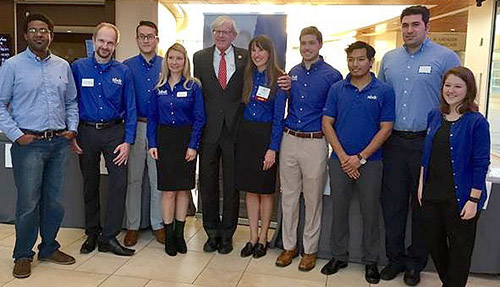 ---
Josh Nichol-Caddy is ASBDC State Star
Josh Nichol-Caddy, NBDC export consultant and market researcher, was named the 2016 Nebraska State Star for outstanding work in supporting and promoting the SBDC program in his state. He received the award at the 36th Annual ASBDC Conference in Orlando, Florida in September.
---
NBDC Graduate Assistant Awarded Scholarship
Jeremy Reep was awarded the 2016-17 Robert E. Bernier Scholarship. Reep is an MBA candidate in UNO's College of Business Administration and a graduate assistant at NBDC, providing business consulting to clients. He is pictured with Bob Bernier, NBDC state director.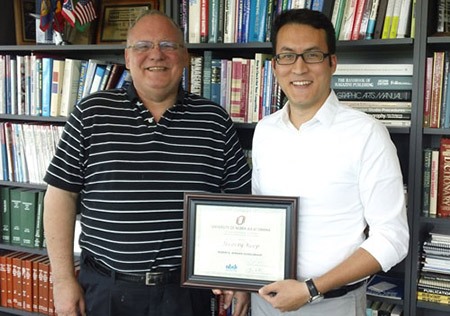 ---
UNO Names Lang New State Director for NBDC
The University of Nebraska Omaha (UNO) has announced the hiring of a new director of the Nebraska Business Development Center, just the second in the center's nearly 40-year history. Catherine Lang, who most recently served as the vice president of Accelerate Nebraska, will take over as NBDC statewide director on Dec. 1 of this year after serving two months as director designate.
Lang replaces Robert Bernier, who is retiring after serving as NBDC director since 1979. Bernier is the longest-serving director of a business development center in the U.S. He will continue to provide support and consultation for NBDC in various capacities after stepping down as director.
Lang earned her J.D. from the University of Nebraska-Lincoln's College of Law and has served in a number of governmental roles, including director of the Property Tax Division of the Nebraska Department of Revenue, commissioner of labor for the Nebraska Department of Labor, and director of the Nebraska Department of Economic Development.
---
National Event for Innovators Hosted by NBDC
The SBIR Road Tour featured funding decision makers from 12 federal agencies and drew nearly 200 Nebraska entrepreneurs seeking grant money to commercialize their innovations. Entrepreneurs had opportunities to meet one-on-one with SBIR program managers from the agencies. Wei Jing, NBDC technology commercialization consultant (pictured right with Nisha Avey, business innovation consultant, Nebraska Department of Economic Development) was event coordinator.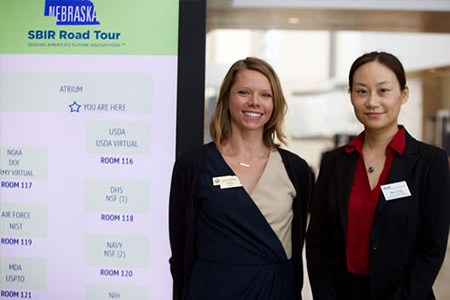 ---
NBDC Manager Receives MBA
This spring, NBDC business manager Jerry Parriot received a Master of Business Administration degree from the University of Nebraska Omaha (UNO). Jerry was inducted into the Beta Gamma Sigma National Honor Society in April and received the Stan Hille Award for Outstanding MBA Student.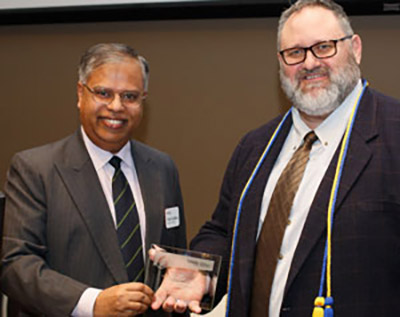 ---
NBDC Consultant and New Business Applauded
Opening this month, 4th Jug in Wayne will be the area's largest sports bar. It is estimated that it will provide the community with the equivalent of at least 20 full time employees and $3.5 million in annual revenue.
The business opportunity was made possible by a NEDCO SBA 504 loan obtained thanks to the assistance of Loren Kucera, director of NBDC Wayne center, and Clark Froelich, president of Bank First.
---
NBDC Presents Business Awards at Capitol
Six Nebraska businesses were selected by the Nebraska Business Development Center (NBDC) to receive the annual Business of the Year awards. The awards were presented formally during a luncheon March 18 at the Capitol in Lincoln that included representatives from the Unicameral, Nebraska Economic Development Director Courtney Dentlinger, and Lt. Gov. Mike Foley.
"The NBDC Advisory Board selected the winners for exemplifying the contribution small businesses make to Nebraska's economy," according to Robert Bernier, state director.
The following businesses received awards:
Champion of Small Business: American Agricultural Laboratory, McCook
Innovation Business of the Year: Windcall Manufacturing (GrainGoat), Venango
Government Contractor of the Year: Farris Engineering, Omaha
Sustainability Business of the Year: Sand Creek Post & Beam, Wayne
Manufacturing Business of the Year: Brand Hydraulics, Omaha
Export Business of the Year: New Grand Ocean International, Omaha