Meet the Buyers Conference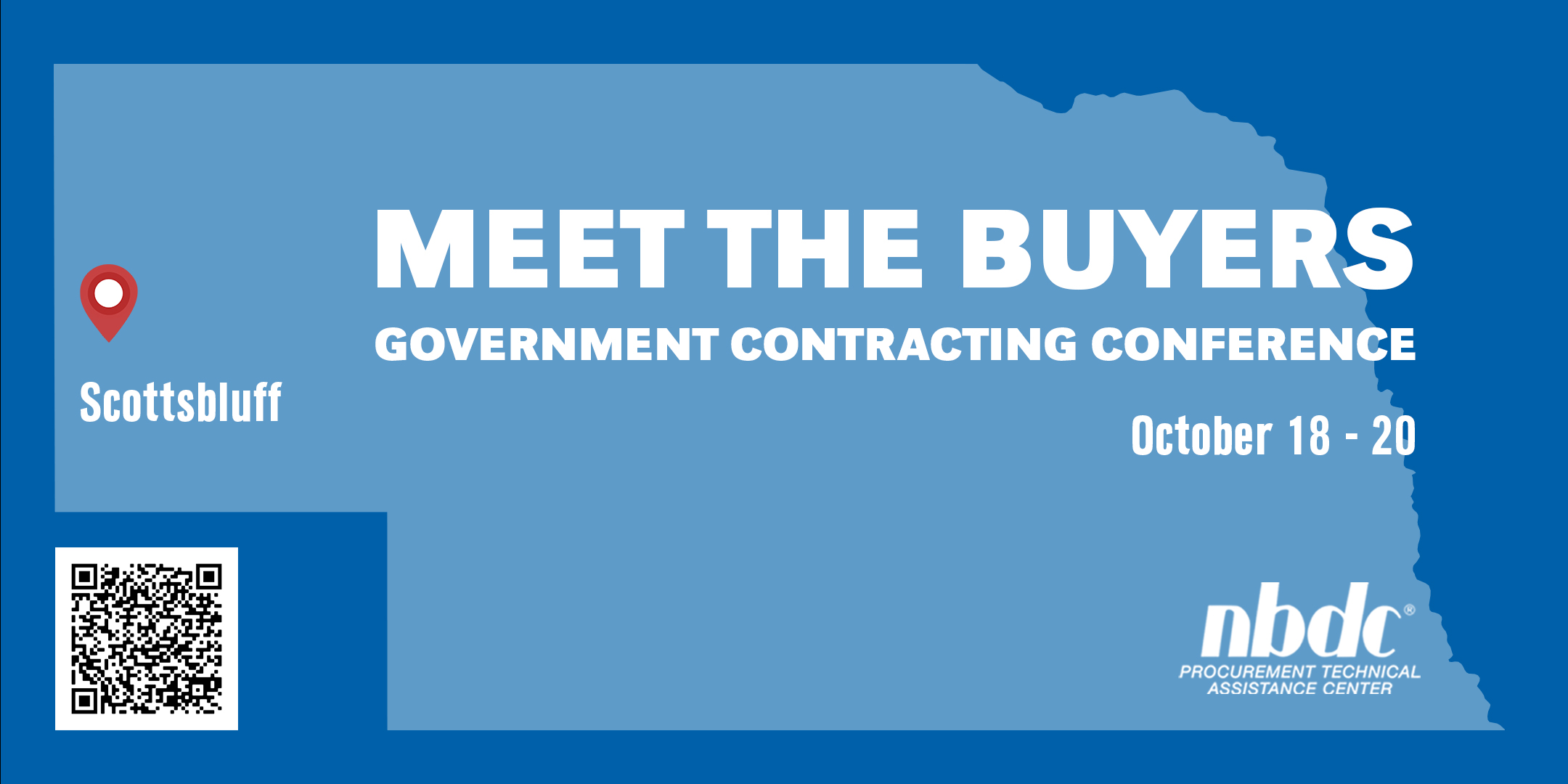 Meet the Buyers Scottsbluff is a three-day government contracting experience for businesses to advance their contracting knowledge, connect with other business owners, and network directly with agency representatives. Register now for the opportunity to market your product/service to this network.
AGENDA
October 18th - Programming Being Finalized - TBA Soon!
October 19th - Training and Prep Workshops (Workshop topics and speakers still being finalized)
OPTION #1: U.S. Army Corps of Engineers Construction Quality Management Course
8:00 AM - 4:30 PM
A full-day training session presented by USACE to train contractors on Construction Quality control. In cooperation with the construction industry, the Corps developed a training course entitled "Construction Quality Management for Contractors (CQM)." The purpose of this course is to familiarize all quality management personnel with the Corps construction quality management policies and procedures.
OPTION #2: Government Contracting Training Sessions
8:30-10:00: CMMC Overview
10:15-11:45: Subcontracting
11:45-1:15: Break for Lunch
1:15-2:45: Capability Briefing
3:00-4:30: Bonding
October 20th - Meet the Buyers Conference
8:00-9:00: Check-In, Coffee, and Contacts
9:00-11:30: Agency Presentations
11:30-1:00: Lunch Break
1:00-4:00: Networking
PARTICIPATING AGENCIES FOR OCTOBER 20
FE Warren Air Force Base
Ellsworth Air Force Base
National Park Service
Bureau of Land Management
U.S. Fish & Wildlife Services
General Services Administration
Small Business Administration
Society of American Military Engineers
MORE TBA SOON!
Please contact Daniel Kuchar at dckuchar@unomaha.edu with any questions you have.
"We usually find two to three new contractors that we work with from these [Meet the Buyers] events."

Terry Morgan

Zorinsky Federal Building Manager, General Services Administration
"We followed up with a few of the vendors and have partnered on projects with them."

Brett Walton
Ironhide Construction