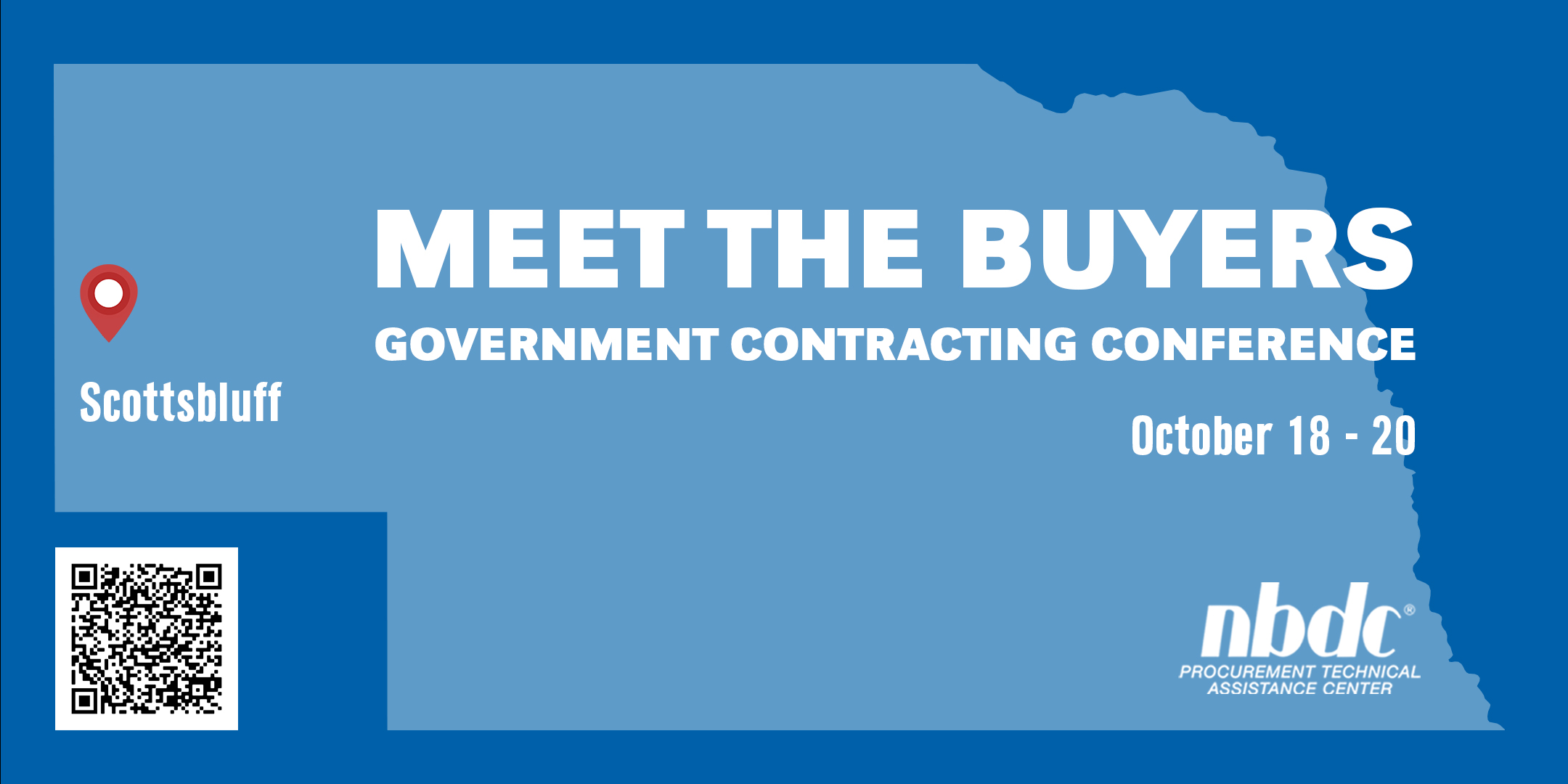 Meet the Buyers Scottsbluff is a three-day government contracting experience for businesses to advance their contracting knowledge, connect with other business owners, and network directly with agency representatives. Register now for the opportunity to market your product/service to this network.
---
AGENDA
Go to: October 18 | October 19 | October 20
Day One: October 18
Infrastructure Law Informational Session and Networking
12:00 PM - 1:00 PM - Check-In
1:00 PM - 1:30 PM - Bridge and Highway Programs | Doug Hoevet, Nebraska DOT
1:30 PM - 2:00 PM - EV Charging Stations Programs |
2:00 PM - 2:30 PM - Broadband Programs | Patrick Redmond, State Broadband and Infrastructure Coordinator
2:30 PM - 3:00 PM - Q&A with Presenters
3:00 PM - 3:15 PM - NDOT's DBE Program | Kari Bullion, Project Solutions, Inc.
3:15 PM - 4:00 PM - Partner Organization Introductions and Networking
---
Day Two: October 19
Training and Prep Workshops
7:30-8:30 - Check-In
OPTION #1: U.S. Army Corps of Engineers Construction Quality Management Course | 8:00 AM - 4:30 PM
Presented by Todd Tobias, Quality Assurance Engineer for USACE Omaha District
In cooperation with the construction industry, the Corps developed a training course entitled "Construction Quality Management for Contractors" (CQM). The purpose of this course is to familiarize all quality management personnel with the Corps construction quality management policies and procedures. The course details the requirements of the government and contractor personnel assigned to the project and the reasons for those requirements. The certificate issued upon successful completion of the CQM class is good for 5 years and is valid for Corps, Navy and other federal agency projects.
OPTION #2: Government Contracting Training Sessions | 8:30 AM - 4:30 PM
8:30-10:00 - CMMC Overview | Kareem Sykes, Program Manager, Project Spectrum
10:15-11:45 - Subcontracting with Northrop Grumman and other Prime Contractors | Tracy Jerman, Small Business Liaison, Northrop Grumman
11:45-1:15 - Break for Lunch
1:15-2:45 - Capability Briefing | Larry Mercier, Small Business Liaison at Offutt AFB, and Daniel Kuchar, Nebraska Business Development Center
3:00-4:30 - Bonding and the SBA's Surety Bond Program | Tamara Murray, Office of Surety Guarantees, U.S. Small Business Administration
---
Day Three: October 20
Meet the Buyers Conference | 8:00 AM - 4:00 PM
8:00 -9:00 | Check-In, Coffee, and Contacts
9:00-11:30 | Agency Presentations
11:30-1:00 | Lunch Break
1:00-4:00 | Networking
PARTICIPATING AGENCIES FOR OCTOBER 20
FE Warren Air Force Base
Offutt Air Force Base
Northrop Grumman
Bechtel
State of Nebraska Department of Administrative Services - Purchasing
National Park Service
Bureau of Land Management
U.S. Fish & Wildlife Services (Virtual only)
U.S. Army Corps of Engineers (Morning session only)
General Services Administration
Small Business Administration
Society of American Military Engineers
---
CONTACT
Please contact Daniel Kuchar at dckuchar@unomaha.edu with any questions you have.
---
"We usually find two to three new contractors that we work with from these [Meet the Buyers] events."

Terry Morgan

Zorinsky Federal Building Manager, General Services Administration
"We followed up with a few of the vendors and have partnered on projects with them."

Brett Walton
Ironhide Construction