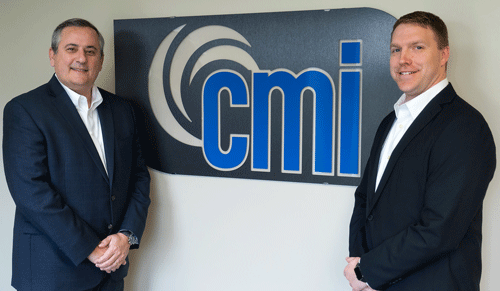 NBDC Helps 'Demystify' Government Contracting
Control Management, Inc., is working with the Nebraska Business Development Center (NBDC) to develop opportunities and obtain more contracts with government agencies.
"I went to the NBDC in August 2017 because we were looking for help doing business with the government," says Sharon Martin, vice president of business development at Control Management, Inc. "We had served as a subcontractor, but we had not looked at solo opportunities. We wanted to explore how we could do business directly with government entities."
Control Management, Inc. (CMI) designs, engineers and installs building control systems, and is the leading direct digital control (DDC) automation company in the Midwest. Frederick Lerouge is the CEO, and Nathan Haug serves as company president.
Founded in 1985, the company is headquartered in Omaha and has offices in Lincoln and Columbus. "We have grown from three or four people to about 35 employees," Martin says. "We work with K-12 and higher education, corporate offices, the government, data centers, and a lot of hospitals."
At the NBDC, Martin met with Carlie Shafroth, NBDC government contracting consulting. She assisted Martin with completing the System for Award Management (SAM) registration, which enables Control Management, Inc. to do business with the U.S. government and its agencies. "She also helped refine our capabilities statement and our FBO (FedBizOpps) searches through BidMatching software," Martin says.
FedBizOpps is a website that posts all federal procurement opportunities with a value over $25,000. FBO provides a sophisticated search engine for finding more than 40,000 immediate RFP opportunities, as well as archived records. It also lists possible future federal contract opportunities and all General Services Administration (GSA) Schedule solicitations. As a marketing resource, companies can list themselves on FBO as being an interested vendor so other vendors can contact them about collaborating on a project.
Martin praises Shafroth for her guidance and experience. "She navigated for me what was a very confusing situation," Martin says. "She was a great conduit for making that whole process as painless as it can be."
Not long after completing Control Management's SAM registration, the company bid and won a contract for the Edward Zorinsky Federal Building at 1616 Capitol Ave. in Omaha.
Shafroth says the company's early success stems from its willingness to learn new procedures. "Despite this being the beginning of their government contracting journey, CMI's commitment to being a student of government contracting processes, and their execution of those steps in order to succeed, has been exceptional," she says. "Their engagement in the learning process, enthusiasm for entering this market, and commitment to success is laudable."
Martin says she stays in touch with Shafroth. "Whether through emails or phone calls or meetings, it's a continuing relationship," she says. "She is very helpful any time we have a question, or if there is a workshop she thinks might benefit us."
Martin describes Shafroth and the NBDC services as "a godsend."
"They have really opened up a valuable market for us," she says. "Once you demystify the process, it really isn't so challenging. The opportunities are there, you just have to know how to find them."
Pictured: Frederick Lerouge, CEO, and Nathan Haug, president