Optimal Family Preservation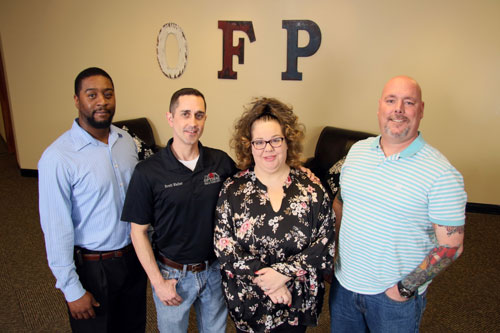 Carlos Williams, Brett Walter, Mandee Walter, Colin Borgman
Youth and family specialists Brett and Mandee Walter are experts at advising how to keep families together, but in order to open their Scottsbluff business, Optimal Family Preservation, LLC., they turned to the expert advice of the Nebraska Business Development Center (NBDC).
Incorporated as a private, for-profit social service agency, Optimal Family Preservation was started in 2013 as a pilot program designed to address the needs of youths in the juvenile justice system and the panhandle. At the time of the pilot program, Mandee was working with Speak Out, a non-profit youth advocacy group.
"After Brett started the pilot program, we worked to further it along by gathering data and referrals," says Mandee Walter. "In 2014, we took that information and our vision to the NBDC and Ingrid Battershell in Scottsbluff, and she helped put our business plan on paper."
Battershell and now Margaret Akin, the current director of the NBDC office in Scottsbluff, have supported the Walters with services including cash flow projections to obtain working capital, Quick Books accounting assistance, and general business management assistance.
New projects for the business include a potential residential youth home that would act as a viable alternative to detention and provide family crisis stabilization, Mandee Walter says.
"The youth home would be a caring place, a place that could get these children back home and back in school."
Optimal Family Preservation works with a variety of departments providing services, and its therapists are accredited and licensed by the state. The Walters were foster parents for many years. Mandee and her husband are certified as Emergency Medical Technicians, and Brett serves on the Gering Fire Department.
The business provides many services including intensive family preservation, anger management classes, supervised visitation, extensive family interventions and family support, and tutoring by certified teachers in conjunction with the Scottsbluff Public Schools.
Mandee says the challenges they face include securing stability for services once their programs are complete. "For example, we provide tutoring, but after our program is complete, how do these children get help within the schools?" she says. "Our challenge is to locate the resources, or create them if they're not there."
Optimal Family Preservation serves 12 counties in the Nebraska Panhandle. "Finding other viable resources in a rural environment is not an easy thing to do," Mandee says.
She says the NBDC is a valuable source of information that she has and will continue to recommend to others who are seeking to establish or expand their business.
"First, NBDC is very accessible," she says. "They've been very good with us arranging appointments and keeping a flexible schedule. Second, they offer a wealth of information about available services and business programs. Third, they provide continued support, which is very important once you get your doors open.
"They have made all these services available to us, and I give them five stars."