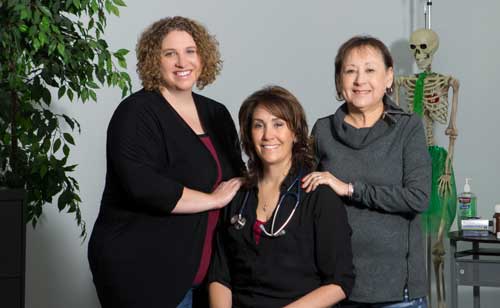 Kristen Corfield, Kelli Lewandowski-King, and Anna Smith

Healthcare provider Kelli Lewandowski-King has learned that going into business for oneself does not mean going it alone, thanks to the Nebraska Business Development Center (NBDC).
Certified as an Advanced Practice Registered Nurse, Lewandowski-King began her career in North Platte at Great Plains Health after earning her bachelor's degree in nursing from the University of Nebraska Medical Center. In 2004, she graduated from UNMC with her master's in family practice as a Nurse Practitioner. She later worked for the Sandhills District Health Department, and provided medical services to the Lincoln County Jail, Peoples Family Health Services and a local family medical practice.
In 2014, Lewandowski-King decided to explore the possibility of her own family clinic in North Platte. She met with a lender who referred her to Charlie McPherson, director of the North Platte NBDC office.
She and McPherson met several times, and he assisted her with the creation of a business plan and the development of financial projections.
Rather than immediately open her own clinic, Lewandowski-King rented space at another local clinic so she could gain additional business experience. McPherson continued to check her progress and offer assistance. Lewandowski-King grew her practice to approximately 225 patients.
In 2016, she and McPherson updated her business plan and financial projections. In June, she opened the doors to Precise Family Care.
"Kelli started with minimal staffing, conducting much of the work for the practice by herself," McPherson says.
Since then, Precise Family Care has grown to more than 1,000 patients and more than 3,000 patient visits. She has two fulltime staffers and is looking into adding another service provider to keep up with the growing patient numbers.
McPherson says patients are impressed by Lewandowski-King's training and experience. She is a licensed Emergency Medical Technician and is certified in advanced cardiac life support. She is an American Heart CPR instructor and is Department of Transportation certified for the Federal Motor Carrier Safety Administration.
In addition, Lewandowski-King is a member of the executive board of Nebraska Nurse Practitioners, and is a member of the American Nurses Credentialing Center, and the American Academy of Nurse Practitioners.
"Kelli is an expert in her field, and her knowledge has been a valuable asset not only to her community, but to others around the state," McPherson says. "She has played a pivotal role assisting and mentoring other small business owners and entrepreneurs, including several individuals who were interested in starting their own nurse practitioner businesses. Two of those individuals have begun operations, one in Alliance and one in Kearney."
Lewandowski-King says she never could have gotten her business off the ground without the help of McPherson and the NBDC. "I sent him the numbers and said, 'OK, you tell me,'" she says. "Working with Charlie gave me the confidence that there truly was a need for my business."
McPherson continues to pass along information such as workshops that she could find pertinent to her business. "We chat quite often," she says. "I'll throw an idea at him and see what he says."
Coming from a healthcare professional, her praise of McPherson seems especially appropriate: "He takes good care of me.